Fender Katsalidis, Oculus and the owner of Australia's National Basketball League have put together a radical proposal for a new sporting precinct on Wilkinsons Point, Hobart that would be home to a new Tasmanian basketball team.
The NBL team facilities would be supported by retail, food and beverage outlets, as well as an 11-storey hotel.
Glenorchy City Council will tonight consider a change of land use for the promontory on the Derwent River that would pave the way for further development of the plan.
Wilkinsons Point, which faces the Fender Katsalidis-designed Museum of Old and New Art (MONA) across the Derwent, is currently home to the Derwent Entertainment Centre, the Glenorchy Art and Sculpture Park (GASP!), and public foreshore open space, which includes the Montrose Bay Yacht Club and Glenorchy Rowing Club.
On 25 March 2019 the council voted to start the process of selling Wilkinsons Point and the entertainment centre, with LK Property Group, headed by NBL owner Larry Kestelman, to purchase the site.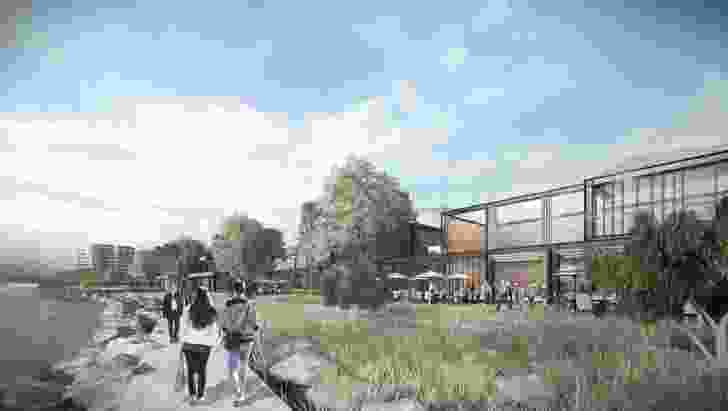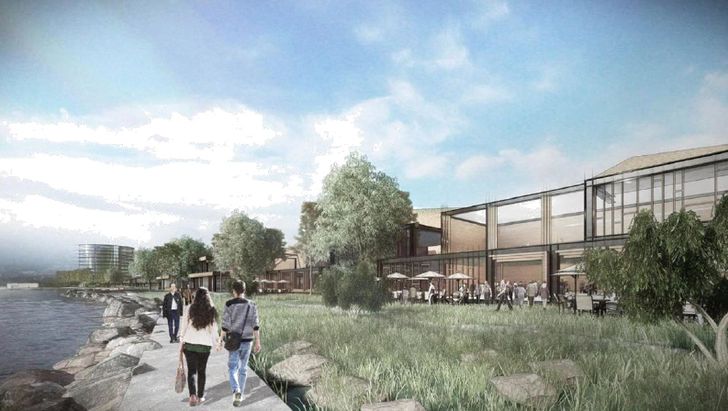 "The reinvention of the currently under-utilized area will breathe new life into Wilkinsons Point and help bring the community together through sport and entertainment, spectator or participator alike," the developer said.
Fender Katsalidis's scheme for the area, developed in collaboration with Oculus, would see GASP! retained and the entertainment centre transformed to allow the staging of larger scale concerts and events.
The precinct would include indoor recreation facilities such as indoor skiing, bowling and gymnastics; a "bike kitchen"; and commuter services including a ferry terminal to be serviced by the MONA ferry. Council documents also refer to the possibility of student accommodation being included but note "this use was a relatively late inclusion and discussions with the University of Tasmania has not been fully explored prior to the submission of the request."
In response to the inclusion of the 11-storey hotel, council management note that due to the nearby large and bulky buildings, and the future development of the MONA site "there is potential for a taller building," despite the low-lying nature of the site.
Council management is recommending that the planning authority begin work to amend the land usage and request further information from the applicant. Glenorchy aldermen will assess the proposal at a 5 pm meeting today.
Related topics