What are the relationships between cinema and architecture? Following the architecture screenings at the Adelaide Film Festival, Stephen Ward considers the possibilities.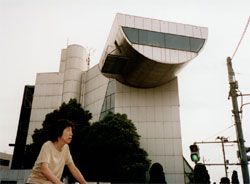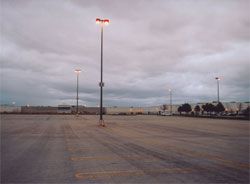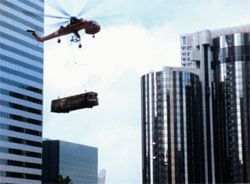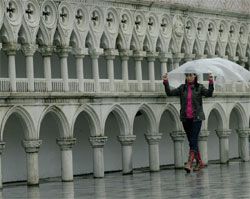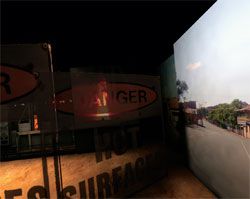 Film is a medium in which architecture is framed, captured and described. No matter what culture or genre, films incorporate the built environment as set, with cities and buildings used as backdrop. In many cases, however, film architecture doesn't really exist. For example, in The Wizard of Oz, where nothing is what it seems, The Emerald City, the symbol of the unattainable dream, is actually no more than an Art Deco utopia painted on canvas. Filmic depictions of the future paradoxically reflect their own times: the dystopian visions of Blade Runnerare made from the architecture of Los Angeles, transformed but still recognizable and supplemented with modelscapes that blur memory and dream. In other films, architecture becomes an integral part of the storytelling. The Truman Show, for example, uses the New Urbanist town of Seaside in Florida as the real/unreal set for the real/unreal life led by Jim Carrey's character. Immaculately manicured and picturesque, the Seaside townscape can only be imagined as something erected in the studio, but it is a real place inhabited by real people.
The diverse selection of Film and Architecture screenings at Image is Everything, the 2005 Adelaide Film Festival, provided glimpses of the various possible relationships between these two mediums. Collaboratively curated by festival director Katrina Sedgwick and architect and academic Steve Loo, most screenings were well attended by the public, interspersed with design students and practitioners.
Film is sometimes used to make commentary about architecture.We are familiar with films about architects and their work, whether documentary or fiction. Ayn Rand's The Fountainhead, Peter Greenaway's Belly of an Architect, and more recently My Architect, a son's documentary about his father Louis Kahn, can all be clearly described as architectural films. The festival's screening of Jesper Wachtmeister's Kochuu: Japanese Architecture, Influence and Originis another such film, providing a narrative without "dumbing down" for public audiences, telling us how "contemporary Japanese architects strive to unite the ways of modern man with the old philosophies in astounding constructions". It was shown before a full house. The film-maker was given an opportunity afterwards to respond to questions, but the audience seemed uncertain of what sort of questions to ask.
Film commentary on architecture is not always direct. Jacques Tati alludes to the topic of regionalism and internationalization in his description of the design process for Mon Oncle, his 1958 gentle satire of modern architecture: "We had all sorts of architectural reviews and journals which we had gathered.We also had some scissors and glue. So I did a montage.
I cut some features, a round window here, a ridiculous looking pergola there, some garden with a tortuous path to give the impression to be bigger than it really was, etc. In effect it's an architectural 'potpourri'." The ongoing popularity of Tati's films suggests that the issues revealed and parodied remain current. Comment about contemporary societies and the places they inhabit was the topic of a number of festival films. Chain by Jem Cohen observed the effect global corporate strategies have on local lives, cultures and the built environment.
The World (Shijie) was a Chinese film set in a bizarre theme park where visitors interact with famous international monuments, making comment on China's "modernization" and facade of cosmopolitanism. Compelling visions in Lagos/Koolhaas place Rem Koolhaas as a mere observer in the dangerous, rapidly expanding and frenetic city of Lagos, the Nigerian city whose qualities are captured in a remarkable scene at the railway station where every space between the tracks is immediately inhabited by traders on departure of the train.
Real cities and architectural detail can also inspire remarkable flights of cinematic fancy.
Los Angeles Plays Itself was the final film in the Film and Architecture programme. This depiction of the most photographed city in the world demonstrates how film can alter the city's historical and cultural contexts. The city was shown as a series of postcards, where "attractions" are pasted together, ignoring the distance between places and destroying swathes of urban context. This process and other narrative conveniences misrepresent the city's complexity, showing how works of architecture are used as "extras". As the film's narrative tells us, "actors have head shots, buildings have architectural photographs". Film can also influence architecture – observers have noted that the seminal screen city Metropolis, the great forum of the elite depicted in Fritz Lang's classic 1927 film, bears a striking resemblance to the actual Foro Italico of Mussolini in Rome built many years later.
The Odaiba precinct in Japan is an almost literal and disconcerting reconstruction of the streetscape represented in Blade Runner. The festival reminds us that architecture is promiscuous in its sources, film being one of them.
Through its selection, the festival demonstrated that cinema does more than simply depict real or imagined space; it provides the vehicle for us to see beyond, to make links, to inhabit another space. But film is also a medium to explore our identity and our relationship to our histories and environment. Cinematic Space: Sustainability, Transformation and Identity, a public forum organized as part of the festival, discussed "inventive spatial, ecological, and organizational moves that reconcile culture and technology, tradition and progress, and sustainability and development". Chaired by Steve Loo, the forum's speakers explored these themes from wide-ranging viewpoints. Ross Gibson, Kathi Holt-Damant, film-maker Jesper Wachtmeister, Jackie Cook and Sean Pickersgill spoke on diverse topics – from concepts of the virtual in photorealistic digitally modelled images and computer gaming to the making of artificial environments and the cinematic framing of architectonic space in Japan. The forum concluded with the screening of The Whyalla Project, a short film which takes an immediate and exploratory look at the journey to the environment of an industrial town. It is an ambitious experimental project by architecture and communication students at the University of South Australia, raw and difficult to digest for an uninformed audience in its unfinished state, but a thought provoking threading of sound, narrative and image.
In conjunction with the Adelaide Film Festival, Colloquium II: Trace, or Spatial Cinematics, was an academic symposium where "the interplay between architecture and film moves beyond the function of representation". Among the participants, Andy Petrusevics gave a wacky presentation about his design process – his "Brian Eno method" – used to set boundaries and bounce off them, and illustrated through an "architectural" rock film clip and his set design for the upcoming TV programme Beat the Chef. Francesca Da Rimini demonstrated the "generative social software" Netmonster, which searches websites for different terms and creates an artwork that links apparently disconnected images and texts.
This seminar was followed by a workshop where participants constructed short films and web-based "interventions" around artefacts from the Australian Architecture Archive at the University of South Australia. The purpose of the workshop was not to make movies but to give designers in the built environment an opportunity to explore new tools to evaluate and explore spaces – not in the traditional architectural sense of computer animated space, but through the combination and editing of animated images from multiple sources such as video, film and stills. This suggested that architectural form can relate to the form of film as one text to another, in terms of a structure composed of so many patterns, or rather fragments of structure or language, organized in time and through space.
Part of the fascination with film and architecture is that there are perhaps no other two arts that are so unlike each other: the film, intangible and fleeting, an image on a wall; and architecture, the most tangible and eternal. However, like architecture, film is dynamically perceived, obsessed with the immersion in its own created world. And, like architecture, film is able to transform the world, albeit through isolated moments. The Adelaide Film Festival showed that some films fall into the category of documentary for the architecturally informed, rather than engaging with those with a more general interest in architecture. In many cases these are better afterwards in reflection than in the watching. The challenge is to produce films that both inform and debate architecture, that are designed for film audiences and not just the educated architectural observer.
Source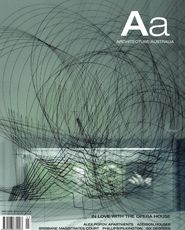 Issue
Architecture Australia, May 2005
Related topics