The Victorian government and the City of Melbourne have released their final vision for a 56-hectare urban renewal area in North Melbourne.
The Arden Vision sets out key design principles and strategic directions for an area of largely government-owned industrial land in North Melbourne, which will be transformed into a new commercial and residential precinct.
The document follows a draft Arden Vision and Framework, released in 2016, and will eventually lead to planning scheme changes and the production of a masterplan and site development plan.
The Arden precinct is bound by Macaulay Road to the north, Dryburgh Street to the east and the Upfield railway line to the south and west.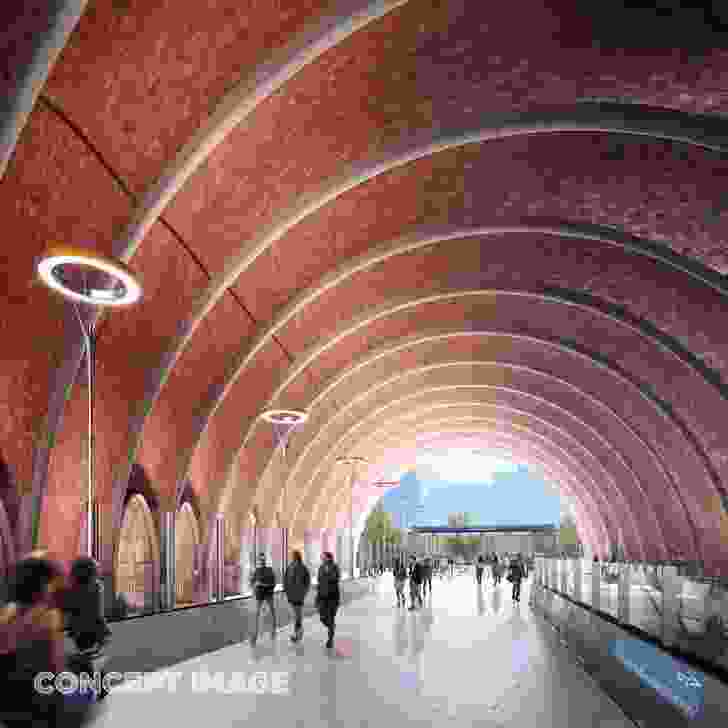 The Metro Tunnel underground station at Arden, which is due to open in 2025, will be the most prominent catalyst for the area's redevelopment.
The government's envisions a population of 15,000 people inhabiting in the area by 2051, with at least six percent of new residential development "delivered through mechanisms such as community housing or shared equity," with up to 15 percent of new developments on City of Melbourne-owned land will be "made available as affordable housing." However, the plan makes no mention of public housing.
A set of urban design and built form guidelines will be prepared under the vision. The document states that Arden will eventually be composed of "small blocks with pedestrian permeability," with "intensive activity" focused around the new train station.
The Arden Vision also prioritizes active and public transport, with priority given to the two modes over private motor transport in terms of planning. Among the objective laid out are a "network of walkable urban boulevards and streets that will be universally accessible, safe and provide efficient connections throughout the entire precinct." Under the plan, the government is aiming for 60 percent of trips to be made by public transport by 2051, while 30 percent is to be made by foot or cycle, and 10 percent by private vehicle.
The provision of community infrastructure in anticipation of a boom in population is also included, with "two to four" new schools planned to meet demand from the precinct and the growing populations of neighbouring suburbs. The plan also mentions two community hubs and education, sport, recreation and health facilities for the future.
The document notes that, given the limited space available, "flexible spaces designed to be shared, clever vertical design solutions and innovative delivery will be key to meeting demand to community facilities."
To view the document, click here.
Related topics