Finalists announced for Victorian Pride Centre design competition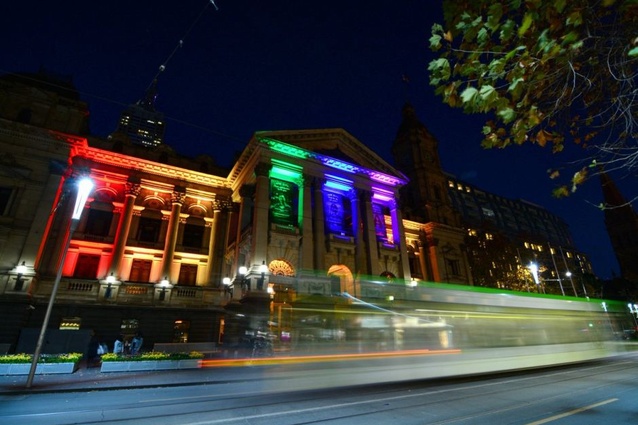 The Victorian Pride Centre has announced the finalists in a competition to design a new building for the not-for-profit organization.
The competition sought a design that would unify, collaborate, celebrate and engage, as well as ensure personal security.
From 18 submissions received, the competition jury has chosen four teams, listed below, to proceed to stage two of the competition.
Grant Amon Architects and Brearley Architects and Urbanists
BKK and Sibling Architecture
Hayball
Preston Lane Architects
The proposed building will be situated on a 16,00-square metre site at 79-81 Fitzroy Street in St Kilda. It will be home to ten resident organization as well as another 40 LGBTQI community organizations that will share facilities.
The building will also include co-working spaces, a screen room, a 200-seat theatrette, a library, an exhibition space, a prayer room and a rooftop entertainment area.
"The design brief is complex and ambitious, and it required competitors to respond creatively and strategically to the design challenge," said jury chair and retired architect Dimity Reed.
"The Pride Centre will have a prominent public location and will be a major contributor to the revitalization of Fitzroy Street and the surrounding precinct.
"The design approach must balance the need for an open, welcoming civic face with the need to provide a safe, secure environment for all the centre's users."
The Victorian government announced it would contribute $15 million to the construction of Australia's first purpose-built pride centre in 2016, and in March 2017 the City of Port Phillip offered the site for the centre, which is valued at $13 million.
The competition jury comprises Dimity Reed (chair, retired architect and writer), Tim Bamford (principal, Tim Bamford Consulting), Stephen Barrow (Victoria Pride Centre board member), Sophie Dyring (Schored Projects), Peter Elliott (Peter Elliott Architecture and Urban Design), Jill Garner (Victorian Government Architect) and Shane Murray (dean, Monash University, Faculty of Art, Design and Architecture).
The winner will be announced in late January or early February 2018.
The idea of a purpose-built pride centre is inspired by the San Francisco LGBT Community Centre, designed by architects Cee/Pfau Collaborative (a joint venture) and built in 2010.
Although the Victorian Pride Centre will be the first purpose-built facility of its kind in Australia, a community organization in Sydney called the Sydney Pride Centre was established in 1989 and the PRIDE Centre was officially opened at 26 Hutchinson Street, Surry Hills on June, 1995. The centre was active untill 2007.