Phillip Island: a beachside holiday destination in Western Port Bay, two and a half hours' drive from Melbourne. In the suburb of Silverleaves, the streets are narrow and closely bordered by banksias and other native vegetation. Dividing fences are scarce. The existing building stock ranges from modest postwar fibro shacks to recently built three-storey "McMansions." "It's not your romantic beach block, it's more of a standard suburban block," says Scott Woodward of emerging architecture practice WoodWoodWard Architecture (Wowowa). But as it turns out, mixing contemporary architecture with suburban imagery suits Wowowa just fine.
The practice's first project – the Finn House – incorporates a glass pavilion that makes the most of borrowed landscape views. The house was designed by Wowowa co-directors and partners Monique Brady-Ward and Scott Woodward, for Monique's parents. The third director of the practice, Jen Wood, is currently studying for a master's degree in the United States, where she is running the New York arm of the firm.
Monique's father, who built the house, used to own a timber mill and now runs a truss and frame company. Her mother studied horticulture. "Both depend on and manipulate the landscape," explains Monique. With this in mind, the design aims to "embody that tension between use, and nurture of, landscape," she says. The placement of the pavilion between a park and tree-lined sand dunes will allow it – once the vegetation planted on the site has matured – to act as a connection between the two natural spaces. Monique says her parents also wanted "the wow factor." This is where the red glazed bricks come in: they contrast vibrantly with the native greenery.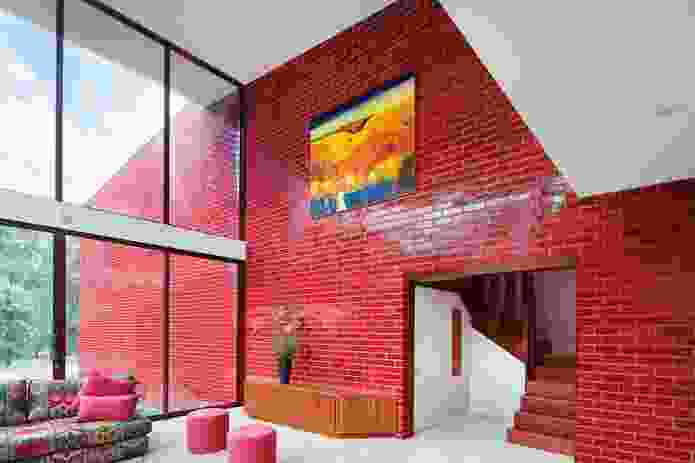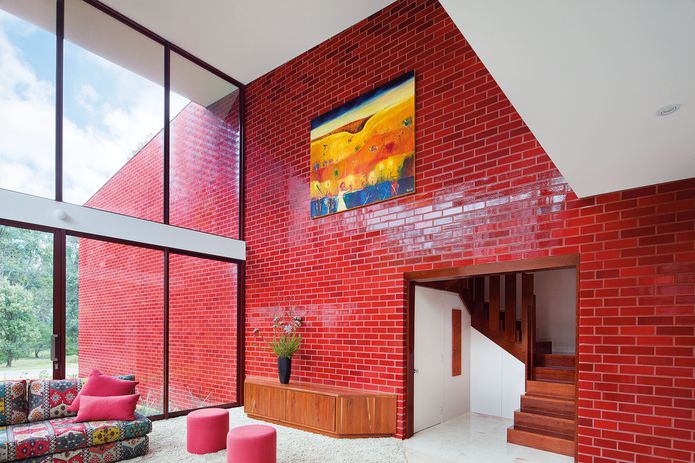 On first impression there is something suburban and ordinary about this project, yet there is also something distinctly strange. For instance, the front facade has a very particular chamfered graphic on it – a motif that's repeated in the shape of a bedroom wall. It turns out a kind of "radical conservatism" is at work here, to quote Scott. The architects have employed vernacular, mainstream domestic forms and references, rather than a strictly contemporary language. The front of the building is a red brick veneer with a timber infill. This then steps back to a twentieth-century modernist pavilion of glass and steel, and then steps once more to a low brick-and-timber entry structure. This entry is a playful joke – it is solid and private, but by the time you get to the front door you have already seen the occupants through the glass walls. Most likely they have waved you in through the sliding glass panel and you won't even use the door.
The use of humour in architecture is a hallmark of postmodernism. So is the mix of high and low art. Classic 1950s red-and-white striped canvas awnings shade the north-facing bedroom windows, while a column supporting the balcony is bound in nautical rope. Architecture critic Charles Jencks called this technique "double coding," describing architecture that uses a wide variety of references to communicate with the general population.
On the Wowowa website, each featured project is accompanied by a set of reference images. For the Finn House, these include a graphic image showing a false 2D perspective, an abstract geometric pattern of red and orange colours, one of Carlo Scarpa's elaborately detailed masterworks, Robin Boyd's house-cum-courtyard garden for the Featherstons (1967–9), and Richard Serra's Schunnemunk Fork (1991), a rusty steel wall embedded in a hillside. The young firm is nothing if not ambitious in inviting comparisons with such canonical works.
The Serra sculpture in particular resonated for Monique. The house had to be embedded into a slope to stay below a newly mandated seven-metre height restriction, and the red brick walls pinch towards each other in plan like a classic Serra steel sculpture. However, this Serra-like compression and release of space is not experienced when inside the house.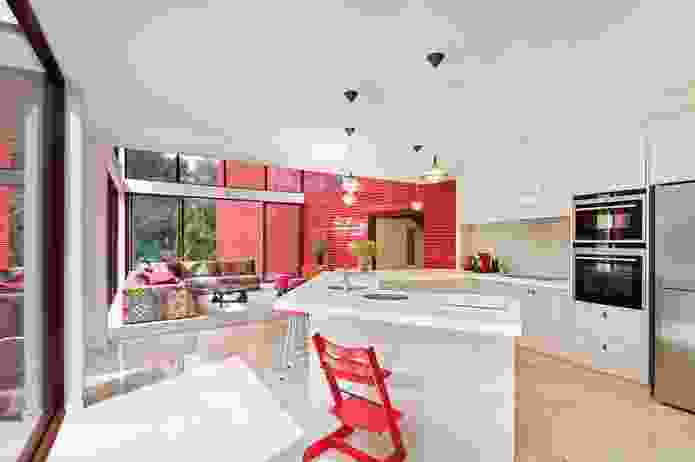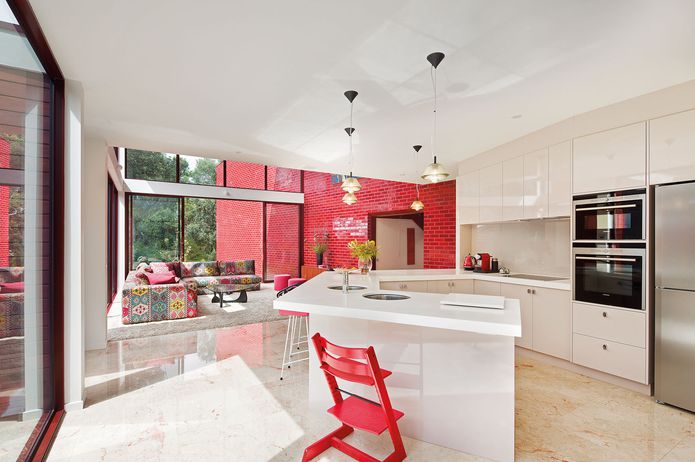 The rooms are ordinary, just subtly out of square. The planning organizes the private spaces within the blade walls and the living areas in the glass pavilion. The private wing narrows to just 2.1 metres wide in the middle, and the potentially climactic pinch point actually occurs in the shower. Perhaps this explains the unusual 2D geometric shaping on the facade that so roused my curiosity. Scott says it is a reference to the shape of the plan. It could also be read as an image of false perspective, with a vanishing point in the centre showing the pinching walls – a billboard reminder of a built concept that is difficult to perceive in the interior.
The couch in the living room also caught my attention when first looking at photographs of the house. "That's odd," I thought, "they've left the clients' old furniture in the shots." An architect will often go to great lengths to curate the shoot, sometimes borrowing a truckload of contemporary furniture. But the couch in the images was the same one we sat on to talk about the project, and the architect in fact selected it with the client specifically for the space. The fabric does match the colour of the architecture, and its vaguely Aztec diagonal pattern rhymes with the angles on the front facade. It again shows that Wowowa is not afraid to mix high and low. I'm not sure if it's avant-garde or mainstream – but it is definitely complex and contradictory.
Products and materials
Roofing

Lysaght Klip-lok roofing in Colorbond 'Dune'; Bradford Gold HP ceiling batts; Drouin West Timber and Truss timber trusses and framing.
External walls

Euroa Clay Products glazed red and natural bricks; Radial Timber radial sawn shiplapped timber with southern mahogany oil finish; Quikcote cement render in 'Velvet White'.
Internal walls

Euroa Clay Products glazed red bricks; plasterboard.
Windows

AWS Vantage Design Magnum in Colorbond 'Hunter Red' and 'Dune'; Viridian EnergyTech glazing.
Doors

Custom shiplapped timber door with southern mahogany oil finish; Rossdoor custom garage door in Alucobond and shiplapped timber.
Flooring

Tongue and groove redgum; Attila's Natural Stone marble floor tiles in 'Rosalia'; Sonata Carpet 'Ambrosia'.
Lighting

Tom Dixon pressed glass light; Euroluce Mini Glo Ball; Axo Light Bell pendant.
Kitchen

Miele induction cooktop; Siemens oven and microwave; Liebherr refrigerator; Quantum Quartz benchtop in 'Alpine White'; Franke sink; South Coast Kitchens joinery with Resene 'Acropolis' 2-pac finish.
Bathroom

Ideal Standard Tonic tapware; Mizu bath spout and Kaldewei bath, both from Reece; Quantum Quartz benchtop in 'Alpine White'; South Coast Kitchens joinery with Resene 'Acropolis' 2-pac finish; Classic Ceramics tiles.
External elements

Recycled merbau decking finished with natural decking oil.
Heating and cooling

Mechanical ducted reverse cycle airconditioner; Carpet Call awning blinds.
Other

Redgum joinery unit by Finding the Grain; Redgum stair and balustrade by DMS Staircases; Papillion Link sofa with Warwick Anthropology - Watermelon fabric.
Credits
Architect
Project Team

Monique Brady-Ward, Scott Woodward, Jen Wood
Consultants

Builder Peter Ward
Engineer Build Eng
Landscaping Lynn Brady-Ward

Site details

Location Silverleaves, Melbourne, Vic, Australia
Site type Suburban
Site area 728 m2
Building area 423 m2
Category Residential buildings
Type Houses, Residential

Project Details

Status Built
Completion date 2011
Design, documentation 12 months
Construction 18 months

Source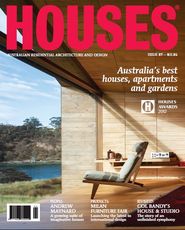 Issue
Houses, August 2012
Related topics