Our first house project was designed out of necessity. In 1994 we had decided that I would leave Tonkin Zulaikha Harford (now Tonkin Zulaikha Greer). I would spend half my time looking after our one-year-old twins and the other half trying to kickstart a private practice. Annabel returned to work at Lawrence Nield and Partners (now BVN), where she was an associate, and we relied on her salary to get by.
When you decide to start your own practice the most critical thing is to get something built that is yours. Projects you completed while at other practices may prove that you are employable, but they don't really say who you are as an architect in your own right.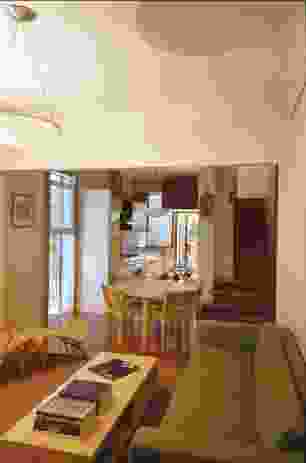 We lived in a modest, two-bedroom, single-storey Federation terrace in Camperdown, Sydney. We decided that the best way to start our own portfolio was to borrow as much money as the bank was prepared to lend us, renovate our own house and add an extra bedroom at the same time. The conventional solution to this kind of brief was to build into the large roof space, slot in a couple of dormer windows to gain a little extra head height and squeeze in a stair any way you could. There was a whole design and construction industry set up for just this approach. Attic conversions received an easy passage through council and were a known quantity. However, the outcomes were often poky and required airconditioning to be habitable during summer, due to the low ceilings and the fact that all the heat build-up from below tended to rise and settle in the attic. In our house the roof space also happened to be very valuable storage space, accessed by a fold-down ladder, which we did not want to lose.
Instead, we proposed parking a couple of rough-sawn plywood boxes on the rear of the house. A big box for the bedroom and a little one for the bathroom – detailed to have a furniture-like quality. The bedroom sits astride the existing masonry house and overlooks the rear laneway. The bathroom is interlocked into the larger box and propped on an extension of the party wall and a single round steel column. The internal renovations included the removal of cross walls to make one large memorable room that contains the living, dining and kitchen areas. The side light well had a timber deck put in, level with the living and dining areas, and the existing double-hung windows were converted into full-height, triple-hung windows, allowing direct access to the new deck. Internally, fragments of the original structure formed points of reference for the new work and framed a kind of existing landscape that the new work responded to.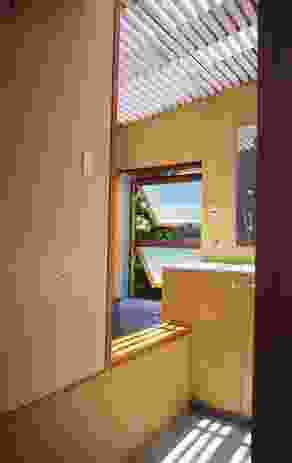 Externally, the addition drew its context from the inventive variety of forms, styles and materials seen in the laneway, including a layered timber pergola inspired by Bernard Maybeck. It is a context that has little to do with the "fronts" of the buildings and this is part of the charm of the laneway.
Marrickville Council tried to find all sorts of problems with the design and refused our application. They just wanted us to do an attic conversion. Unfortunately for them, I had a lot of spare time on my hands – this being my only project – and was not going to take no for an answer. We assembled a detailed retort extolling the merits of the design, complete with photos, diagrams and a letter of support from Lawrence Nield – then dean of architecture at the University of Sydney and, of course, Annabel's boss.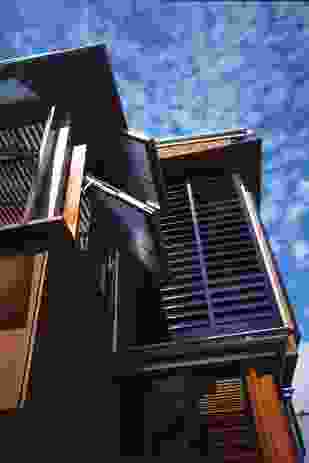 It was then argued against on heritage grounds, which surprised us as we were familiar with the Burra Charter and believed that our approach maintained the integrity of the existing house. After a terse phone conversation with the approving officer, I realized that he had not run the design past the council heritage architect, but rather made up his own mind that it wasn't appropriate. I insisted that the design be reviewed by the council's heritage architect, who was Libby Maher at the time. She was very supportive of our approach and our refusal was promptly reversed.
Once the house was completed we decided to get it professionally photographed, but we didn't really know any architectural photographers at the time. Annabel then suggested that one of her ex-students from the University of Sydney might do it and might be relatively cheap, so we gave Brett Boardman his first commission.
We then submitted the house to every magazine, newspaper, publisher and awards organization that we could think of. It remains probably our most published work to date due to the sheer pushiness of two young architects trying to build a profile.
Credits
Architect

Lahznimmo Architects
Sydney, NSW, Australia
Consultants

Builder Kevin Donovan
Structural engineer Randall Jones and Associates

Site Details

Location Sydney, NSW, Australia
Site type Suburban

Project Details

Status Built
Design, documentation 8 months
Construction 4 months
Category Residential
Type New houses

Source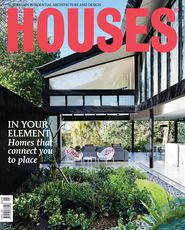 Issue
Houses, February 2017