We started working on the Carport Treehouse around 2002. I had an adjunct professorship in architecture at the Rhode Island School of Design and was weighing up whether I wanted to be an academic in the USA or a practising architect in Sydney. I don't know why, but that's how I consistently framed the possibilities before me in my early thirties – I didn't want to practise in the USA or be an academic in Sydney.
I decided to move back to Australia and start a practice in early 2001. In retrospect, I think my instincts were correct; it has been a very productive time to be in practice in Australia over the past sixteen years, but a challenging period for academia. Initially I did a few small alterations and additions for family, but the Carport Treehouse felt like our first legitimate commission. It was for a family with five kids on a stunning but steep site in Northbridge, Sydney. They had previously lived in Palm Beach and, having moved to be closer to schools, specifically asked me to create a project that made them still feel connected to the suburb.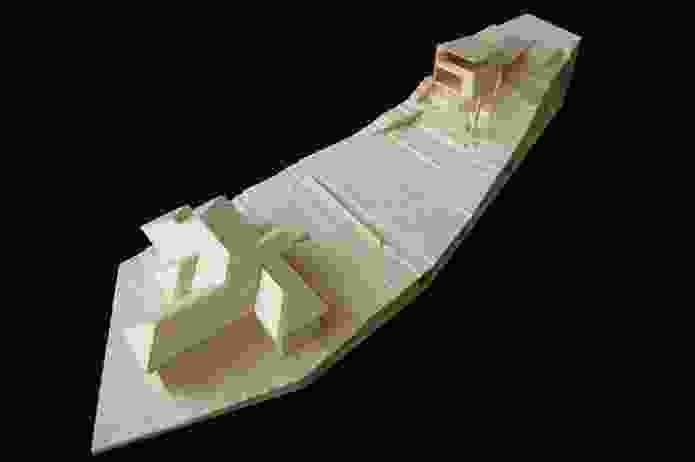 The initial brief was to grade the site to create a driveway, garage and flexible living space connected to the main house. However, I was concerned that this would destroy the most beautiful aspect of the site – its garden. I worked with colleagues Min Dark and Celia Carroll, and through a series of site models we convinced the clients to only occupy the periphery of the site, at its junction to the street, high above the house and garden.
After several single-level sprawling schemes we began exploring the idea of a compact two-storey box with parking above and living below. I had been interested in the site and scale explorations of minimalist artists like Tony Smith when I was in the USA, and wanted to test the idea of engaging a site through a purposeful abstraction, a kind of "apparent indifference." The black cube created a slightly alien presence in the garden, but it also created a series of engaging elements that relate to existing local pathways, trees and topography, which made the site strategy feel worthwhile.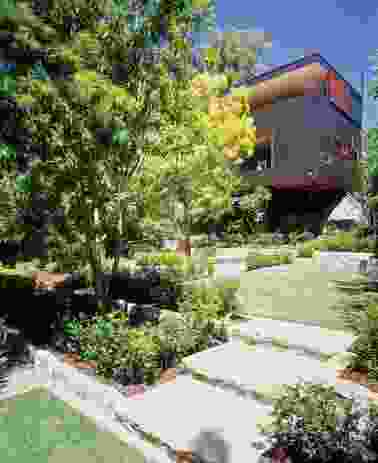 The black cladding represents an interest in abstraction and a love of Japanese charred cladding, but it also references the earliest beach houses of Palm Beach, which typically had timber cladding painted black to recede into the bush setting. Internally the palette creates a comfortable atmosphere – a beautiful concrete slab for the ceiling of the living space, a combination of painted and stained wall and door surfaces, and 40-millimetre-wide recycled blackbutt for flooring. I am still interested in the concepts of compactness that shaped the interior planning.
Looking back, this project was the beginning of our tendency to meticulously document – perhaps over-document – projects in construction documentation. Even though we have had a strong philosophy of detailing since early in our practice, I feel it has only been recently that our documentation orchestrates the kind of character and atmosphere I want to achieve with our projects at completion.
I found many of our early projects enormously promising at 40 or 60 percent completion, but then felt they became diminished in the finishing and fitout stages. In architecture you can't just walk onto the site one day and say, "Thanks everybody, I like it like this, I declare the project officially finished!" Site visits can be emotional in that way – one week you think the project is strongly connected to the ideas you were discussing during the design phase, and then all of a sudden other trades come in and it seemingly loses the character you were hoping to achieve, or a totally different reading of the project opens up.
There was a moment when this project was just a steel skeleton and concrete slab and it was very beautiful in the garden. At that point I was thinking it might be a more powerful project as a finely resolved glass pavilion, with a lovely sense of the surrounding trees and rock platforms creating the edge of the room rather than the constructed walls that formed the cubic mass of the project. The completed project still feels relevant and I think it established the beginning of a lineage of projects in dark-stained plywood as a type for our office. But I am also fascinated by the possibilities of the undefined perimeter I saw before the exterior structure was clad. Thirteen years later I still haven't had another site like this one to take that interest any further.
Credits
Architect

Andrew Burges Architects
Surry Hills, Sydney, NSW, Australia
Project Team

Andrew Burges, Min Dark, Celia Carroll, Meik Rehrmann
Consultants

Builder Coddington Constructions

Site details

Location Sydney, NSW, Australia
Site type Suburban
Category Residential buildings
Type Alts and adds, Houses, Residential

Project Details

Status Built
Completion date 2004

Source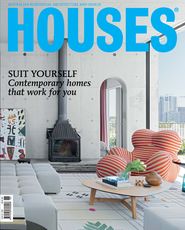 Issue
Houses, December 2017