Tribe Studio was a two-person band subletting the (curiously spacious) broom cupboard of a graphic design business when we started designing House Shmukler. We froze in winter and in summer the furnace-level heat was enhanced by the output and whirr of other people's airconditioning units. Nevertheless, we were optimistic and ambitious.
House Shmukler is full of this optimism and architectural ambition and was an early hint at the concerns that were to become our practice's work: conceptual rigour, the role of the single dwelling in the greater suburban context, inventive passive sustainability and the impulse to create unique portraits of our clients. Now, as I reflect on the life of the house as a project in our studio, I remember the dedicated and talented colleagues who have come and gone and am moved by their collective efforts in the pursuit of architecture.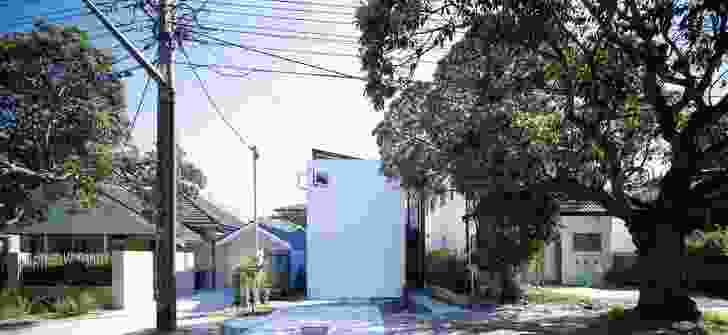 The house has a singular, uncompromising archi- tectural diagram. Private rooms are treated as abstract white boxes suspended within a long, tubular space. At the time of designing it, I was obsessed with the work of artist Sol LeWitt. His series of wall drawings at a retrospective at the Whitney Museum of American Art in New York left me utterly beguiled and delighted. I loved the combined whimsy and rigour of Vertical Lines, Not Straight, Not Touching . A single, simple proposition when carried relentlessly to its logical conclusion created a work that was so conceptually pleasing and visually intriguing, and that seemed to revel in its own borderline absurdity. For House Shmukler we aspired to the same kind of singularity: the dogged pursuit of the conceptual diagram and the wink of whimsy.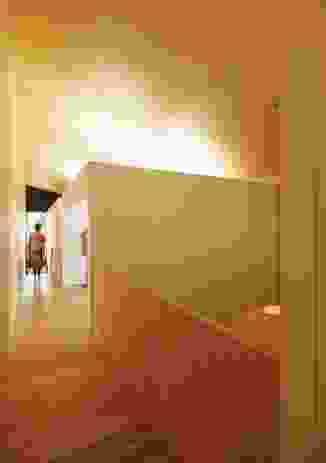 The house is still one of my favourite projects. We had such an amazing experience with our clients, Dani and Paul, that it is really a portrait of them. Dani is all exuberance and fun, Paul is rigour and clarity and together, this house represents them and their family. In an article by Greg Callaghan in The Weekend Australian Magazine (17 September 2011), Dani described the process as "an expression of self through design." I felt incredibly humbled that we'd been able to facilitate her creativity.
This concept of nonobjective portraiture is threaded through our work. Houses are always an expression of self, but uniquely in Australia, where our suburbs and cities don't have consistent vernaculars, we are incredibly unconstrained in our ability to paint portraits of our clients.
House Shmukler has been described by a friend as a "tall, cool glass of water" in its street, providing respite from the burnt palette of 70s kitsch and beige haciendas nearby. So while a portrait house is a monument to individualism, it is also a unit in a cellular system. Each individual dwelling is a part, contributing to the greater structure of a street and a place. Each cell must earn its place, make a contribution and work in tandem with the cells adjoining.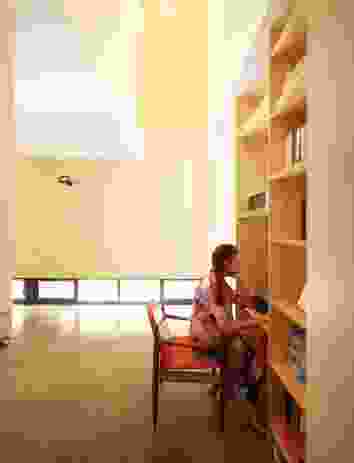 In creating House Shmukler we experimented with passive sustainability. The project is sited on a long, thin, north-to-rear block, with neighbours at high-five distance over the side boundaries. In response to this we opened up to the roof, letting sun and air deep into the centre of the plan while maintaining privacy on the sides. In this way, we started to work toward developing a type or model for such sites.
The volumetric arrangement is used to insulate bedrooms from the belting western sun. The double-height voids and operable skylights create stack effect ventilation in what is often a breezeless bowl behind the headland, while the internal thermal mass regulates the temperature in winter. We were in thrall to an abstract sectional diagram, ostensibly about solid and void, that also delivered on passive sustainability.
Many talented architects worked at Tribe across the life of the project and we have continued to consider our collaborative culture the key to inventiveness and energy within the practice. House Shmukler showed us early on that when all a project's ducks are in a row, when the client is on board for the ride, when your self-indulgent formal diagram miraculously delivers on sustainability and gives back to the place, when you are neighbourly, when you suggest future directions in your own work and as typology and when you work harmoniously with your team – architecture is pure joy.
Products and materials
Roofing

Lysaght Custom-orb, Colorbond 'Surfmist'.
External walls

Lysaght Custom-orb, Colorbond 'Surfmist'; Austral Plywoods ply cladding, matt, 2-pac polyurethane clear finish; Radiata pine weatherboards, painted white.
Internal walls

Austral Plywoods 6 mm hoop pine plywood, matt, 2-pac polyurethane clear finish; CSR plasterboard, painted in Dulux 'Vivid White'.
Windows

Aluminium frame with black powdercoat and timber frame painted Dulux Lexicon, both from Window Solutions.
Flooring

Concrete, steel trowel finish; Killarney ash tongue-and-groove, satin polyurethane finish; oiled blackbutt decking.
Lighting

Tom Dixon beat pendants; Ango hanging wall pendant; Sunny Lighting wall lights; Cosmoluce wall lights.
Kitchen

Electrolux fully integrated fridge/freezer; Smeg stainless steel oven and cooktop; Miele fully integrated dishwasher; Qasair rangehood; Abey mixer; Oliveri sink; Hafele joinery pulls; Furniture Ply hoop pine plywood joinery, matt, 2-pac polyurethane clear finish; MDF joinery, painted Dulux 'Vivid White'; concrete benchtop.
Bathroom

Caroma Cube basin; Kaldewei Saniform bath; Dura bath; Tonic WC suite; Mizu showerhead; Brodware Dial tapware; Parisi joinery pulls.
Heating/cooling

Hunter Pacific Concept 2 ceiling fans; in-slab heating.
External

Real-Crete Outdoor Products concrete sleepers; recycled hardwood oiled timber and black powdercoated aluminium pool fence.
Source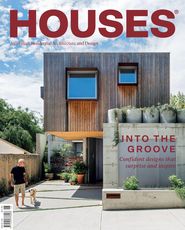 Issue
Houses, December 2018
Related topics