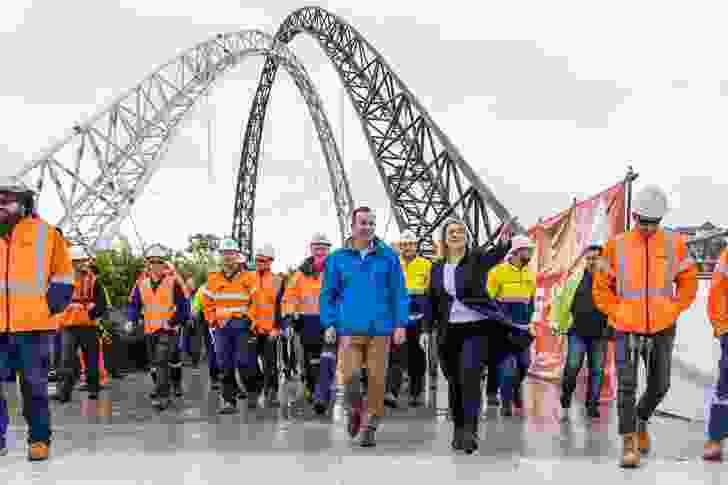 Construction workers have completed the first crossing of Perth's 400-metre Matagarup pedestrian bridge, signalling the beginning of the final tests and checks for the delayed project, which is expected to be open to the public by 15 July.
The ceremonial walk across the Swan River bridge, on 4 July, followed a week in which 740 cubic metres of concrete were poured to complete the deck of the Denton Corker Marshall-designed bridge.
A statement from the Western Australian government said the final tuning tests, which began on 6 July, were not about safety, but rather assessing the user experience and sense of comfort.
The tests are being conducted by Curtin University's Centre for Infrastructure Monitoring and Protection, and will enable technicians to make any final adjustments and confirm the amount of expected movement.
"This project has been one of the most technically difficult constructions ever undertaken in WA and the local workforce has embraced the challenge and done an outstanding job," said transport minister Rita Saffioti.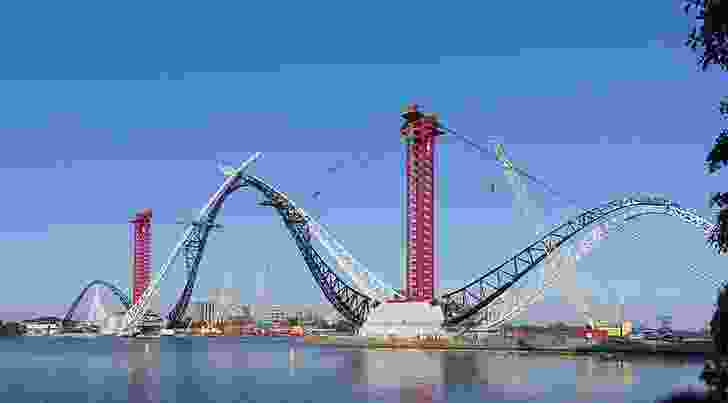 The pedestrian bridge was announced in 2015 and was originally slated for completion in 2016. The government and head contractor York Rizzani Joint Venture pointed to hold-ups in the supply chain to explain the extended timeframe, with subcontractor Toyota Tsusho, which was producing steel arches and decks for the bridge in Malaysia, "repeatedly failing to meet delivery timeframes."
On taking office in March 2017, the new Labor government pushed for the manufacturing to occur in Australia. The contract with Toyota Tsusho was terminated in mid-2017 and a completion date was set for March 2018, to coincide with the opening of the Perth Stadium in Burswood designed by Hassell, Cox Architecture and HKS.
Matagarup Bridge connects East Perth to Burswood, and will be an integral transport link for the 40,0000-seat Perth Stadium. With the bridge incomplete at the official opening of the stadium in January the number of people allowed to visit the stadium was capped. Additional bus services have been taking people to the stadium for football matches and other events, in lieu of the bridges completion.
"The start of the testing phase is another important milestone in the Matagarup Bridge project," said premier Mark McGowan on 4 July.
The bridge is expected to be open to the public in time for the Round 17 AFL match between Fremantle and Port Adelaide on July 15.