Fishermans Bend planning rules to manage density, boost social housing
The Victorian government has released final planning framework for Fishermans Bend in Melbourne, a 480-hectare urban renewal area adjacent to the CBD with a contentious planning and development history.
The framework covers an area spread over 480 hectares, which includes a 250-hectare precinct divided into four neighbourhoods: Montague, Lorimer, Sandridge and Wirraway. The area also includes a 230-hectare existing industrial precinct, which will become an "employment precinct" on the banks of the Yarra river. 
The framework introduces a dwelling density ratio, height controls for new developments, setback controls, overshadowing controls and a scheme to increase the proportion of social housing in the area. The framework estimates that the area will be home to 80,000 residents by 2050, which would create an average residential density of 323 people per hectare – just above the current densities of the Melbourne CBD and Southbank at 297 and 308 people per hectare respectively. The draft framework released in October 2017, however, noted that current planning controls in Fishermans Bend have resulted in densities of 950 people per hectare in the Lorimer area and 1,300 people per hectare in Montague North. 
The Australian Institute of Architects welcomed the final version of the framework. Amy Muir, Victorian chapter president, said "Fishermans Bend will reshape Melbourne's CBD and provide a vital growth corridor for the future – we will only get one shot at getting it right and we need to ensure the precinct is developed thoughtfully and sustainably.
"We are hopeful the Fishermans Bend Framework […] will encourage more considered development of the precinct and the Institute looks forward to continuing to engage in a rigorous consultation process with Government."
The final version of the framework will introduce a "dwelling density ratio" that is tailored to specific precincts within Fishermans Bend. The most dense ratio will be in the eastern Montague precinct, at 450 dwellings per hectare, with the lowest in the western Wirraway precinct, at 174 dwelings per hectare. This comes instead of a floor area ratio system that was proposed in the draft framework.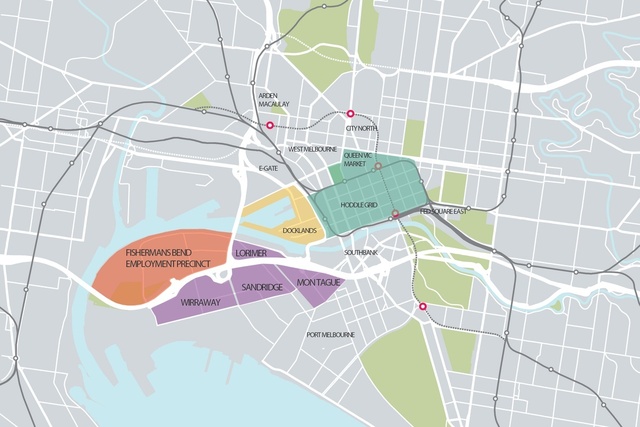 The dwelling ratio will be accompanied by a social housing uplift control, whereby developers can apply to construct an additional eight private dwellings per one social housing unit "delivered and transferred to a registered housing association."
This element of the framework was particularly welcomed by the Institute. Muir said, "the new social housing uplift scheme will dramatically improve the amount of new stock coming to market and help make Fishermans Bend accessible for all Melburnians – this is a great achievement.
"It is socially sustainable and represents a holistic approach, given the ongoing push to ensure Fishermans Bend meets the highest possible environmental standards."
However, she cautioned that "it is essential the government maintains momentum by ensuring consultation with key stakeholders continues."  
Height controls will also be imposed on the area, however, some sites will retaining "unlimited" height allowances. Overshadowing controls will be introduced to protect public open space.
Also in the mix is a call to "establish design standards that address the need for all external spaces within new developments to contribute to the creation of safe, and enjoyable pedestrian-friendly environments." 
Richard Wynne, the Victorian planning minister, said, "This framework will make Fishermans Bend a community – rather than a concrete jungle – with schools, public transport and green, open spaces to meet friends and kick a footy." 
An Infrastructure Contribution Plan will be established by 2019 to fund essential infrastructure.
The government has also announced that 26 tower proposals that were "called in" in February will be considered by a Standing Advisory Committee against the newly published framework. 
At a briefing for industry bodies at the planning minister's office on 4 October, the minister announced an industry-led design advisory committee, which will assess the frozen applications. 
Muir said, "The Institute is very pleased an interim eight-member design advisory committee will be established to oversee any outstanding applications and to consider new applications lodged before the Infrastructure Contribution Plan is introduced next year. 
"This is something we have consistently advocated for to ensure the integrity of the site's masterplan through the implementation phase." 
Laura Murray, Victorian president of the Planning Institute of Australia, also urged the government to make the design review panel permanent "to ensure good quality design outcomes are achieved in perpetuity across this significant renewal precinct," she said in a letter to members.
In 2012, a decision by Matthew Guy, then-planning minister and current leader of the Victorian opposition, to quickly rezone the formerly industrial area for residential and commercial development sparked a spate of high-rise development applications, which in turn resulted in soaring property prices. This has meant the current government was forced to buy back land at highly inflated prices for community infrastructure such as schools and parks.
The implementation of the framework will be overseen by the six-member Fishermans Bend Development Board, chaired by urban policy and planning expert Meredith Sussex.