The Victorian Government has announced a major expansion to the Fishermans Bend urban renewal area with the addition of a new business district.
Fishermans Bend is located six kilometres south-west of Melbourne's CBD along the Yarra River towards the docks. The expansion will incorporate the existing industrial precinct between Princes Highway/Westgate Freeway and the river, taking the total area of development from 250 hectares to almost double at 455 hectares.
Fishermans Bend will be developed over the next 30 years in five precincts: Lorimer, Montague, Sandridge, Wirraway and now the new employment precinct.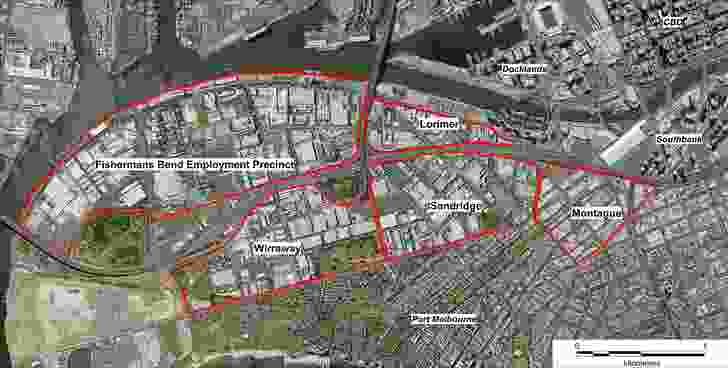 Minister for Planning Richard Wynne announced the new plan will draw on best planning practices for the creation of new housing, public transport, schools, community services and now business and employment. The government also announced an interim height limit of 40-storeys for Montague and Lorimer precincts, promising "no soulless skylines with no services."
Furthermore, under the government's new expanded Capital City Zone, the minister will be responsible for determining planning applications for developments of 25,000 square metres or larger.
The government will begin a period of community engagement and consultation in mid-2015 in order to form a strategic plan for the area. Local residents are invited to apply for community positions on development committees. A strategic plan is expected in early 2016 with an exhibition of the plan to follow in later that year.
The urban renewal of Fishermans Bend was first proposed by the Victorian Government in 2012. The expansion now makes Fishermans Bend the largest urban renewal area in Australia, according to the planning minister. By comparison, Sydney's Green Square (four kilometres from Sydney's CBD) is 278 hectares.
Related topics