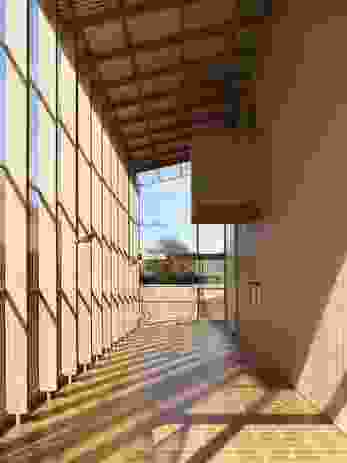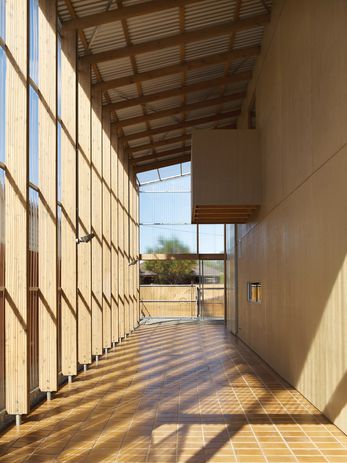 The Fitzroy Community School Creative Space is located on a narrow Thornbury rat run and set among one- and two-storey residential structures dating from the early twentieth century to the 1970s. These varied but unremarkable buildings, typical of Melbourne's mid-northern suburbs, are highly consistent in their physical relationship to the street; none have much insulation against the noisy, busy, public environment. In this quotidian context, the Fitzroy Community School Creative Space balances sympathetic bluntness with subtle ambiguity: the school is both demure and different. It is respectful of setbacks and careful to reflect neighbouring heights, but its form is bold and supersized, with atypical fabric.
The tall, plain, battened timber fence at the street edge brings privacy, yet allows glimpses both ways; it is also articulated by an asymmetrical, structured indent (soon to contain a tree). This small but significant gesture is a form of deference to the public domain; an acknowledgement of the pedestrian that signals entry as well as subversion. You enter obliquely into an moat-like area of landscaping, not yet green, that reflects the forthright strip of space created through the unrelenting setbacks of adjacent buildings.
The form is that of the simplest sheds, with a translucent outer skin of corrugated polycarbonate screw-fixed over an expressed, calibrated and robustly detailed and dressed timber frame. Hinged doors and large sliding panels of the same material open to admit access, or close to create a hermetic shell. The visitor steps through this to the next layer, an enclosed verandah-like interstitial space between carapace and core; this wooden box appears to be the "real" enclosure. This space extends all around the building; it is literally both inside and outside, and serves multiple needs. It is an anteroom at the entry, play/storage/workspace, and ancillary living/teaching space along the western edge. It includes an enclosed area for offices (expressed as infill) and is open to the north, facing a rear garden.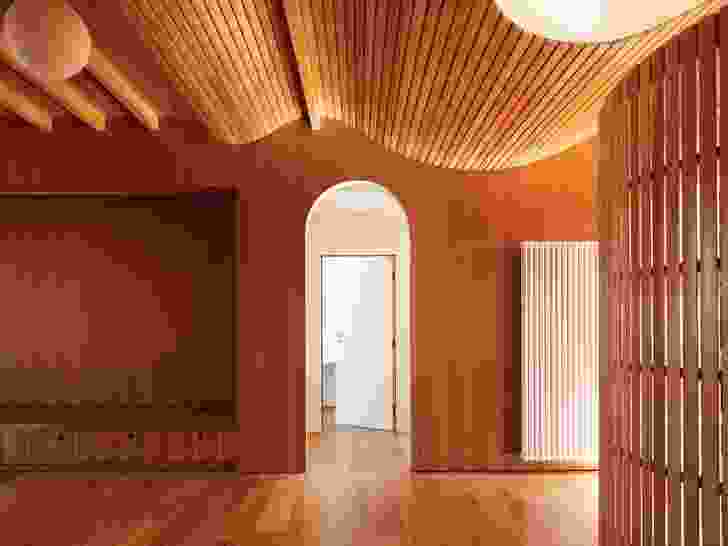 Stepping in from the front yard, one notices that the verandah is tangibly quieter and warmer. It is full of a diffuse filtered light, along with blurry views of blue sky and vague forms outside. A large, somewhat confronting bay window offers a framed view to the interior, a reminder that you are still "outside." The next threshold takes you inside the wooden box and involves another adjustment. Quieter and warmer again in here, the space is also richer in colour, and darker for being lined entirely with naturally finished, dressed timber and timber veneer. It is also a more organic and complex space, with its curved screen, arch doorway and an undulating, battened ceiling all providing an intense contrast with the cool purity and simplicity of the exterior.
The first internal encounter is with a large kitchen bench: this overturns conventional notions of the layout of an educational institution and directly reflects the school's genesis in a Fitzroy kitchen in 1976. This second campus accommodates thirty students and was funded through the federal government's Building the Education Revolution (BER) program, but as it is a private, independent school the design was unfettered by government prescription. It responds, instead, to the philosophy of teaching and learning in a "non-institutional" environment in which interpersonal skills such as those learnt at home are considered central to a well-rounded education. Accordingly, this main room offers a range of fluid, adaptable, "conversation-sized" spaces for teaching and learning. Further layers of enclosure are also provided – a curved screen houses books and space to curl up in; alcove seats, big enough to sleep in, are recessed into deep joinery, accentuating the overall sense of protective envelopment.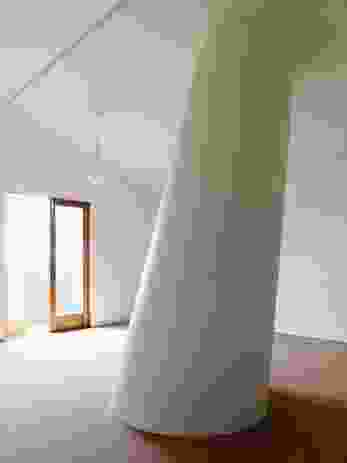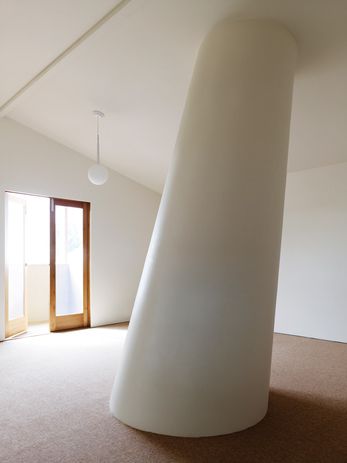 Upstairs, the caretaker's residence is a series of simple, white rooms, and again the spaces are ambiguous and adaptable. Subversive quirks such as a curved bulkhead over the stair admit light to a small bed/study space, while a conical skylight pierces the "living" room as a sculptural form while brightening the lower level. Yet another progression occurs in the form of a small, theatrical, first-floor balcony accessed from the main room upstairs and opening into the airspace of the western verandah.
There is also a two-storey rear "shed" providing workshop-style art spaces. This building has been altered to allow in light and provide amenities through simple, economical and playful alterations. It is part of the architectural composition, and in conjunction with and in keeping with the new building, it contains the garden and outdoor play space that is awaiting implementation of landscaping designed by the architects. The vision is for productive shade trees and native shrubs, and for the semi-open, north-facing verandah to be a "hanging garden" of green shade for the interior spaces. It is another version of the interior; a space defined by and viewed from the two flanking buildings. Almost square shaped, it has a sense of stable, secure containment, and despite its bareness it is potent and stage like, inviting occupation and action.
The architecture of the Creative Space is paradoxical and ambiguous, and subtly connected to its immediate and wider physical and cultural context through program and concept as well as through form and expression. The wilful, over-scaled form is counterbalanced by materials that soften its impact; it allows light from the sky or from within to weaken its edges and create complexity. The plastic shell allows dramatic changes, altering the perceived scale as the inner timber box is strengthened or diminished with changes in light from day to night-time.
Overall, the project takes up and expands the idea of the layering of space from public to private. Architectural references range from Boyd and Jackson's "big roofs" to Italian studio Gabetti e Isola's contemporary interpretation of vernacular, to Aalto for his crafted, rich interiors. The building evokes both the corrugated Australian shed and the archetypal gable-roofed home. It draws on the iconic Queenslander in its spatial layering, but its interior delivers an unexpected degree of intricacy. This is a beautiful and sensual project that achieves great sophistication with delicacy and rigour.
Credits
Architect

Baracco + Wright Architects
Northcote, Melbourne, Vic, Australia
Project Team

Louise Wright, Mauro Baracco, Richard Stampton
Architect

Richard Stampton Architects
Northcote, Melbourne, Vic, Australia
Consultants

Builder Jeff Williams Building Services
Building surveyor Metro Building Surveying
Structural engineer Meyer Consulting

Site Details

Location Fitzroy, Melbourne, Vic, Australia
Site type Urban
Category Education, Public / commercial

Project Details

Status Built

Client

Client Fitzroy Community School
Website www.fcs.vic.edu.au

Source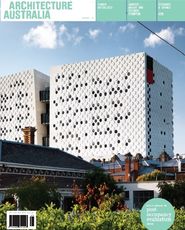 Issue
Architecture Australia, September 2011
Related topics