1. Green Square Library and Plaza by Stewart Hollenstein in association with Colin Stewart Architects.
In 2012 the City of Sydney held an open design competition for a new library and plaza at Green Square, one of the largest urban renewal areas in Australia.
Emerging Sydney architecture practice Stewart Hollenstein were thrust into international spotlight when they won with a winning proposal that stirred excitement among the jury, architectural profession and community alike.
"It was the only scheme to challenge the notion of placing a building in the Plaza, managing to put forward a strong argument for placing the Plaza over the Library, thereby providing both a building and a suitably scaled urban plaza for the future developments around the site, becoming a beacon and an oasis for the whole Green Square community," said the jury in its report.
Jury member Glenn Murcutt commented, "This is dynamite! It's going to be very special. It will be one of the most exciting places to explore in Sydney."
Also in Green Square, Peter Stutchbury Architecture's Community and Cultural Precinct was completed in late 2017.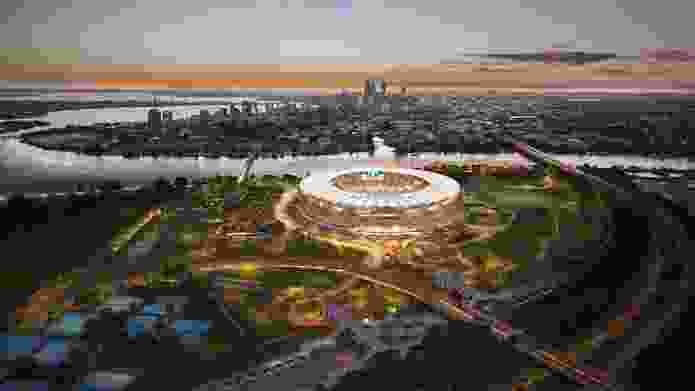 2. New Perth Stadium by Hassell, Cox Architecture and HKS
Hassell, Cox Architecture, and HKS Sport and Entertainment won a 2011 competition for the design of a new stadium in Perth with a design inspired by Aboriginal dreamtime stories and the site's connection to the Swan river.
The stadium, which has its first sporting match scheduled for February, is a five-tiered structure wrapped in a bronze facade with the capacity to seat 60,000 people.
The project also includes three recreational spaces: a covered "community arbour" linking the stadium precinct to a new railway station; a precinct on the western side with an amphitheatre; and an area on the northern side containing a children's playground, picnic areas and a boardwalk.
The stadium will open to the public on 21 January 2018.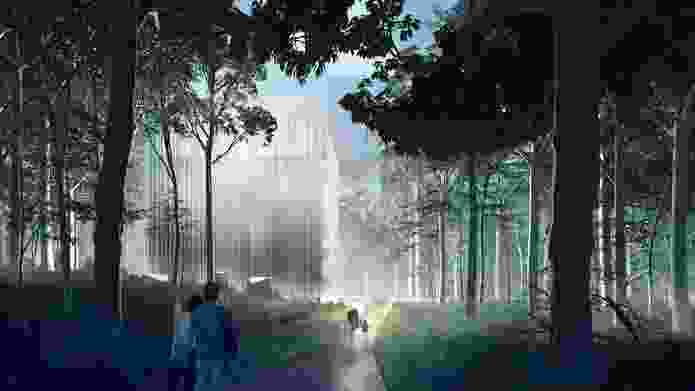 3. Ian Potter National Conservatory by CHROFI, McGregor Coxall and Atelier Ten
The Australian National Botanic Gardens held a national design competition in 2016 for a new conservatory in the heritage-listed gardens. The winning design consists of "a hovering cube" framed by a void to the sky, which the jury described as "resembling an enigmatic 'keeper' of treasures within the gardens."
John Choi, director of CHROFI, said, "The Ian Potter National Conservatory is conceived as an entirely new type of conservatory - a gallery for plants for the 21st century.
"Rather than the traditional uniform glass envelope, a series of rooms [will] offer a variety of immersive spaces that provide visitors multiple ways to interact with and experience the living exhibit."
CHROFI, McGregor Coxall and Atelier Ten collaborated with Inhabit, SDA and Toko to produce the winning design.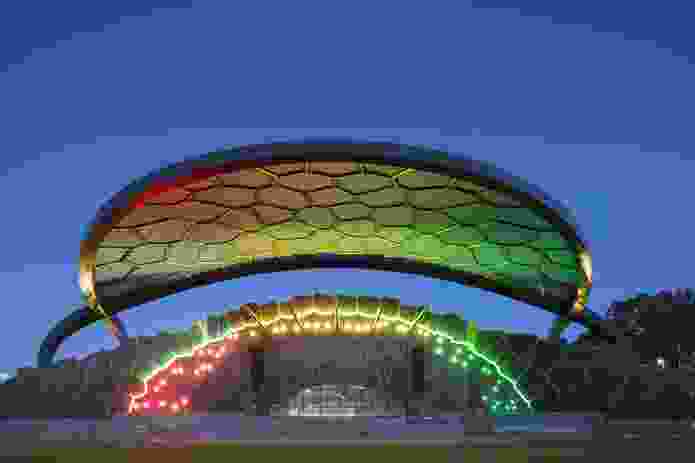 4. Gold Coast Cultural Precinct by ARM Architecture with Topotek 1
Launched in March 2013 by Gold Coast City Council, the international design competition sought an ambitious vision that would transform a 17-hectare site in Evandale into an artistic hub for the city, with performing arts venues and facilities for the visual arts and new media.
The jury commended ARM Architecture's winning proposal for its "bold and inclusive reimagining of what a cultural precinct might be."
"From skateboarding to opera, and from contemporary art to fashion catwalks, this submission embraces the full diversity of Gold Coast and Queensland culture.
Stage one of this decades-long project, the Versatile Outdoor Space (VOS), an amphitheatre, was completed in late 2017 ahead of the 2018 Commonwealth Games which will take place from 4 to 15 April.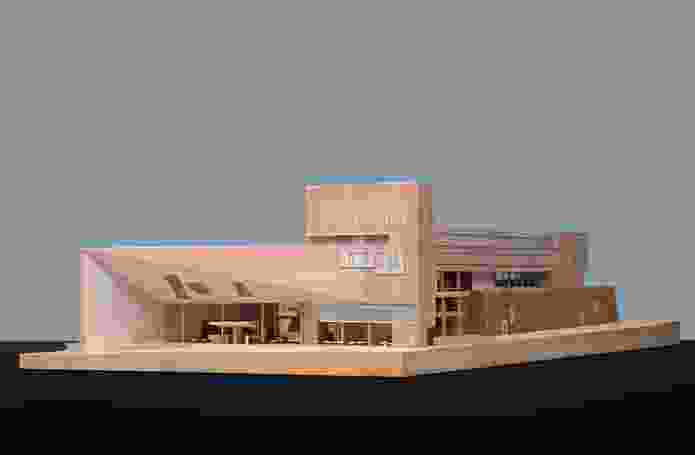 5. Luxembourg National Library by Bolles and Wilson
Germany-based Bolles and Wilson, led by Australian architect Peter Wilson and Julia Bolles-Wilson, was awarded first prize in a competition to design the New Luxembourg National Library in 2003. After an 11-year hiatus, the library finally broke ground in 2014.
The building will present a transparent and conical facade to the Boulevard Kennedy in Luxembourg's Kirchberg.
"The interior unfolds as a landscape of reading terraces stepping up to a consultation deck," reads Bolles and Wilson's design statement. "The linear library arrangement leads up, like a landscape garden, to the upper reading plateau."
The design will create a "bunker-like" environment and maintain a constant temperature of 18 degrees for archiving the historic memory of the Grand Duchy of Luxembourg.
Related topics