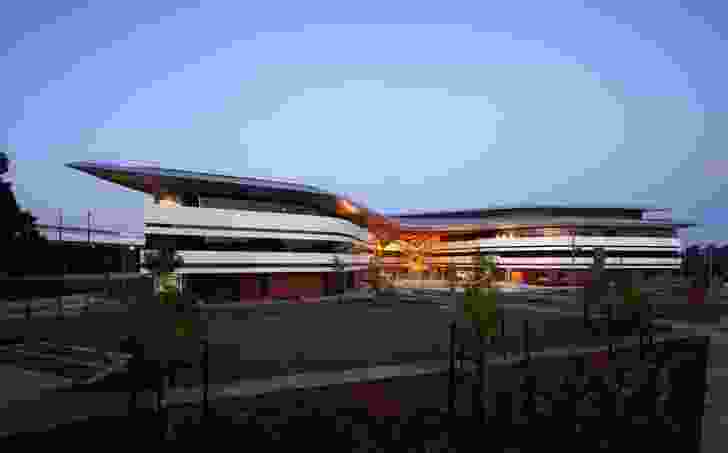 A $125 million multipurpose arts, civic and community facility designed by FJMT for the City of Casey has opened in the outer Melbourne suburb of Narre Warren.
Designed by FJMT, the project provides a broad range of spaces for council and community organizations and serves a number of functions. The complex holds a library, 800-seat theatre, gathering and meeting spaces, council offices, an art gallery, a flexible event space and an outdoor plaza.
The architects explained in a statement that the design was heavily influenced by the history of the land and the stories of the area's traditional landowners, the Boon Wurrung and Wurundjeri people.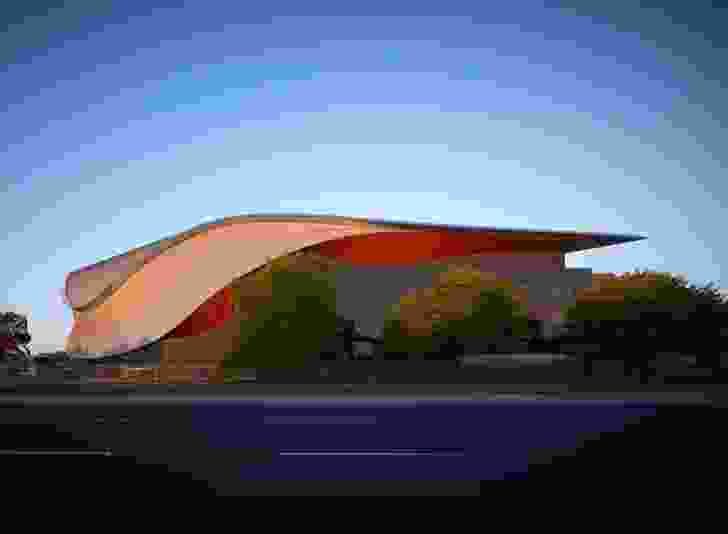 The final design was particularly influenced by the Meeting of Many Paths, a painting by the late Aboriginal artist Cathy Adams that hangs in the offices of the Casey North Community Information and Support Service, according to the Star News. The painting depicts a "welcome stick planted in a circular hub with 'many paths' of welcome leading to its heart," which is reflected in the organization of the building's mass around a central outdoor plaza and glass-fronted plaza.
The design similarly reflects an abstracted version of the building's namesake, Bunjil, an eagle figure that appears in Boon Wurrung creation myth, which is expressed in the arrangement of the building's two wings and slender roof.
"We began to conceive this project as an extended public ground plane and a broad sheltering roof," said the architects in a statement. Made from a laminated timber grid shell structure, the roof is an emblematic of the eagle's wings, with its fluid, organic geometry.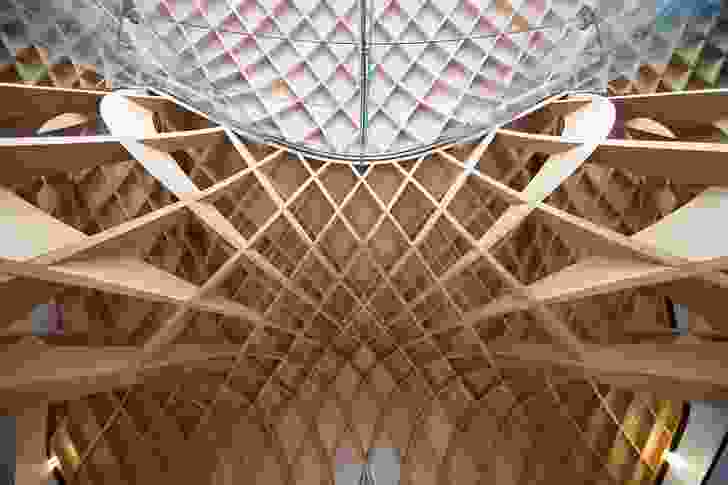 "This sinuous element symbolizes not only the traditions of the past, but provides a contemporary vision of the future, movement, technology and innovation," said the architects.
At the centre of the building is an interconnecting foyer space – a "nonhierarchical space that unifies the complex."
The grid shell roof is integrated with two supporting columns which meet the ground in the foyer in a Dalí-esque manner.
"This is a concept of support and connection at the very heart of Bunjil Place," said the architects of the foyer.
"The form of this timber structure reinforces the openness and welcoming nature of the complex in the way it reaches out to the public open space and lifts up to create a powerful sense of invitation."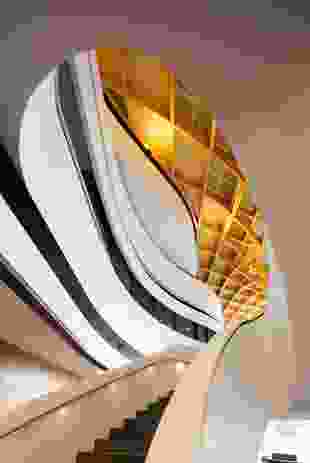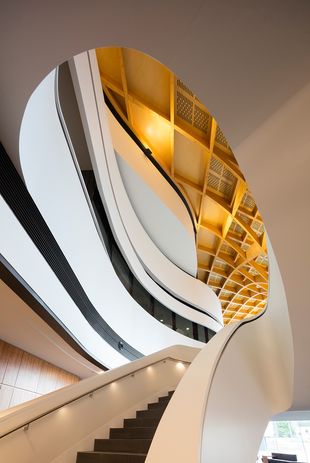 The building's interior spaces "are shaped and defined through a series of white and timber ribbons accentuating the flow and interconnected nature of the [building]."
FJMT won a competition to design the project in January 2014, which was then known as the Casey Cultural Precinct.
The City of Casey has largely financed the $125 million cost of construction itself, apart from a $10 million grant from the federal government.
Ahead of the building's official opening in late October, City of Casey mayor Sam Aziz said, "Council has been dedicated in its cause to provide quality arts and cultural facilities that our residents, and those in surrounding regions, deserve so we couldn't be prouder of this facility and what it has to offer."
Related topics