An application currently under assessment by the City of Sydney would see a 22-storey residential tower built over the existing 10-storey David Jones store on the corner of Castlereagh and Market Streets in central Sydney. The tower would contain 101 apartments.
The 20th century department store, which is locally heritage listed, would be refurbished to contain a mix of retail and office spaces.
The design, by FJMT, won a competition for the project over Bates Smart, John Wardle Architects, Make Architects, Woods Bagot in association with AL_A and Sydney Architecture Studio in association with OMA.
The design was chosen by a jury chaired by Peter Mould, and included Helen Lochhead, Angelo Candalepas, Jonathan Knapp, Stewart White and Chris Kakoufas.
In its design statement, the architects described the relationship between the proposed tower addition and the department store as a "clear architectural [dialogue] between new and old." The two structures would "exist independently but become inseparable, linked both physically and culturally."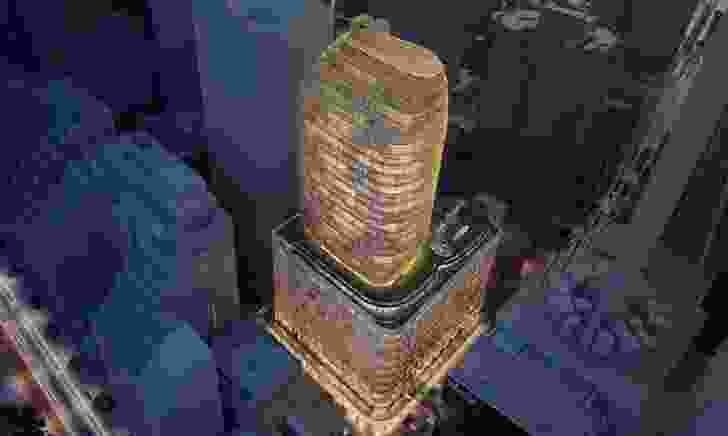 "The new form is open, inclusive and ambiguous in identity and character," the architects'design statement continued. "Its honed curvilinear form is both primal and ancient – inspired by tools and baskets – as well as responsive, technological and futuristic."
The design competition attached to the application said that the jury described the design as "a thoughtful response to the relationship between heritage and contemporary architecture" and it "considered the tower form to be unique on the skyline yet polite and understated."
The jury also said that "the form separating the new building from the old was a robust but successful response to its heritage. In addition, the concept of lifting the tower volume at level 10 to allow natural daylight penetration down through the office and retail floors was appropriate."
The David Jones store was built in 1938 and designed by David Jones' consultant architect Crawford Mackellar (in association with Bruce Partridge). The building's statement of significance describes it as "a fine interpretation of the functionalist design tradition, expressive of the department store use and well related to a strong townscape character at an important city corner.
"Its materials, attractive proportions and subtlety of address to the corner site show an architectural style and sensitivity of a high order. The use of aluminium for window frames and street awning (both still extant) was innovative at the time."
The proposal is on public exhibition until 26 April here.
Related topics