FJMT designs addition to John Andrews's Sulman Medal-winning Sydney tower
FJMT has designed a five-storey addition to a unique 1970s office tower as part of a redevelopment proposal the architects say will "restore" the prominent city corner of George and King streets in Sydney's CBD.
The sinuous sandstone and glass building, the design of which is informed by the topography and hues of the surrounding area, would sit at the base of the 30-storey triangular commercial tower designed by influential architect John Andrews ("Australia's first internationally recognized architect"). The freestanding addition would not only restore the street wall but also create a through link on the site that will be "a natural extension of the existing Sydney Arcade the linking between Pitt Street and King Street."
The existing tower was completed in 1976 and was previously known as the King George building, and prior to that the American Express building.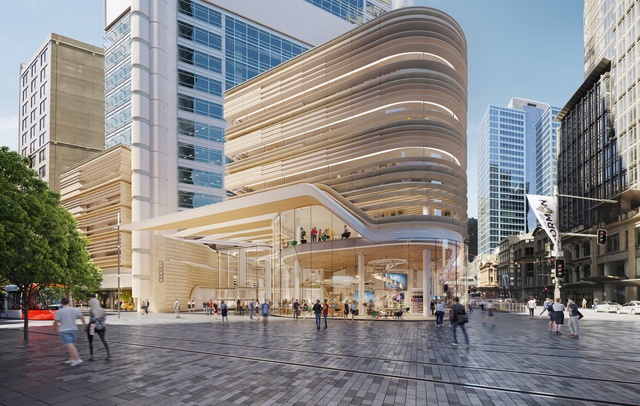 It was awarded New South Wales' highest accolade for architectural excellence, the Sulman Medal, in 1983, and is listed on the Australian Institute of Architects' Register of Significant Architecture in NSW as well as the National Trust of Australia's register.
It is distinctive for its 45-degree angular geometry, which allows for improved light penetration through to street level, and for its expressive curvilinear protrusions.
FJMT's proposal for the site also involves the partial demolition of the tower's 1997 podium additions and a reconfiguration of its ground floor retail space.
In a development application currently before the City of Sydney, the architects note that while the original tower was highly acclaimed, the lower ground level stepped plaza and podium were less successful.
"Our concept is to restore a greater integrity to the tower [by] 'bringing it to ground'," the architects write.
"The triangular 45-degree form [of the addition] gently curves away from the Andrews-designed tower in a sympathetic and complementary manner. A strong curve to hold the corner at George and King Street intersection reinforces the development at a strong urban intersection."
With an expected cost of $54 million, the redevelopment project – led by joint owners of the building Brookfield Properties and the Investa Office Trust – will comprise 1,310 square metres of above ground retail space and 1,134 of new commercial office space.
It will also include plant and building services, bike storage and end of trip facilities. The new corner building will also feature a roof terrace with food and beverage provision.
The architects write that the new building will be sensitive to the architectural significance of the existing tower.
"It is from an era in architecture that is now being increasingly valued and placed in historical/cultural perspective. Any new work needs to be respectful of the quality and geometry of this significant John Andrews project."