South Australia's Flinders University has unveiled plans for a health, education and accommodation precinct to be built around a proposed railway station in Adelaide's south.
The transit-oriented development at the Bedford Park campus will be the biggest integrated health and education precinct in South Australia and will include a health research facility, transitional health accommodation, a hotel, student accommodation and a range of private developments and retail facilities.
An architect has yet to be appointed for the project, with the open tender closing on Friday 7 June, but a series of indicative renders prepared by the UK firm Turnberry in collaboration with Adelaide's Convergen have been released.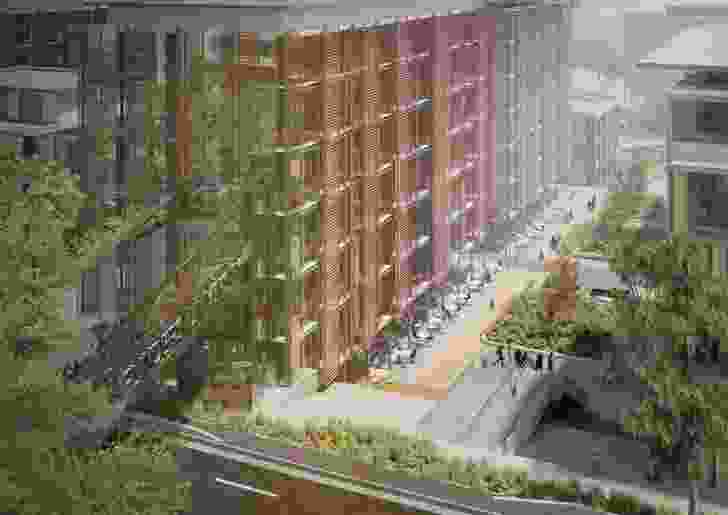 Convergen also did the renders for the Flinders link rail project, which forms the catalyst for the development.
Vice-chancellor Colin Stirling said the project, dubbed Flinders Village, would energize southern Adelaide and create a vibrant urban centre.
"It will complement the University's existing investments in the Tonsley Innovation District, support the Flinders health precinct and leverage the $125 million investment by the federal and state governments in the Flinders Link rail extension that will connect our campus with the Adelaide CBD," he said.
The university hopes to attract private capital for the $1.5 billion development and the vice-chancellor has told local media that there has been "intense" interest from student accommodation providers.
The new Flinders Station is scheduled for completion in 2020, and the university plans to begin the first stages of the development that year. The Health Research building will be shovel ready in late 2020 and will be built during 2021-22, an interim "pop up" village will be established at the rail station in 2021, while the rest of the precinct will be developed in stages up until around 2030.
"Flinders has a proud history as a pioneer in integrated health – ours is the first medical school in the nation to be integrated into a public hospital," said Stirling.
"Flinders Village is an investment in knowledge – making a difference in the education we deliver, the research we pursue and in our support for our community."
The university predicts the development will attract 5,000 additional international students to Adelaide, with an additional 3,000 student beds. For further information head here.
Related topics