Flipboard Cafe is a modest-sized project with entirely immodest ambitions. In the estimation of Megg Evans, it is like a jazz improvisation, where a handful of notes are juxtaposed in an attempt to describe an entire world. I met Evans and her partner Martin Heide, who together designed and own the cafe, on a busy Wednesday afternoon when they introduced me to the phenomenon that is Brolly Design, and the philosophy that underpins their practice and indeed their lives together. The exchange was illuminating and, at times, more than a little challenging to get my head around.
To understand Flipboard Cafe one has to understand how it fits into a body of work that has perhaps, to date, been more ephemeral than permanent, but no less rigorous for that. Evans and Heide describe Brolly Design as "a sculptor of innovative interventions that aid self-discovery." In achieving this aim, the team has undertaken a range of projects that take a scalpel to the skin of inner Melbourne, peeling back just a few layers at a time to expose something underneath – the result could best be described as a place where one can "dwell," however fleetingly. In fact, Heide wants to underscore the importance of the idea of "dwelling" in their work, and the interpretation of this word points to the riches they wish to uncover in their built projects. A second (compound) word that describes their agenda is "para-architectural." The para-architectural is that which is beside, near or behind architecture – not quite architecture, if you like.
Brolly Design has been responsible for several interventions in Melbourne city that seek to occupy the para-architectural realm – transient spaces imbued with the ephemeral traces and props of dwelling. These include the Imaginary House (an archetypal house in a small park in the city, its shape formed by helium-filled balloons and string); the StepoSit (a stair and platform constructed of milk crates, which Evans and Heide believe are ideal para-architectural objects given their ubiquity and utility); and PlayMo(bil) (a three-dimensional space once again crafted from milk crates, occupying the interstitial termination of a lane-off-a-lane called Drewery Alley). Another more recent intervention, one that was a tremendous hit with passers-by during Melbourne's forty-degrees-Celsius heat this past January, was a steel skip bin delivered to the kerb outside Flipboard Cafe on busy La Trobe Street, and lined with plastic and filled with water. During its short life, many people took advantage of the opportunity to take a "dip in a skip."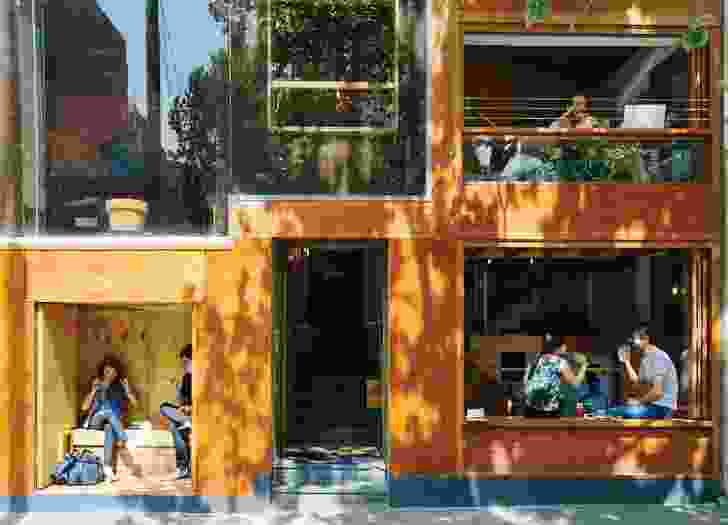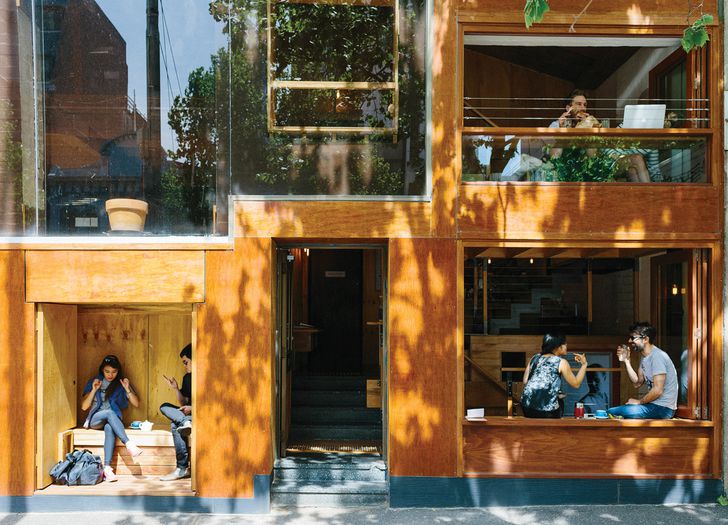 These diverse projects, along with others like them, have one thing in common – they seek to project moments of dwelling into interstitial, para-architectural spaces of an otherwise purposeful, intentional city. Flipboard Cafe has been crafted to respond to a similar philosophy, and represents a transition in Brolly's work, from the temporary into something with greater longevity.
Flipboard Cafe looks labyrinthine in its photographs, and considerably larger than it actually is. In fact, it is a tiny space if one were to assess it on square metreage alone. What it lacks in size it more than makes up for in Borgesian complexity and interest. In the process of designing Flipboard Cafe, Heide and Evans observed that the act of having coffee is, in Melbourne in particular, an urban ritual that often seeks out forgotten or out-of-the-way spaces. To have a coffee in a cafe is to dwell, however briefly, in interstitial space and by extension it is to participate in the life of the city.
Flipboard Cafe has been designed to take full advantage of the "nesting" and "burrowing" aspects of finding a good spot for a coffee, and offers partakers a plethora of platforms, nooks and crannies, most with voyeuristic outlooks, within which to ensconce themselves. Unlike most cafe interiors, Flipboard Cafe is vertically oriented, the space bisected by a prominent stair, and prioritizes users' space rather than preparation space.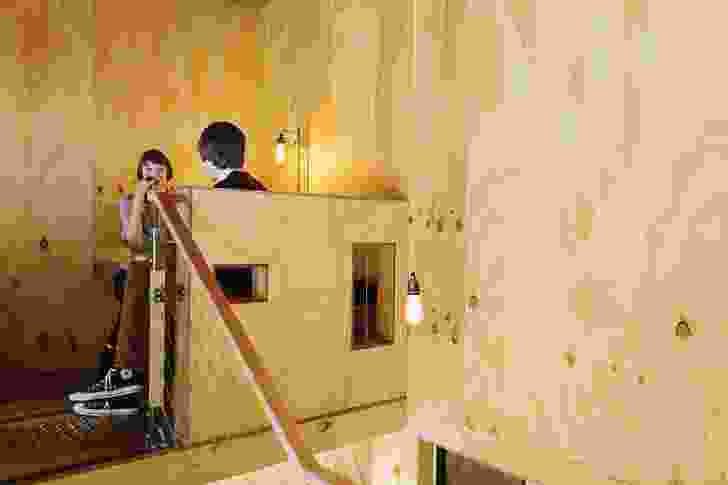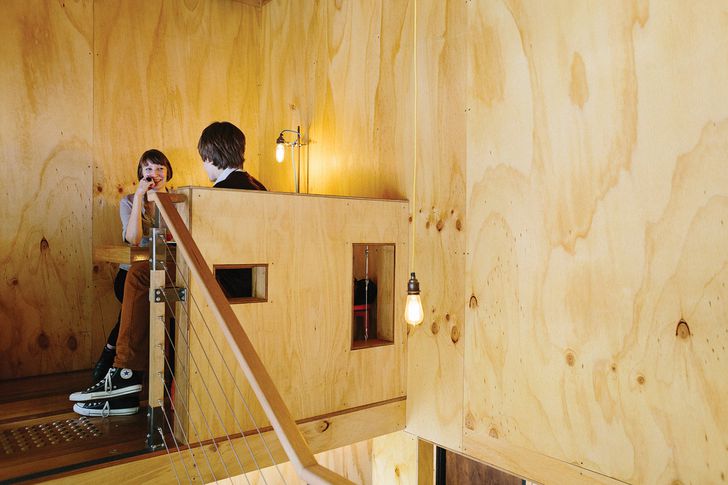 The site Flipboard occupies more than satisfies Brolly Design's definition of a para-architectural space, falling on the intersection of the entry to the Brolly Studios co-working hub (another of Heide and Evans' ventures), an emergency exit of Bennetts Lane Jazz Club (a venue run by Evans), and an old, disused shopfront window. The cafe is shoehorned into this strange, leftover space, and the result is a venue that is more like a single, multi-cell joinery unit than a conventional interior.
The construction process necessarily involved the investigation of the Brolly Studio building, and that investigation turned up a few surprises. The most thrilling was the discovery that behind the ground-level facade there was more than a metre of space between facade and interior wall. This "lost space" was reclaimed by Heide and Evans and is now a series of ply-lined public nooks and cubbies for passers-by to occupy, whether they are patrons of the cafe or not.
Flipboard Cafe is, as I have said, a modest project. But for Brolly Design it represents the next step in the delivery of a manifesto – perhaps the first public step into the realm of the "fleetingly permanent." I look forward to seeing this manifesto played out in increasingly enduring projects, but certainly hope that the practice keeps intervening in the transient life of our city, bringing joy and momentary respite to the forgotten corners of our urban environment.
Products and materials
Walls and ceilings

Pine plywood with linseed oil finish used on interior and exterior walls.
Windows

Victorian ash bifold windows with laminated glass, treated with linseed oil and Feast Watson stain, manufactured by Payne Timber Products.
Doors

Existing entry door. Doors to outside cubbies custom made with Victorian ash frame and exterior plywood, with linseed oil finish.
Flooring

Recycled Tasmanian oak flooring, re-sanded and finished with Feast Watson satin polyurethane finish. Kitchen flooring is black rubber.
Lighting

All lights custom designed by Brolly Design. Edison light bulbs from Empirical Style.
Furniture

All furniture custom designed by Brolly Design. Press stools feature newspaper, magazines, felt and plywood with linseed oil finish. Flipping seats and tables made of recycled Tasmanian oak.
Kitchen

Bar made from recycled Tasmanian oak, re-sanded and sealed. Plywood work benches. Stainless steel splashback. Custom-made plywood shelving.
Other

Custom-made clothes hangers.
Credits
Design practice

Brolly Design
Melbourne, Vic, Australia
Project Team

Martin Heide, Megan Evans, Barry Tonks
Consultants

Engineer Keith Long
Lead builder Barry Tonks

Site Details

Location Melbourne, Vic, Australia

Project Details

Status Built
Design, documentation 4 months
Construction 8 months
Category Hospitality, Interiors
Type Bars and cafes

Source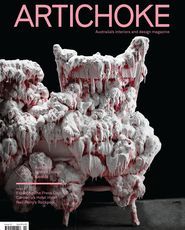 Issue
Artichoke, June 2014
Related topics