Australian light artist and designer Flynn Talbot works internationally, creating monumental, experiential light installations and designing products for lighting manufacturers. After graduating from the School of Art and Design in Western Australia in 2000, he designed window displays for a Perth lighting retailer. "That was when I began considering light as a spatial material," he says. "A few years later, living in London, I decided that I would only work with light, because it can transform a space more than anything else".
Talbot's studio has had a brilliant decade. Portal (2010), his winning entry in an international competition to design an installation for Frankfurt's Luminale Festival hub, at St Peter's Church, was an early creative high, although an administrative fiasco. Despite Talbot having briefed the fire brigade in advance, its officers were spooked by smoke machines used to create a huge, mysterious cloud of light, and shut down the installation after two nights. On a brighter note, because of this work, Talbot could lay claim to being the 2010 Young Lighting Designer of the Year. For the 2017 London Design Festival, he transformed the Victoria and Albert Museum's Prince Consort Gallery into Reflection Room . Lighting its end walls and positioning gloss black membrane panels on its side walls, he extended its perceived dimensions. "My combination of orange and blue light was inspired by the natural light of the setting sun as seen in Western Australian," says Talbot.
His installation caught the eye of Ben Evans, executive director of the second London Design Biennale (2018), who commissioned Talbot to represent Australia. Among other issues, the biennale's Emotional States theme encompassed social inequality. Inspired by an amendment to Australia's Marriage Act legalizing same-sex marriage, Talbot created a rainbow light installation: Full Spectrum. "Its circular structure echoed the vaulted space at Somerset House," he says. "Concealed lighting technology within the structure focused viewers' attention on a luminous experience of pure colour." Talbot also designs site-specific lighting installations for commercial spaces. Commissioned to illuminate the staircase and lift lobby area of Perth's Como Treasury hotel, Modular Pearls (2018) he created his largest permanent installation to date. Inspired by the Western Australian pearling industry, it comprises six vertical strands of brass tubing, with luminous "pearl" light sources positioned along their lengths. Guests glimpsing themselves in a highly polished, suspended brass mirror discs are offered moments of personal reflection, in both senses of the word.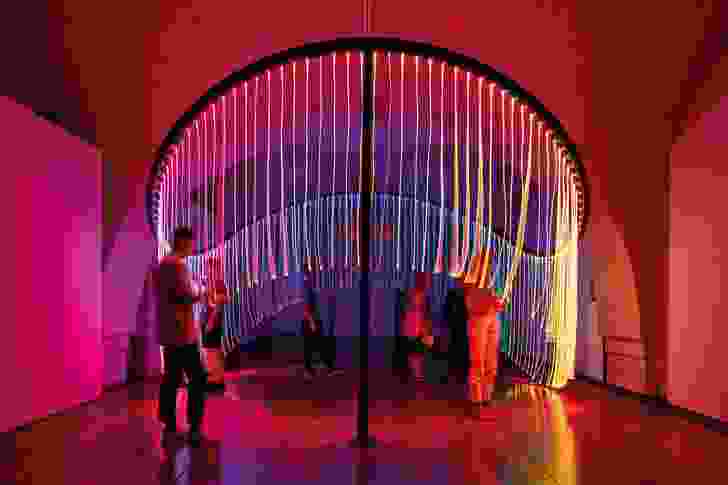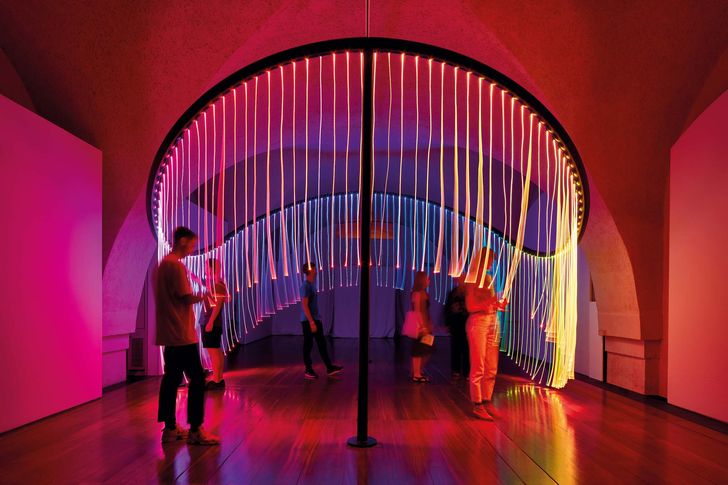 Talbot's lighting product designs are also innovative. Constructed around a seamless floating halo of LED light, the Mesh Space collection (designed for Resident, New Zealand in 2014) can be suspended from ceilings or mounted on walls. Inspired by the various ways scaffolding is configured on building sites, Freeline (designed for Fabbian, Italy in 2017) provides endless possibilities for lighting interiors using three differently shaped light sources arranged in lines, grids or more dynamic configurations. Spherical sources provide ambient lighting, cylindrical sources provide spotlight and accent lighting, and disc sources provide indirect uplighting for ceilings or "washing" walls. "Virtually infinite graphic and functional light effects are possible," says Talbot. Other light designs are merchandised as artist's limited editions. Commissioned by Helmrinderknecht Gallery (Berlin and Zürich) in an edition of eight plus two artist's proofs, X&Y (2011) has been exhibited in Europe and Australia. Users can select their desired lighting level by gripping the mouth-blown opal glass sphere and rotating it on its concave base, in any direction. Talbot also designed Amplifier (2013) for the gallery's group exhibition of kinetic mobiles. A small, light balsa wood mobile suspended inside a stable, uplighting base composed of aluminium rings, its gentle movement activated by heat generated by the high-output LED light within its base.
Talbot's new collection for a French lighting brand, two years in gestation, will launch at the nineteenth London Design Festival. At the time of writing all he divulged was "expect a new typology of large-scale lighting elements for interior spaces." His aspiration for the 2020s is to establish his own manufacturing facility, enabling him to be freer creatively and to use more environmentally sound materials. "I am becoming much more ethical in the way I work and the projects I take on, so it's important that I control more of the creative process, prototyping, packing, shipping and sales cycle in-house," he says. "Expect to see a shift in my future work."
Source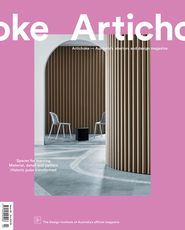 People
Published online: 16 Dec 2019
Words: Colin Martin
Images: Fabbian, Mark Cocksedge, Resident, Studio Flynn Talbot
Issue
Artichoke, September 2019
Related topics