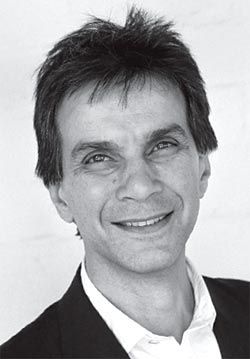 How can increasing the role of architecture in the planning process enhance our built environment? In the previous issue, I posited a major overhaul, from an environmental perspective, of the planning and legal frameworks that control development and the work of architects throughout Australia. The proposal included increasing the responsibility and freedom of architects in the building design process as an integral part of new development controls. The objective is to more effectively acknowledge and integrate the valuable work of architects in site-specific design processes. Under such circumstances architects, along with their commitment to serve the public interest, are openly charged with the responsibility of providing the community's built infrastructure and ensuring its value as "cultural capital" for future generations.
The argument is developed from the premise that new strategic planning and urban design frameworks be focused and limited to the design of the public domain based on sound environmental principles. In effect, new development controls are proposed that minimize, if not eliminate, building design controls in planning legislation not relevant to these issues. Architects and their clients are then guided by less prescriptive development controls for building design, and the responsibility for architecture is understood by all to be with architects and their clients.
Review processes by the community and rights to object to development proposals are retained, but with fewer and more significant environmentally based considerations within planning legislation. This focuses public debate about new building infrastructure on the design of the public domain from an environmental and amenity perspective, with fewer avenues to argue the merits of a particular architectural approach.
One of the questions to consider comes from the widely accepted observation that most architects have a "unique voice" or way of formulating architecture. The argument may go something like this. Allowing greater freedom for architects to express this "voice" is not in the public interest as the community will experience more architecturally inappropriate applications for approval and a generally lower standard of built infrastructure. This line of thinking intimates that architects and their clients tend not to see their work in relation to the work of others, thus compromising cohesive built form outcomes. In such a scenario it is acknowledged that there is an increase in architectural "empowerment" or "flexibility" and potential reduction in the ability to control the public domain through legislation.
In reality, cohesive built form outcomes can still easily be achieved, perhaps even more comprehensively. For example, a relatively straightforward requirement defining solar access will produce building forms that are cohesive relative to solar access. If solar access is the only prescriptive control, then other elements of architecture are less likely to be cohesive, and does this really matter?
In urban environments, under controls related to the environmental performance of building services, energy and water management technology, land use, solar access, urban connectivity at the ground plane, heritage, view corridors and vehicular management, architecture will still remain substantially regulated. The main difference is that the proposed new regulations are based on sound environmental design principles. Within the proposed regulation framework, how architects develop a site-specific response to a particular brief is not the subject of specific regulation.
In suburban and non-urban areas, controls may focus more on the management of water systems, natural habitats for fauna, landscape structures and planting regimes, soil management and scenic protection (or natural heritage) and less on built form and other architectural controls. Architectural considerations in non-urban environments as a consequence are likely to be significantly less regulated, and again, does this really matter?
The proposed major overhaul has many dimensions. Opportunities exist to re-examine the controls on residential land use to better reflect changing family structures.
Today, multi-generational houses (accommodating more than one immediate family) are discouraged, if permitted at all, along with subletting and other forms of economic use of residential accommodation. Is this a good thing? Do these planning controls enhance the quality of family life for Australians? If these planning controls didn't exist, what would happen?
Similar issues are being debated in various ways and with different emphases in many parts of the world today. More evident than in any other recent period is the need to change the way we think about the environment and architecture, as well as how we must act in the public interest.