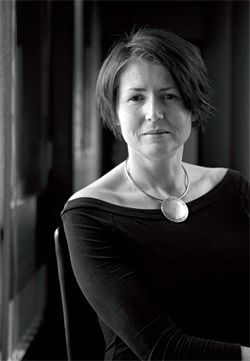 To effect real change in the area of sustainability, and to achieve community buy-in, the question needs to be asked – and answered – as to how the profession of architecture can paint a positive picture of a post-carbon world. In pondering this, I'd like to quote Dr Caroline Lucas, leader of the Green Party of England and Wales, an acknowledged expert on climate change, international trade and peace issues. Using the media to reassure the community, Lucas advocates for a greener future: "This is not about living with a candle in a cave, this is actually about a more fulfilling quality of life." In keeping with this statement, the profession of architecture needs to focus on painting the picture that if we wish to live in cities that are workable, are livable and maintain a balance between the natural and built environments, sustainability is the best and most compelling option for the future.
To this end, what should we, as architects, be doing? I believe architects can play a pivotal role in actively showing governments and the community how sustainable environments can be achieved. Architects must not be engaged only in the design of the built environment, but should use our role in the public sphere to guide and influence the construction of a sustainable society.
There is a strong need to incorporate an architectural dimension into government planning, infrastructure and transportation policies; to encourage innovation and experimentation; and to develop the economic growth and employment potential represented by architecture as a creative, cultural and clever industry. As architects, we must be the designers and advocates of energy-efficient buildings, to create monuments to sustainability in our built environment. It is our collective task to ensure sustainability becomes the status quo rather than the exception. Australia wants our ideas and it needs our engagement.
At its best, the relationship between the city and the natural environment can create a kind of harmony: natural, refined and enjoyable to work and live in. We can all name places, streets and buildings that represent this kind of seemingly effortless grace, despite cities not always being designed and built with this in mind. Now, more than ever before, we must recognize that the relationship of our cities to our natural environment – and how we want to live and work – can no longer be an afterthought. As Frank Lloyd Wright once said, "All fine architectural values are human values, else not valuable." This is a reminder that our built environment reflects our goals and objectives for the future – form, function and, now, a growing awareness that the built environment can contain the solutions to issues that confront us. As we set about tackling the challenges presented by global climate change, we confront the critical question of how we should value sustainability, and this means asking how we should value the environmental risks to our urban environment now and into the future.
At this point the visionary view of Danish architect Jan Gehl and his thesis about the human dimension come to mind. Many of you would have heard Gehl speak when he delivered the 2009 annual Walter Burley Griffin Memorial Lecture in Canberra. Known the world over for his innovative and clever solutions to urban problems, Gehl has worked with the Perth, Adelaide and Melbourne governments and, more recently, with the City of Sydney to develop a Public Spaces and Public Life survey for the Sydney CBD. Measuring people, not cars, and how they behave in cities, Gehl has progressively challenged outmoded views to enact positive change on cities. His vision is to transform and create better cities that are lively, healthy, diverse, sustainable and safe – and thereby improving people's quality of life.
Gehl shows that cities like Sydney and New York can shake their car culture and get people to walk and ride bikes – it can be done. Over forty years, Gehl's work has helped to transform Copenhagen from a car-dominated city to a pedestrian-oriented city – a focus that is also part of the Danish national health policy. In fact, Gehl often uses the phrase "Copenhagenize" to describe his vision of how urban centres can embrace urban cycling.
The architecture profession must increase its efforts to consistently promote concrete examples such as this to the community to demonstrate the ability of sustainable initiatives to transform environments. In Gehl's words, "Whenever you see a city where many people are walking and then not walking – stopping to enjoy – that's a city of very good quality." Cities for people and sustainable cities are, in fact, the same.

Melinda Dodson
National President, Australian Institute of Architects