FAREWELL TO HARRY, GOODBYE FROM BOB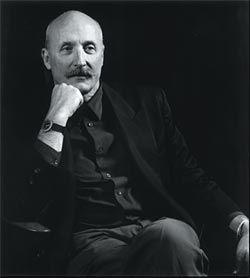 I'm proud to have called Harry Seidler a friend. He was a man of considerable complexity – of legendary talent, ferocious intellect and, contrary to perception, gentle kindness, abounding charm and great wit. He was without doubt one of Australia's leading lights and greatest architects, fearlessly forging new paths into uncharted territory to leave a legacy of now iconic buildings. His death in March at the age of 82 has denied us the presence of an inspirational man, and the creation of many more wonderful buildings such as those for which he is best known – Grosvenor Place, MLC Centre, Australia Square, and Horizon Apartments. Harry, the profession salutes you and will remember you.
This issue is my last as National President. I have to say that the past twelve months have been a rollercoaster ride that boasted G-forces maybe more acceptable to NASA pilots than to most architects – a side effect of being involved with a dynamic small organization with a large membership, great services and products and big plans for the future. All in all, it was a fantastic ride.
From the outset, I attempted to focus on a few key achievable goals that offered significant longstanding benefits to members. Dearest to my heart is the work we have underway on several fronts to raise our international focus and increase our offshore presence.
Undoubtedly the most significant step forward in this area was the launch of an international arm of the RAIA in Hong Kong. This initiative will provide the first offshore presence for the Institute to service our growing membership base of architects living and working overseas. Currently there are more than 800 members living in more than twenty countries outside Australia, and it is my hope that RAIA International will give these members a greater voice within the Institute and provide a valuable extension of the RAIA network into the heart of South-East Asia.
In keeping with this, we have reintroduced an International Award into the RAIA National Architecture Awards Program as part of a review being undertaken by our new National Awards Taskforce. Having lived and worked offshore for twenty years, I'm especially pleased to have secured this personal objective, which ensures that those architects working offshore get due recognition. The award will be introduced into the 2006 programme. I look forward to the taskforce's recommendations later this year.
Elsewhere on the international front, our connection with the International Union of Architects (UIA) continues to strengthen, with well-known architect Louise Cox appointed First Vice President, and Vice President for Region 4 over three years. In 2005 we sent an RAIA delegation to the UIA Congress in Istanbul, which is held every three years, and we were welcomed by our colleagues from more than 100 countries around the world.
We also presided over the launch of the APEC Architect Register in September, further bridging barriers for trade of architectural services in our region, and creating considerable opportunities for Australian architects. Significant progress was made in strengthening ties within Asia when RAIA CEO David Parken and I were received with great enthusiasm as observers to the 2005 ARCASIA Council meeting and forum. This is a continuing process as we hope to return next year, to Beijing – again as observers. Most encouragingly, the prevailing attitude towards our future engagement was optimistic, and as a result of our attendance, the Hong Kong and Malaysian representatives are very keen to be a part of the RAIA International Area Committee.
All of this bodes well for our place on the world stage, and I look forward to a further strengthening of these ties in years to come.
Importantly, on top of the National Awards Taskforce, we launched the Venice Biennale Taskforce this year, which promises great advances for the profession. We have allocated funds to celebrate Australian architecture in a sustainable way at the prestigious Venice Architecture Biennale. President Elect Carey Lyon is committed to these objectives, and is now chairing a committee of expert practitioners to begin this representation at the next Biennale in September.
None of the above would have been possible without the solid, unerring support I received from my fellow National Councillors, RAIA executive and staff, and the profession. I thank you all for helping to advance the profession of architecture together. To my successor, Carey Lyon, I would like to extend a warm welcome, and encourage the profession to offer similar unwavering support for him during his term as National President.
BOB NATION
FRAIA
NATIONAL PRESIDENT RAIA