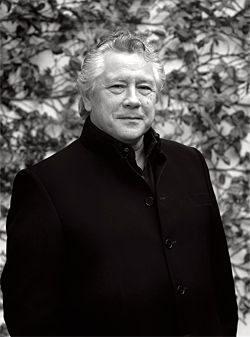 Build a better mousetrap and the world will beat a path to your door." Erudite nineteenth-century philosopher Ralph Waldo Emerson is generally credited with this pithy aphorism. If this is true, his usually irreproachable reasoning for once founders. Perhaps I'm being too literal, but desire is not intrinsic. It comes not from something's existence per se – no matter how innovative and potentially valuable that thing may be – but rather through an understanding of its relevance and benefits.
I find this is particularly true of Institute membership. If everyone in our industry genuinely comprehended what the Institute did for the profession, I'm sure I would never again be asked if membership was worthwhile. On the contrary, architects both established and emergent would beat a path to the Institute's door when renewals went out.
During my term as president, I plan to focus on bridging this apparent knowledge "gap", and to help ensure that the profound achievements of the Institute are reflected by an equally profound knowledge of its relevance and value to members. And my first foreword in this esteemed journal is as good a place as any to start.
In the broadest sense, the Institute's mandate is to champion the best interests of both the profession overall and each of its individual members. It educates government and the wider community on the value of sustainable design and the pivotal role architects play in its creation. And it helps architects at all levels realize their potential through the provision of knowledge and professional development services.
Spend a few minutes (right now, if you like) at architecture.com.au – the Institute's website – and you'll appreciate the depth and breath of activities currently underway in pursuit of these ambitions. Similarly, make time to read some, or ideally all, of the Institute's regular printed and online communiqués, such as the monthly E-News, Memo and your Chapter communications.
Collectively, these channels carry all the latest information on policy development, active projects, submissions to government (there were eighteen in 2009), lobbying, research, awards, events, education, resources and undertakings by the Institute's State and Territory Chapters, more than 110 committees, subsidiaries and National Council. Of these, two initiatives in particular are worth highlighting here, as they clearly underline the Institute's role and sphere of influence.
The first is the formation of Built Environment Meets Parliament (BEMP), of which the Institute is one of five industry partners. Now in its third year, this dialogue with government on the relationship between communities and their built environment continues to have an increasing impact on key decision makers.
The Institute is also maintaining dialogue with the federal government in regard to establishing a Government Architect position within the Department of Prime Minister and Cabinet. By creating a whole-of-government approach to planning and design, this much needed and vital role has the potential to help effect superior planning and design outcomes across the nation.
In addition to its core activities, the Institute operates several trading divisions, including IBL Limited, which provides professional indemnity insurance and risk management services; Architext bookshops; and the Archicentre building advisory service.
In short, the Institute is a highly active, complex and dedicated organization and its staff nationwide work tirelessly for the good of the profession, members and, by extension, the built environment and the panoply of communities that comprise Australia.
If you're passionate about an issue – be it design-related, financial, regulatory or educational – you'll find the Institute is also a good listener and quick to get behind initiatives that merit support. To this end, I am particularly interested in hearing your views on how the Institute can better communicate to members its roles, responsibilities and achievements.
Finally, it would be remiss of me not to express the profession's sincere gratitude to immediate past president Melinda Dodson. Her contribution in the area of sustainable city design was enormous and the impetus it generated will clearly help shape the Institute's ongoing agenda.

Karl Fender
National President, Australian Institute of Architects