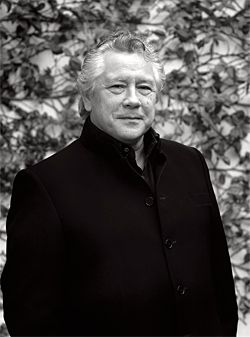 "We have the capacity and knowledge to plan, design and build. We need to consolidate these skills and further focus on the creation of cities that move towards true sustainability and liveability."
The design and realization of future sustainable cities requires a combination of speculation, research and practical application, and what better venue exists to showcase these endeavours than the Venice Architecture Biennale? Abundant, Australia's contribution to the 2008 Venice Biennale, has just completed a successful national and international tour. This exhibition gathered mostly speculative ideas and building concepts of Australian architects presented through an amazing array of small models. This collection of models, both physical and speculative, was a beautiful and appropriate prelude to Australia's 2010 exhibition at the biennale. Now + When: Australian Urbanism moves from the focus of single buildings to illustrating cities of today and speculating on cities of the future. It also moves from world display to a new form of 3D stereoscopic digital technology, which, as a technique, will influence and probably change the way that urbanism is seen and interrogated.
Now + When displays the enthusiasm of Australia's architects for creating sustainable cities of the future, communicated through speculative designs and fantastical visions of the future. The contributions come from very extreme positions, both utopian and, some might say, dystopian.
The Venice Biennale is an important coming together of the international design community and environmental thinkers. It therefore provides an opportunity to highlight the achievements and creativity of Australia's architects on the global stage. Increasingly, Australian architects are seen as being able to work sensitively and successfully with other cultures and contributing to the design and development of cities around the world.
The creation of sustainable cities of the future will need that combination of the speculative and the practical, and so the propositions of the biennale complement the pragmatism of the Built Environment Meets Parliament (BEMP) initiative. The Institute is one of five industry partners who jointly host this annual summit. Now in its third year, this dialogue with government on the relationship between communities and their built environment continues to have an impact on key decision makers.
The main focus of this year's summit was the capital city report commissioned by the BEMP hosts and prepared by consultants KPMG. "Spotlight on Australia's Capital Cities" assesses all current capital city strategic plans against the COAG criteria for future strategic planning of capital cities.
Through its focus on the criteria as agreed to by COAG, BEMP seeks to encourage a constructive public dialogue about capital city planning systems, including an assessment of existing metropolitan strategic planning frameworks and performance indicators. It proposes solutions for the creation of more liveable, competitive and sustainable cities in the future.
Underlining the report, practitioners presented their own ideas to parliament. They included Chris Bosse, the founder of LAVA: Laboratory for Visionary Architecture, who presented a case study of cities of the future; and Ken Maher, gold medallist and executive chairman of Hassell, who spoke eloquently about design-led thinking.
A key message that arose from BEMP was the urgent need for Australia to lift its game. An intelligent environmental response to the future development of our cities is needed, and the complexities of what we are dealing with requires a solid commitment from both government and the profession.
We have the capacity and knowledge to plan, design and build. We need to consolidate these skills and further focus on the creation of cities that move towards true sustainability and liveability. BEMP is a unique and extremely relevant forum to harness and develop the required knowledge, expertise and creativity. It is a joint commitment between our profession, host partners, industry and parliament.
Finally, I would like to mention that the Institute is about to launch a new annual awards book, Inspire: Australian National Architecture Awards 2010, which will be a handsome record of all Chapter and National Awards. The first of this limited edition annual publication will be previewed at the National Architecture Awards event in October and will document the outstanding achievements and excellence of Australian architecture. It will be available through Architext and selected bookstores and of course will further emphasize in the public mindset that design does matter.

Karl Fender
National President, Australian Institute of Architects