Japan's Nihon University has submitted a development application for the adaptive reuse of the former Newcastle Courthouse, which is set to become an international campus for the Tokyo-based university.
The original, heritage-listed courthouse was designed by colonial architect James Barnet and completed in 1892.
The proposed facility, to be designed by Japanese practice Azusa Sekkei, will include the demolition of later modern additions to the courthouse: the Administration Building (1949) to the east and the Supreme Court Building (1966) to the west.
They will be replaced by four storey buildings on each side of the courthouse. The proposed eastern building will be an accommodation building with 109 beds while the western building will house education facilities. The former courthouse will be conserved for educational uses.
The design of new buildings would be in line with symmetry of the Old Courthouse and will have a 10-metre height limit. "The proposed design does not have a strong design expression in itself, so as not to fight with the Old Courthouse," said the architects in a statement accompanying the development application.
The design will also express minimalist Zen design aesthetics, with louvres that reflect traditional Japanese shōji screens. The proposed buildings will also have roof terraces.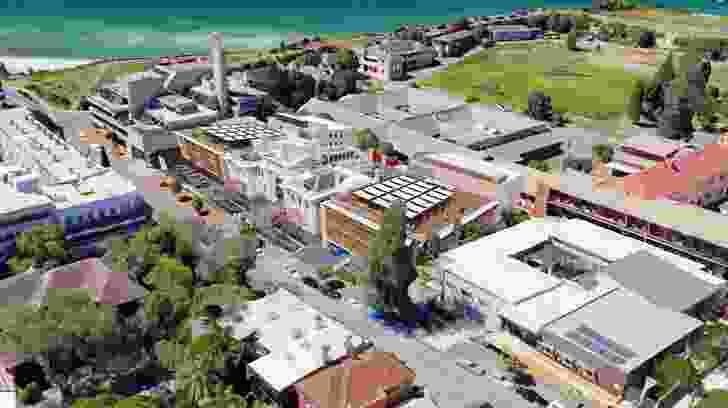 The campus will host an international language exchange program that will host students from Japan for one- to two-month short stays to practice English on site.
The university has also established an exchange program between its Faculty of Law and the University of Newcastle. "The main purpose of this program is the efficient re-use of the Old Courthouse."
It would also offer mock trials in the former courthouse to University of Newcastle students as well as debating opportunities between the Japanese and Newcastle students.
Nihon University will also conduct public lectures in the old courthouse on judicial and law matters as well as on Japanese cultural practices such as tea ceremony, calligraphy, and flower arranging.
The NSW announced the sale of former courthouse in October 2016, following the completion of the new courthouse by Cox Architecture in 2015. The former courthouse was sold to Nihon University for $6.6 million.
Nihon University was established in 1889 and is the largest private university group in Japan.
To commemorate its 130th anniversary in 2019, the university decided to open its first overseas campus. "Newcastle was chosen because of the quiet and safe city environment that is suitable for a good study environment for the students and also because of the existence of the University of Newcastle," Nihon University said.
The sale of the former courthouse building presented an opportunity for Nihon University to open its first overseas campus there "because of the beauty and symbolic feature of the Old Courthouse." Nihon University was originally the Nihon Law School and it was established by the first Minister of Justice of modern Japan, Count Akiyoshi Yamada, seven years after the completion of the Newcastle courthouse.
Related topics