Hassell's three-storey "foundation building" for Australia's newest university campus, the University of the Sunshine Coast Moreton Bay campus, is complete.
Based around a large central atrium suitable for community events, the building has been designed to cater for a rapid growth of the student population in an area where university participation has historically been low.
The new campus and building in Petrie was officially opened on 9 March, just weeks before COVID-19 restrictions saw it close to students. At the time of opening more than 1,200 students had enrolled to study at the campus across almost 50 undergraduate degrees, covering disciplines such as mechatronics, environmental science, health, engineering, law and business.
As well as designing the campus's first building, Hassell is behind the masterplan for the campus, which will continue to be developed on the 10.5 hectare site of the former Petrie Paper Mill, which is expected to accommodate 10,000 students by 2030.
The foundation building houses nursing simulation and science labs, including a large "super lab" facility where experiments using chemicals can be safely carried out, engineering labs, with specialist areas for robotics, advanced manufacturing, fluid mechanics, thermodynamics, geomechanics and civil construction. It also includes a library, student services and support facilities, and a café.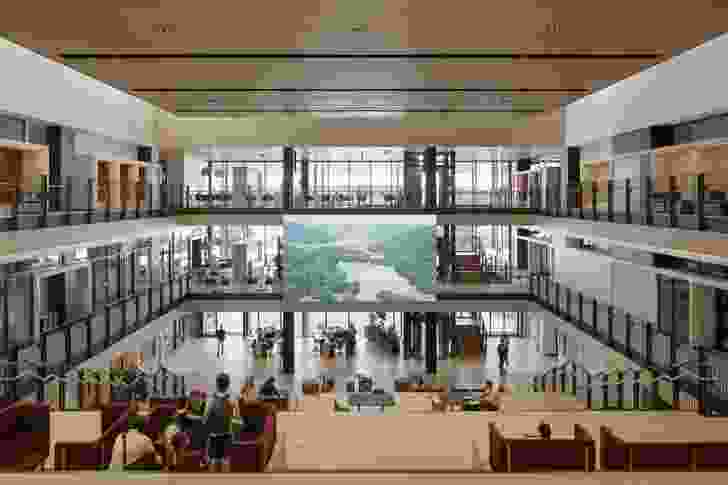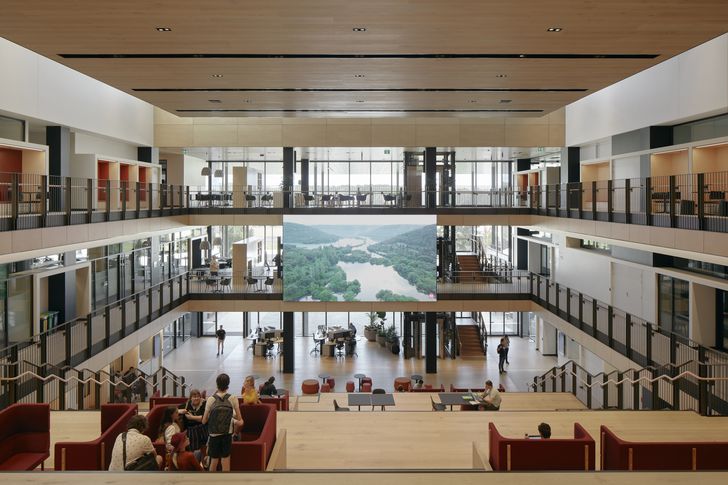 Hassell principal and education and science sector leader Mark Roehrs said that the campus is designed to welcome the local community as well as students.
"We designed the campus to include a 460-seat auditorium, lecture theatre and larger learning spaces to easily accommodate community events and gatherings when it's not programmed for university learning," he said. "We wanted this to be a place where students, staff, and locals genuinely feel great being in every day."
The design is hinged around a central, stepped, two-storey amphitheatre, dubbed The Rise, that is intended to encourages collaboration and incidental meetings throughout the day alongside the 24-hour library.
The Rise is complemented by a range of other informal learning settings, including intimate booths, project spaces and "brainstorming whiteboard settings."
Hassell's project team said the design aims to harness Queensland's subtropical climate, operating efficiently through the use of solar power, deep overhanging roofs and sun shading.
The university campus is funded through $35 million from the federal Community Development Grants Program, as well as $52 million from Moreton Bay Regional Council and a $121 million.
The university is planning a staged return to campus for semester two, with students offered a choice of an "online" timetable or an "on-campus" timetable.
Related topics