This exemplary project is a rare example of the restoration of a mid-century modernist commercial building. It was designed for Laurie West in 1953 by Karl Langer, the influential Viennese émigré who could be credited for introducing modernism to the subtropical city. The building showcased Langer's innovative architectural approach and played an important role in the history of contemporary design in Queensland.
Robert Riddel had schoolboy memories of this building, with its cambered glass walls, jaunty upswept awning, ovoid skylights and fish pond. Over time, original fabric had been lost and the memory of the building had disappeared under layers of low-grade commercial infrastructure, tat and signage.
When it came up for sale, Riddel bought it and embarked on a rigorous process of research and uncovering. Reinterpretation and rebuilding were painstaking but practical and economical. The architects have helped to demonstrate the economic and environmental benefits of preservation over new build. This is not a museum frozen in time. The spirit is faithfully captured; details restored with rigour, energy, affection and wit; and the building revitalized as viable commercial premises now housing the architects themselves.
Very few of Langer's works survive in a recognizable form, so we are grateful to Riddel Architecture for their energy and personal investment in salvaging, preserving, interpreting and adapting this important example of architectural and cultural history.
– Jury citation
Source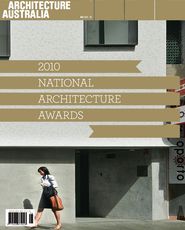 Issue
Architecture Australia, November 2010
Related topics