The World Architecture Festival has announced the 11 winners of its inaugural WAFX Prize, which recognizes proposals and projects which "identify key challenges that architects will need to address" in the future. These challenges include issues such as climate change, energy, water, health, building technology and cultural and political issues.
The winner of the overall prize, a scheme by American practice Paul Lukez Architecture, is a design for a "hydroelectric canal" that would harness tidal energy to power and protect a suburb in Boston, Massachusetts that is highly susceptible to rising sea levels.
"We propose to harness clean energy through hydropower generation from tidal changes and storm surges in low-lying urban areas to shape economically and environmentally resilient, self-sustaining communities," explain the architects on their website.
"Our […] design reconnects and reuses fresh and marine water systems through restored fringing salt marshes, shellfish beds (including oyster reefs), tidal flats and pools, and eel-grass beds.
"Each of these natural habitats is integrated with human ones […], providing comprehensive human and ecological services: primary production, food production, fish and shellfish habitat provision, biogeochemical cycling of nutrients, carbon sequestration, sediment trapping, wave attenuation, shoreline stabilization [and] water quality improvement.
The design took home both the overall WAFX 2017 prize and the Climate, Energy and Carbon WAFX Prize.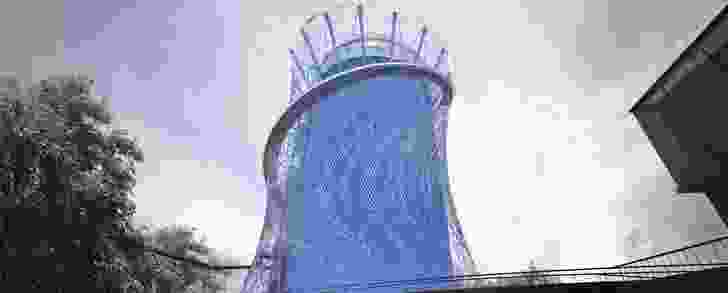 Elsewhere, Australian-German practice Laboratory for Visionary Architecture (LAVA) won the Building Technology prize for its transformation of a 1950s postwar gas tank into an "energy tower" that will hold water heated by solar and wind generators and used to heat local homes.
LAVA's design, which was selected by German energy supplier Stadtwerke Heidelberg through a competition, features a distinctive facade crafted from approximately 11,000 diamond-shaped plates that are attached to a steel cable network, creating a veil that shifts in the wind. Beneath the veil, a staircase will wrap around an insulating inner shell of mineral wool in different shades of blue.
Work began on the construction of the tower in the south-western German town of Heidelberg in August.
Also among the prize winners was Cameroon-based practice Hermann Kamte and Associates, which submitted a plan for a residential tower made from engineered timber in the Nigerian city of Lagos, Africa's largest city. The tower, which features a wooden facade based on Yoruba tribal tattoos, received the Cultural Identity Prize.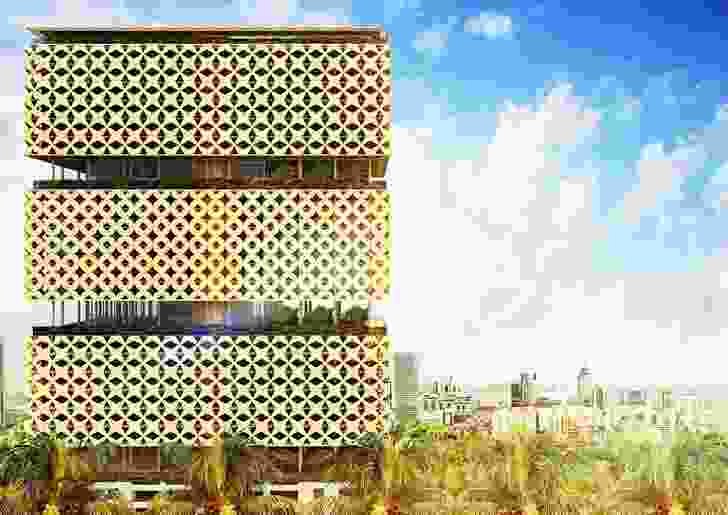 The World Architecture Festival, which will be held in Berlin from 15 to 17 November, also runs an international awards program with a broader remit. The WAF Awards shortlist is dominated by Australian practices and projects, with 43 entries across 30 categories. Shortlisted practices will present their projects to a panel of judges at the festival.
The 2017 shortlist builds on the success of Australian projects in last year's awards, where three projects designed by Australian architects were honoured including Hayball's proposal for South Melbourne Primary School, which was named Future Project of the Year.
For a full list of WAFX Prize winners, go here.
Related topics