On the other side of the world, a Dutch architect, famous for his buildings across the globe, recently curated an international architecture festival in Venice about the loss of "regional" architecture to the all-consuming facelessness of modernism. This "erasure of national identity" (Rem Koolhaas, Fundamentals, 2014 Venice Biennale) is said to be complex, not because it is hard to identify, but because the reasons for it, such as the internet, are so pervasive that the notion of architecture ever obtaining, or needing, "regionalism" again is doubtful. These thoughts followed me as I walked with architect and owner Allison Hopper through this perfect encapsulation of the argument.
Secreted behind a giant pine windbreak two hours from Melbourne towards Wilsons Promontory, this crisply detailed white box hovers poetically over terra firma, literally and philosophically avoiding contact with its site, while summoning the stream of European minimalism or Japanese infill housing that crowds every architect's email inbox on a daily basis. This house is unashamedly modern and decidedly non-regional. This raises the question: what would an "Australian" response to this site be? A glass-and-tin shed touching the earth lightly, a heavy low-slung building of earthy tones and big verandahs? For Allison and her partner, both keen followers of the arts, the aim was to create a strong, sculptural and precise box, something that intensified the beauty of both the container and its setting by establishing the strongest possible contrast.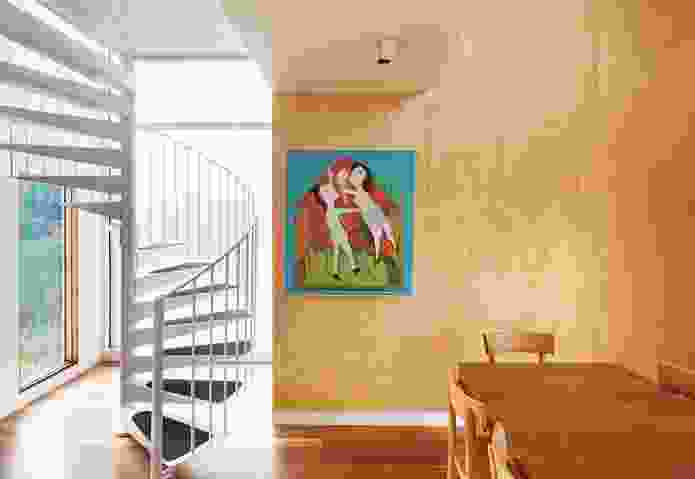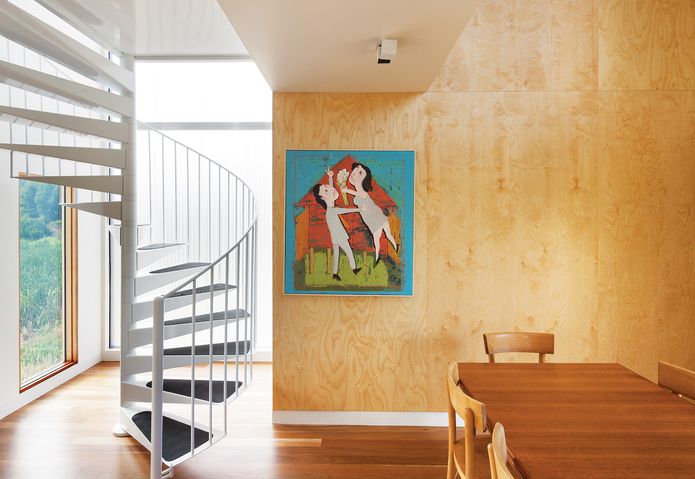 The house has a history almost as fraught as contemporary arguments for regionalism. After a long search in the area, Allison and her partner bought this site, complete with a six-metre-by-six-metre skeletal steel frame begun by another architect. After having it inspected by an engineer, they decided to accept the challenge and design a home around the existing structure. As it turned out, the frame was in worse shape than initially thought and after clearing out the rotting floors and removing temporary roofing, they discovered that nearly all of the members were twisted. This made construction an arduous process of discovery and remediation. Not that you can tell, however; every plane and junction in this compact plan is considered and each intimate space has been cleverly inserted to unfold with a fluid ease that belies the constraints imposed upon it.
On approach the house is dominated by a vertical wall of Ampelite on the north face. Pushing out from the primary mass and containing a spiral stair, this wall is one of only two instances where the container has been breached. This element lights up in the evening, guiding visitors safely past the edge of the dam, while during the day it floods the interiors with a diffuse natural light. Entry to the home is in the best weekender tradition, around the side through something akin to a back door, if it had a front one. This compact quarter of the floor plan is shared with the pantry, laundry and bathroom, a compression that is quickly released by the airy, double-height volumes of the kitchen and living areas. The voids in these spaces are a significant achievement given the tight plan and any sacrifice made to the still-generous upper floor is returned double on the ground floor.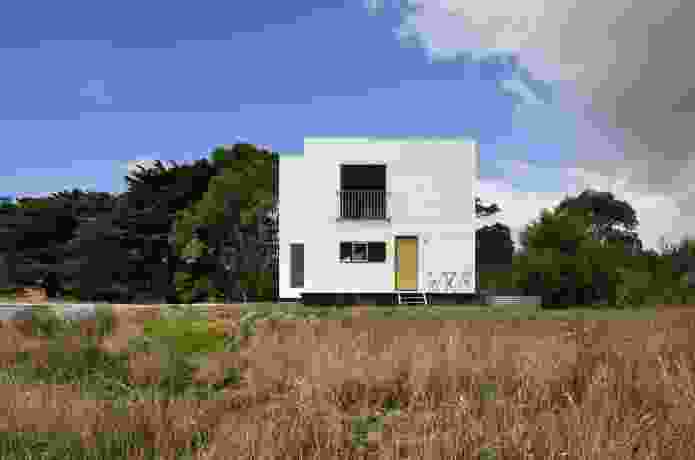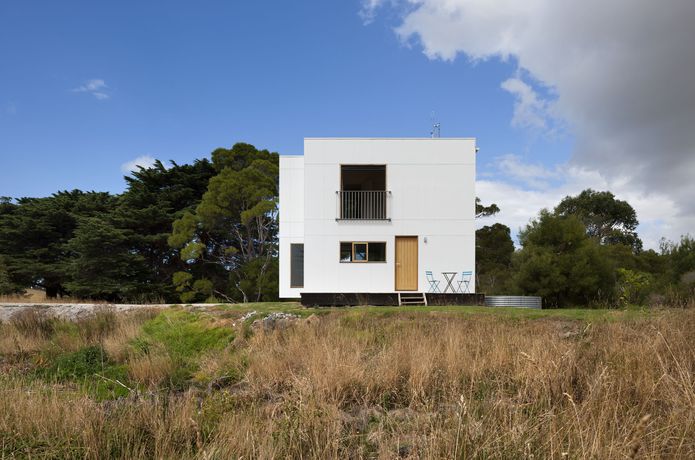 Allison and her partner spent an entire summer camping on site, learning where the best views are, how winds cross the site and how the sun would pass across the house. Surely this is the "critical" in critical regionalism? It is no surprise, then, that each window and door feels as if it has been judiciously positioned, chosen to frame either long or short views appropriate to the space. In the dining area, a wall of glazed sliding doors stretching over both ground and first floors provides short views of a wall of pine trees, while long views for a spell of cloud gazing can be found by looking up through the void. The adjacent lounge room ends with the other deviation from the six-metre-by-six-metre boundary, a bay window jutting out from the plan to capture a long view down the valley, while carving a handy nook for the sofa. While there are no alfresco dining areas, or overtly clever blurring of transitions, both levels of the eastern face of the house can be opened to bring the nearby trees right inside. Intriguingly, windows on the north are completely absent. Considered the least attractive of the views, and also the approach by car, the view was edited out with the semitransparent Ampelite material, cleverly avoiding reminders of having to leave again so soon … and who could blame them?
Products and materials
Roofing

Lysaght Klip-lok in Zincalume; Earthwool R3.5 insulation batts.
External walls

James Hardie Scyon Matrix cement sheet cladding in Dulux 'Lexicon' quarter-strength paint finish; Ampelite Lexan Thermoclick polycarbonate sheeting; Earthwool R2.5 insulation batts from Knauf.
Internal walls

Plasterboard in Dulux 'Stowe White' quarter-strength paint finish; Plyboard premium-grade birch in tung oil finish.
Windows

Taranto hardwood timber frame in clear polyurethane finish; Viridian ComfortPlus double-glazing, clear to south, grey light tint to east and west; Olivari handles and door pulls in white; ISEO Nylon handles and door pulls.
Doors

Brio surface-mounted sliding door track; Taranto double-glazed sliding doors; Shiver Me Timbers recycled messmate sliding door reveals in clear polyurethane finish.
Flooring

Shiver Me Timbers recycled blackbutt in Bona water-based polyurethane finish; Permifloor insulation from Kingspan.
Lighting

Richmond Lighting LED downlights; Light Industry Squad spotlights.
Kitchen

IKEA Udden joinery in stainless steel and black laminate, sink and shelf; Blanco oven; Fisher & Paykel electric cooktop; servery bench in plywood with Stylus base by James Richardson.
Bathroom

Caroma Opal Sole wall basin in white porcelain; Roca The Gap toilet from Reece; Lineabeta Pika mirror cabinet; Rogerseller Waterose Spin shower rose, Tonic basin mixer and Strap toilet roll holder; Ceramica Sant'Agostino timber-look porcelain tiles from Classic Ceramics; Laminex Fusion wall panels to wet area.
Heating

Morsø wood burner.
External elements

Cypress pine decking in clear oil finish.
Other

Steel spiral stair by Enzie in white powdercoat Floor area 1.1 ha site 70 m2 floor Project cost $187,000, excluding the steel frame and septic tank system.
Credits
Architect

Allison Hopper Architect
Toorak, Melbourne, Vic, Australia
Project Team

Allison Hopper, Simon Gleeson
Consultants

Builder Allison Hopper, Simon Gleeson
Carpentry Sticks and Stones Construction
Electrician Roffey's Electrical
Engineer John Horan & Associates
Painter Peter Bell
Plasterer TK & KJ Parnall
Plumber M McCann

Site details

Location Gippsland, Vic, Australia
Category Residential buildings
Type Houses, Residential

Project Details

Status Built
Design, documentation 6 months
Construction 6 months

Source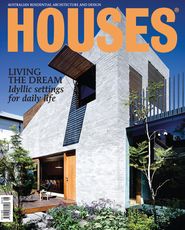 Issue
Houses, October 2014
Related topics