Melburnian ambience: Four Points by Sheraton
In Melbourne's Docklands, DKO Architecture has designed an understated and elegant hotel delivers an experience for guests that feels at one with the real world just outside its doors.
French anthropologist Marc Augé famously coined the term "non-places" to describe the transient, generic spaces of the modern globalized world – railway stations, airports, motorways, big-box retail and hotels. Places where we feel "at home" because of the homogenized familiarity of the surroundings, and that yet are never truly home. Putting aside philosophical questions about what kind of world we want to live in, and how big business might contribute to this, it raises a pragmatic question for international hotel operators like Starwood Hotels and Resorts, which owns the new Four Points by Sheraton in Melbourne's Docklands: is there valuable competitive advantage to be gained from differentiating its properties through the creation of authentic local experiences, or is the efficiency of a uniform global roll-out irresistible?
Happily for Melbourne, and for DKO Architecture, which was engaged to design this newest Four Points iteration, Starwood chose the route of differentiation. The result is a new hotel that resonates with a distinctly Melburnian ambience – an understated elegance underpinned by natural materials and textures, and perhaps most noticeably for a hotel chain with a brightly coloured, abstracted windmill as its logo, a colour palette dominated by blacks, charcoals and dark blues. Welcome to Melbourne!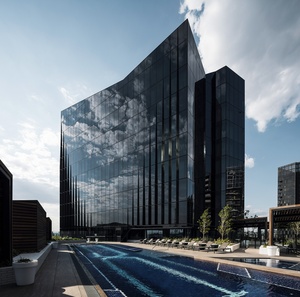 Of course, true locals might dispute the location, given Docklands' much-maligned connection to the city proper, and lingering questions about its appeal as a place. But these questions provide even more of an imperative to carve out a local identity for buildings here, to make Docklands a place in Melbourne rather than a non-place, and it's a challenge that the architects are clearly invested in – their Melbourne head office is just around the corner, and Four Points is physically linked with another DKO project, the landmark Marina Tower apartment development.
The entry to the hotel is on Docklands Drive, and the tram stop outside the front door doesn't do any harm in placing guests squarely in Melbourne upon arrival. Inside, the narrow lobby area immediately sets the scene with large-format black bluestone tiles on the walls, honed bluestone floor tiles and, behind the marble reception counter, a wall of handmade brass clocks displaying the time in cities around the world. In some ways, the clocks are a motif for the entire project – a wall of clocks is not a new concept for a hotel reception, but here it's given a bespoke twist and expressed in material we can easily imagine seeing in some laneway restaurant.
Further into the building, there's a beer-themed lobby bar just as we'd find in other Four Points hotels, but Melbournized with custom-patterned black-and-charcoal carpet, grey leather banquette seating, deep blue velvet armchairs and teal-upholstered bar stools. In the lift lobby opposite, a wall-to-ceiling mural has been painted by local artist and tattooist Al Stark. Stark's immediately recognizable neon abstractions reference the city's street art culture in the most explicit way possible; after all, similar murals by Stark can be seen everywhere from Carnegie to Coburg. The blue, black and teal in the lobby bar are picked out in the mural, creating a sense of cohesion in what is a place of circulation as much as sitting and relaxing.
Beyond the bar, the space opens up into a casual dining area that feels a touch more familiar to the global traveller, with chestnut-brown leather banquette seating, light oak fittings and wire-trellised vines. The interior here is still elegant and sophisticated, but lighter than other parts of the hotel, which is wholly appropriate for a place where bleary-eyed corporates and tourists will mingle over the buffet and get ready for the day.
The other essential element of the ground floor is a large staircase, again a familiar hotel lobby trope but again not quite as we'd expect. Constructed from blackened steel and natural stone, it rises up not so much in a sweeping gesture as with a muscular geometry, at once anchoring the lobby space and hinting at more to discover on the first floor.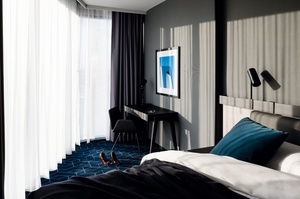 In the guest rooms, the materials palette adds textured wallpaper and heavily grained timber elements to the familiar black steel fixtures and custom-patterned carpet seen elsewhere in the building. On the walls, rent-a-artworks are eschewed for detail photography of local sights like Denton Corker Marshall's Westgate Freeway portals, captured by local photographer Jeremy Blincoe. But then the outward views do a good job of placing the guest in a distinct location too, with full-height glazing providing outlooks from different rooms to the Bolte Bridge, the docks along the working part of the Yarra River and back into the CBD.
Interestingly, for all of this focus on an aesthetic expression of the hotel's location, perhaps the best connection with local culture will happen on the pool deck on level seven, which is shared between hotel guests and the residents of the interconnected Marina Tower. After all, if the non-place is a location of transient, communal anonymity, the best remedy is surely to create human connections. Either way, this hotel successfully delivers an experience for its guests that feels at one with the real world just outside its doors. Stepping out through the dark bluestone-clad lobby and hopping on a tram, the distinction between Docklands and the CBD almost feels irrelevant. Welcome to Melbourne!