The timber and tin worker's cottage, the staple element of Queensland's architectural vernacular, is indeed a robust form, most simply stated as four small rooms in a box set beneath a pyramid roof with a verandah on one or two sides. After many decades of individual "alts," "adds" and "renos," it's also, arguably, a difficult spatial type to update for contemporary living, its planning rooted in a past of limited means. As self-identified "researchers of the suburbs," the practitioners of Owen and Vokes have thought this problem through many times and executed several progressive propositions. In this recent project in Kelvin Grove in Brisbane's inner north, their subtle, small-space adaptation and interventions are very impressive.
Set high above a narrow street, the house had the pull of "good bones" for its owners, its potential obvious if not yet fully understood. They had just returned from overseas and were happy to sit in this place of possibilities for two years before starting a conversation with their good friend, architect Stuart Vokes. Completely characteristic, their house had a four-room core with a verandah wrapping the south-western and south-eastern edges. At some point in the past, two further rooms had been added to the rear under a simple lean-to skillion. Somewhat unusually for the location, a generous open space runs alongside the house.
It is difficult to do justice to the complexity arising from Stuart's revision of the ordering of place relationships in this little house. The strongest principle – maintaining the sense of discretely divided rooms – can clearly be seen in the plan. Yet each room, while allocated a role, has been given another layer of life that is somehow beyond or above function. Stuart's careful narration of small, smart moves has taken on a quality of experiential storytelling. He describes it as "rearranging sentences," finding relevance in an older language of delineated space to tell a meaningful story of contemporary living.
Stuart says it is the architect's job to reveal observations about place and human experience. That is what lifts architectural thought above building economics. Many wouldn't understand why so little seems to have been gained in this redesign, in the sense of square metres. The house hasn't been lifted and built in underneath. Whole new wings of rooms have not been added. In fact, in terms of new building that enlarges the footprint of the original, the quantitative gain is very low indeed. But the experiential reward of every surface, frame and detail has been accounted for. The articulations, connections, associations and vistas are exhilarating and endlessly attractive to the inhabitants.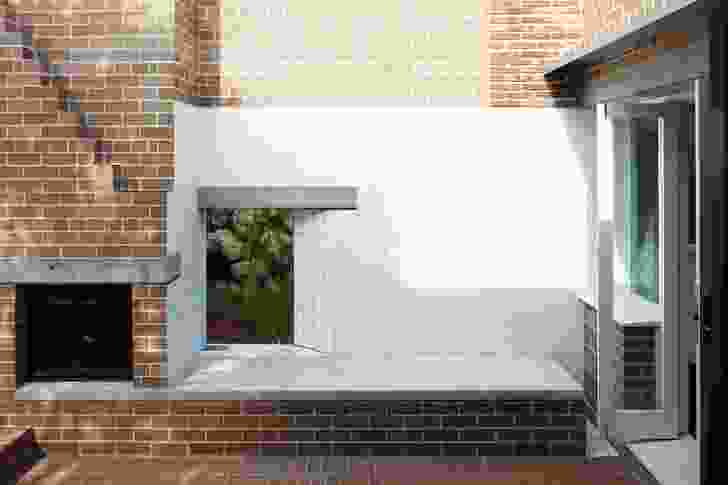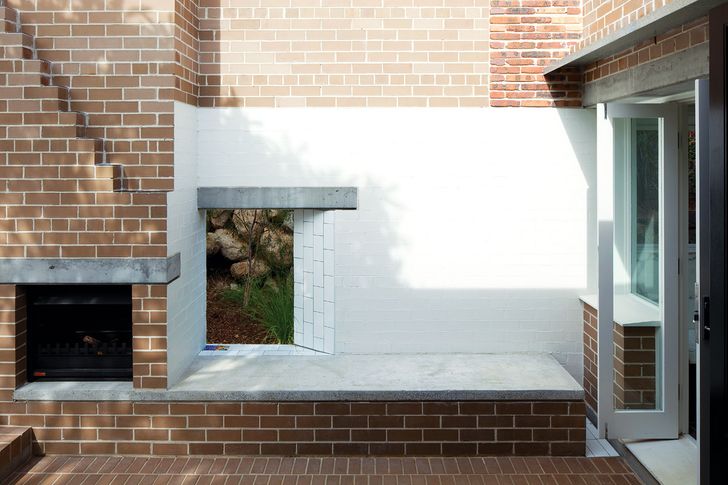 The plan shows that the cottage core is wrapped on two sides by a small-scale array of service spaces ending in a little court. This capitalizes on the existing location of the original bathrooms and kitchen, minimizing the need to re-plumb other areas of the house, yet it creates an entirely novel ordering of space. With imaginative surety, the bathing, toileting and laundering functions are lined up along the south-eastern verandah, pushed out to the edge in a shell not much more than a metre deep. These intimate spaces offer experiences that are familiar but luxurious in their tiny setting – a shower in the sun, a stepped down plunge bath, a shared washbasin opening onto a passage as if in an old hotel or on a train. A narrow throughway, openable at either end to the elements, separates the series of tiny rooms from the cottage core, its floor stained black to delineate its difference from the "proper" interior. It steps down into the laundry, touching ground to run into the kitchen, which subsequently opens onto a small fireplace court.
Above the kitchen a roof "snorkel" reaches up to catch enough morning light to fill the interior. The original problem of overlooking has been edited out by the tallest wall Owen and Vokes has ever built in a house. The court steps up to a garden terrace, its firm brick edges embellished with corner-making concrete detailing. The peaceful pause of the garden terrace is set slightly higher than the interior and this levelled tension between inside and out is subtly animating. The double panel opening in the wall between dining and living rooms wasn't originally intended for views but for climatic relief, yet it fans out a serendipitous connection from the front door to the frangipani shade of the pocket lawn. The sitting room, imagined as a peninsula-like interior, sets up the strongest diagonal tug. The deep reveal of a window magnetically frames the green beyond, while the opening to the north-east makes a compelling composition of the hearth court.
In a poetic celebration of darkness and light, colour and material choices are framed by simple rules. Walls are white, new interventions are black (with the exception of a special set of elements in clear-finished blackbutt in the study), interior floors are clear-finished pine, verandah floors are black, and any "grounded" floors are in brick, as in the kitchen and laundry. In the court, the use of brick suggests a domesticated monumentality, affecting a little ruin. Close to the hearth, in the reveal of a lowset opening, sparkles a little symbol – a single Positano wedding tile, connecting this beautiful place to the two people who set out to create a home together.
Products and materials
Roofing

Bluescope Lysaght Trimdek metal roof sheeting.
External walls

James Hardie Scyon and existing weatherboard cladding.
Internal walls

James Hardie Hardiflex fibre cement lining with pre-primed pine cover strips in Dulux 'Whisper White'; plasterboard on timber stud frame in Dulux 'Whisper White'; glazed ceramic tiles.
Flooring

Glazed ceramic tiles; James Hardie Hardipanel compressed sheeting; tongue-and-groove hardwood strip flooring.
Windows and doors

Hardies Hardiflex fibre cement window box cladding; Skydome skylight.
Kitchen

Smeg freestanding cooker and rangehood; Fisher and Paykel dishwasher and fridge; Enware sink mixer; Blum Tandembox Plus drawer runners and clip-top door hinges; Laminex Lamiwood doors and drawers; Boral Hancock Evolution plywood door and drawer fronts, benchtops and open shelving; suspended utility rack with fixed glass light diffusers; Statuario Venato Extra marble benchtops, honed, from Project Stone Australia.
Bathroom

Enware wall-mounted mixing set; Contap Maxima exposed shower and hand shower; custom-made concrete and tiled bath/shower base; Parisi Envy MK II toilet; Duravit basins; Statuario Venato Extra marble benchtops, honed, from Project Stone Australia.
Credits
Architect
Project Team

Paul Owen, Stuart Vokes, Aaron Peters, Emma James, Nick Skepper, Michael Lineburg
Consultants

Builder Michael De Re Builder
Engineer Greg Killen
Hydraulic engineer H Design Pty Ltd
Landscaping Arbour Essence

Site Details

Location Kelvin Grove, Brisbane, Qld, Australia
Site area 400 m2
Building area 149 m2

Project Details

Status Built
Design, documentation 12 months
Construction 9 months
Category Residential
Type New houses

Source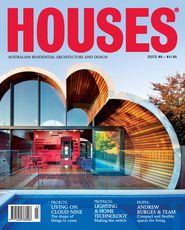 Related topics