With its ten-storey height, tinted commercial glazing and bulky presence in Sullivans Cove, the Marine Board Building is not Hobart's favourite. A backstory of local planning parameters overruled by the state government may have a little to do with it. But Scott McMurray, one of the owners of new restaurant Frank, begs to differ. He likes the building's unapologetic, pink granite facade and, rightly, thinks the position alone makes it a "monte for a bar and restaurant." Since a conversation with the building developer six years ago, McMurray and his business partner Kif Weber have waited for the right time to bring Frank to life. The restaurant, designed by McMurray's partner Georgina Freeman, is about making a space to eat and drink that is full of craft and refinement, but doesn't take itself too seriously.
Frank is located on one half of the ground floor of 1 Franklin Wharf – hence the name. Offices occupy the remainder of the building, and a ground-floor cafe is under construction. Raised several steps above the Cove, with high, unlined ceilings and tall glazing on three sides, Frank draws in a 180-degree view of the external context with its varied, waterfront scenery. In fact, this is a striking part of my first impression – once you are inside the seemingly closed exterior becomes an expansive viewing frame.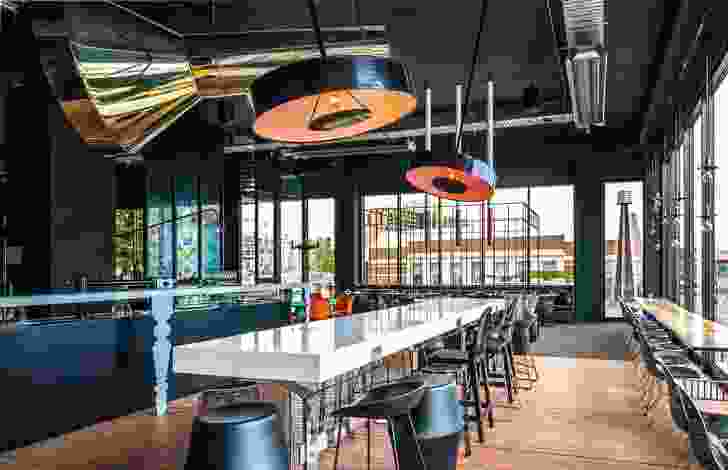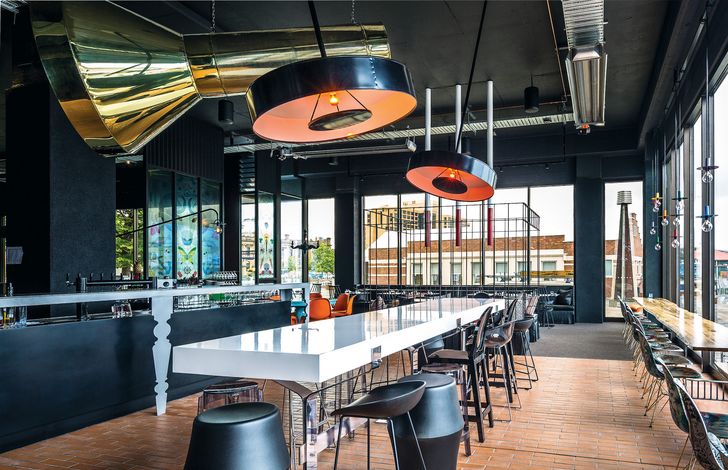 Scott's brief to Georgina was deliciously mad. She was to fuse the ornate detail of Louis XV-style furniture with French disco (think Daft Punk) and the vibe of a South American barbecue joint. The brief was also intended as a play on the businessman's lunch, where a big grill is served in an ornate, panelled dining room. And this aesthetic was to meld with a menu that is an Australian take on South American barbecue. A key thing, though, was to offer "somewhere to go that's not home."
After much initial debate, Freeman and the owners decided that entry should be from the north via new stairs off the public plaza, Mawson Place. Separating movement in and out of the restau- rant from the formal office foyer on the eastern facade, this critical move also offers the opportunity for outdoor dining, in full sun, free from passing traffic and within the shade of existing established street trees.
The entry splits the restaurant into two main zones, one just for dining, the other a mix of dining and bar. This distributing space is enclosed by tall partitions, comprising a dark wood base and faux stained glass by Damian Scott of Great Scott Design, who has developed the graphics for the space and the restaurant collateral. The "stained glass" is made up of a series of pseudo-religious coloured symbols, Mexican in flavour, representing aspects of the menu, the surrounds the intended atmosphere.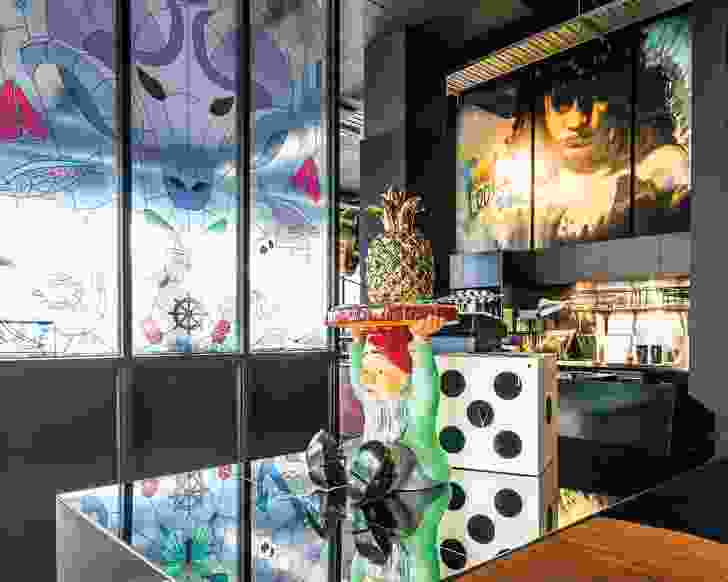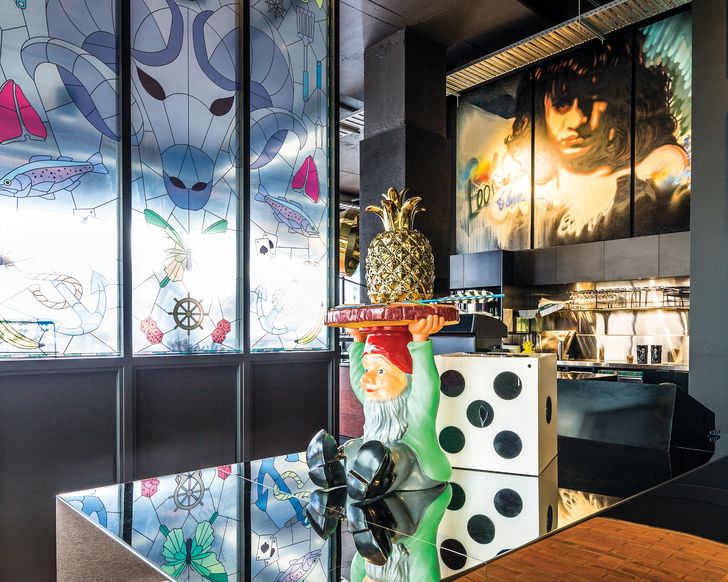 Freeman has stripped back the glazed perimeter of the dining spaces to black, with the intention of letting the view be the focus. Custom black tables, black banquette seating and matching, high-backed Patricia Urquiola chairs define this edge. Through the centre of the space, Freeman has let loose with poppy colours, playful profiles and a wrought-iron cage that encloses a long timber table. Deliberately overscaled black panelling – a play on the formal French room – encloses the service core and the bar is a mix of mild steel, profiled powdercoated steel, brown leather and highly polished brass. Other playful elements surprise – a giant suspended brass torch, an oversized brass key in a wall, a concertina wall of pink mirror acrylic, large acrylic dice.
Freeman asked local street artist Jamin to play throughout the restaurant. He consequently sprayed and stencilled a long line of Eames chairs, made a large work for the wall behind the bar and stitched a series of intricate, life-sized, black-and-white figures into hidden spots, so that one might find a flamenco dancer with the head of a rooster, or a French gent with the head of a ram at the turning of a corner.
Perhaps strategically, Frank sits as a cousin to Freeman's design for the interior of MONA Roma 1, the ferry to the Museum of Old and New Art , and as such it holds gestures to the now ubiquitous museum within the interior, particular in cheeky moments, or where poppy colour plays against black. But the craft of the place is entirely Freeman. Almost everything a patron touches or sees within the space is custom-made, or has been customized, by a small band of dedicated local makers. Frank definitely doesn't feel like home and the decisions that Freeman has made in collaboration with the owners have formed an unexpectedly grand, yet relaxed space within a potentially difficult commercial context.
Products and materials
Walls and ceilings

Walls painted in Wattyl 'Nightsky.'
Windows

Existing windows with dark bronze aluminium.
Doors

Blackwood main entrance door with custom-made brass handle designed by Georgina Freeman, made by General Metal Products
Flooring

Carpet tiles in 'Dark Chocolate' from Tretford Carpets. Terracotta rustic split tiles from Artedomus.
Lighting

Tube spotlight in black from Elettra. Moooi Smoke chandelier from Space Furniture. All other lighting designed by Georgina Freeman and made by General Metal Products.
Furniture

Kartell Comback Sled chairs and Panton chair in orange from Space Furniture. Leather banquette window seating with brass studs, swivel chair in gold designed by Georgina Freeman, made by Richard Ellis Furniture Design. Eames Eiffel Base chair with graffiti by Jamin. Dining tables designed by Georgina Freeman, made by AJB Furniture & Joinery with base made by General Metal Products. White high bar table designed by Georgina Freeman, made by Matrix Fibreglass and General Metal Products. Staron bar with leather front panels and black laminate, designed by Georgina Freeman and made by AJB Furniture & Joinery.
External elements

Precast concrete front entrance steps designed by Georgina Freeman and The Precasters, constructed by Skookom.
Other

Three-panelled painting by Jamin. Glass screen graphics by Great Scott Design.
Source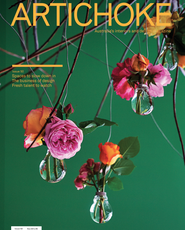 Issue
Artichoke, March 2015