"Parafunctional space," writes Nikos Papastergiadis, "refers to zones in which creative, informal and unintended uses overtake the officially designated functions. In parafunctional spaces social life is not simply abandoned or wasted; rather it continues in ambiguous and unconventional ways … Discarded objects and the refuse of an earlier mode of production [gather] in these [parafunctional] sites."1
Oculus's design for Franklin Wharf in Hobart reflects an insightful exploration into how landscape architectural intervention can graciously accept parafunctionality and re-situate our role in what is currently branded as placemaking. The polemic in their approach lies in their ability to interrogate how much we actually need to design in a place like this and how much designers can curate or leave to chance for public encounters in this realm.
The Sullivans Cove Waterfront Authority (SCWA) commissioned Oculus to undertake design, documentation and contract administration for $1 million of improvements to Franklin Wharf. SCWA's brief stipulates the need to maintain the area as a shared space between industrial uses and a publicly accessible waterfront. Stage one is the first of two stages completed for a capital cost of $400,000, a very modest sum. In its entry for the 2011 AILA Victoria Awards, Oculus states that the design was "derived implicitly from a very thorough mapping of the site and context, together with intuitive responses to the site, [from which] Oculus developed the concept of 'granting public permission' to use a working wharf, as opposed to making new and generic public space."2 In positioning its design work as highly contextual and antithetical to a tabula rasa approach, Oculus does not attempt to ameliorate programmatic conflicts and spatial contestation but embraces them emphatically as leverage for design.
When I arrived at Franklin Wharf via Salamanca Place it was a busy Saturday market day. The design of Franklin Wharf quite deliberately does not emulate or attempt to replicate the fabricated surrounds of Salamanca Place. The spatial transition from a touristic notion of a post-industrial waterfront into the Franklin Wharf site is very pronounced.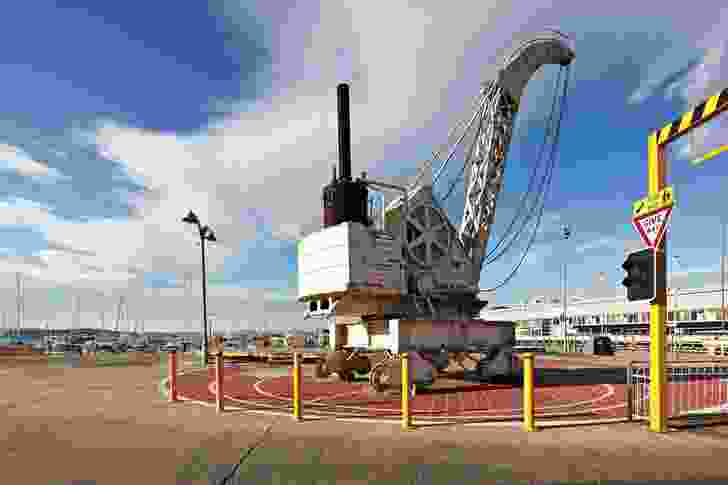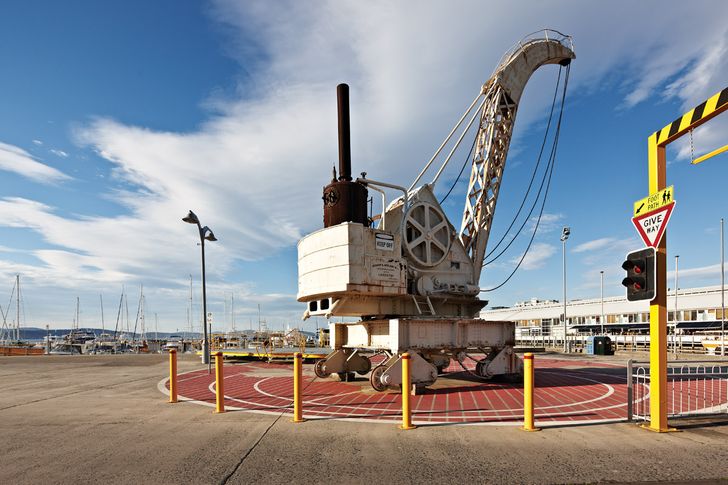 After walking through Salamanca Market, past pricey apartments and hotels "converted" from wharf sheds and along various marinas housing private boats, tourist boats and public ferries and watercraft, I arrived at Franklin Wharf. Complete with a boom gate and controlled vehicle access, Constitution Dock immediately foregrounds views back to Hobart and Mount Wellington. The placement of the crane at this strategic moment signals not only an entrance to the working wharf but an alternative strategy to interpreting post-industrial artefacts in the public realm. Oculus embraces the discarded object here by making it a sculptural folly, a monument to past and present industrial practices, and a landmark. Coincidently, on the day that I visited a cherry vendor had appropriated the shade of the crane and sold me a kilo of cherries for a quarter of the price of the nearby Salamanca Market stall.
The site then opens up into a series of horizontal surfaces and material treatments. Oculus describes these works as "hyper-developed forms of traditional wharf infrastructure. By utilizing the traditional material and technology of the wharf infrastructure and changing its scale, form and application, the interventions are lyrical and appealing to people, and not singularly functional (as wharf infrastructure is and should be)."3 Industrial red stripes circle the crane. Its shadow is artistically exaggerated and marked by both the absence of the red and the extension of key lines in white and brands into the lower, wooden decking surface. The wharf's surface is tattooed with expressive markings and car park delineations alike. The mundane aspects of safety marking and surface programs commingle and blur boundaries of working docks and the public realm.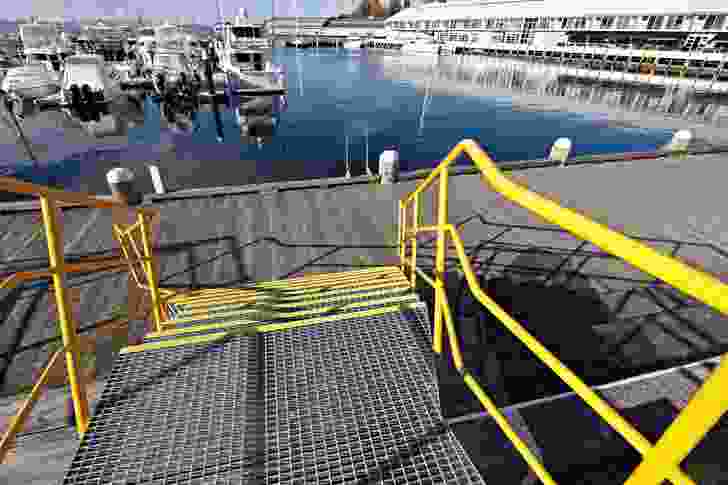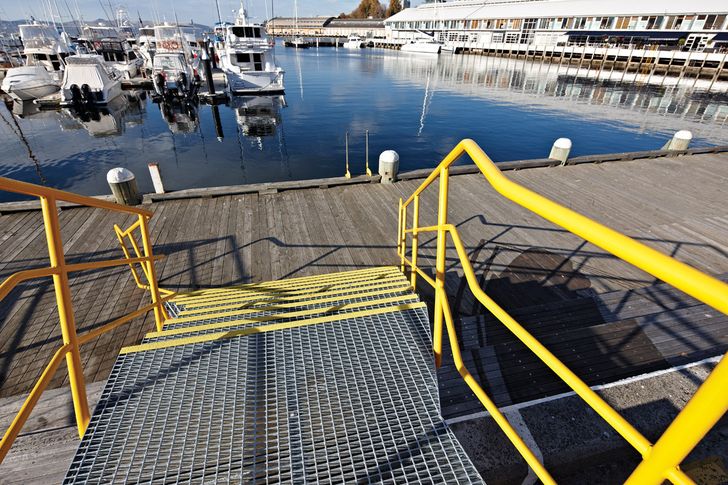 Inside the red-striped circle, a detachable stage with an exaggerated stair provides access to the lower deck. The stairs are outlined in fluoro yellow, as are the adjacent ramp wall and railings; this is the hyper-real yellow safety language Oculus describes. It appears strangely subtle because of its surrounds and the variety of known signifiers of safety in industrial environments. The yellow marks the edges with purpose, yet they twist the visual language of a working dock in a subtle and lively matter. The timber stepped bleacher seats, which terrace down to the lower wharf, have a dual purpose: they provide shelter from the wind and public seating for watching maritime activities and they act as a threshold between the water's edge and the concrete surface above. The crane and its projected shadow are playful, while the movable stage, the bleacher deck seats and the ramp are also useful and flexible objects.
Former working docks and post-industrial water landscapes have been redesigned in any number of Australian cities over the past decade – Melbourne's Docklands precinct, the Geelong foreshore and most of Sydney's inner harbour spring to mind. What makes the design for Franklin Wharf distinct is the parafunctional spatial subtleties in contrast to a few rather bold follies. Oculus adopts and tweaks the existing graphic and material language as a way of celebrating the working port's aesthetics and a shipping berth's spatial patina. It is always difficult to balance our contrived, designed notion of an everyday space as a series of subtle interventions in an already functional, albeit parafunctional, site. Oculus's design engages in what Papastergiadis describes as "the parafunctional uses of spaces that reveal the instability in objectives of design processes and threaten to confuse the monofunctional designation of urban spaces."4 The designers willingly accept this situation and provide us with a clever situation, which has a certain pragmatic sensibility and robustness juxtaposed with playful moments. Further, the project's considered and modest design approach places value on alternative modes of marking place while embracing shifting notions of place. Oculus explicitly explores how spaces are and could be occupied by various members of the public and dock workers as integral to the sense of place they wish to engage in. The physical design reflects an openness to program and a celebration of the parafuntional. It is also worth noting that the client, SCWA, embraced Oculus's ideas about granting the public permission to occupy a working wharf. They graciously accepted the invitation for the public to co-occupy the space without the usual tendencies towards minimizing risk and excessively cautious attitudes towards public liability. So, while modest in budget and in the scope of works, Oculus's design for Franklin Wharf is very bold in how it opens the public realm and engages in parafunctionality.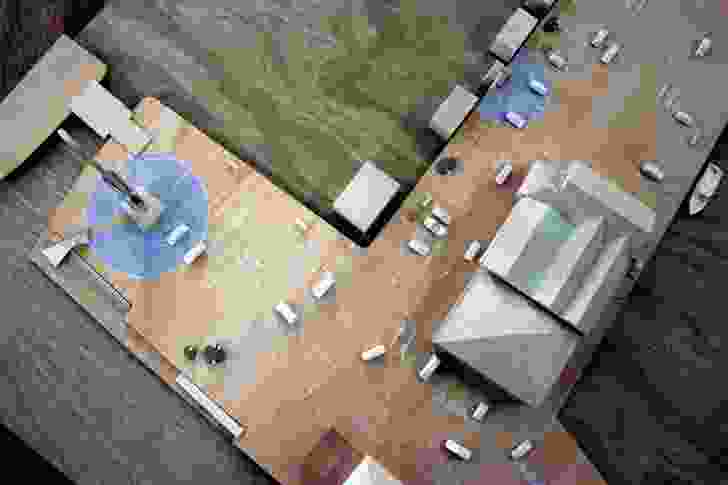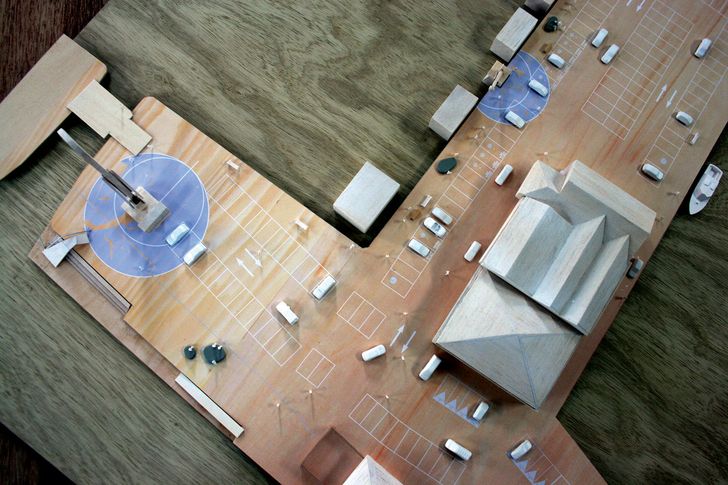 Nigel Bertram, past member of Sullivans Cove Design Panel:
"The Sullivans Cove Waterfront Authority (SCWA) has had a policy regarding Franklin Wharf – the flat, concrete, industrial apron of Salamanca Cove – as a 'shared space' for a number of years. The principle of this policy is that the surface is not specifically for any one activity or group, but is able to accommodate in a flexible way the multiple needs of many: of working port activities and more everyday public space activities, of pedestrians, cyclists, private cars, port vehicles, delivery vans, tourist seasonal events and so on. Starting to establish what this policy might mean spatially and physically was the core brief of Oculus's commission for improvements to this precinct. Thus the inherent flexibility and ephemerality of surface car parking has been exploited to allow for other, more social activities. To gradually redress car dominance, strategic inefficiencies and gaps have been introduced; different users are gently made to wait, to diverge from their most direct path and accommodate others.
"Within this shared field, certain locations were identified by the design team as having the potential to be amplified with additional public amenity. This was to be done, however, in a way that did not mark a permanent shift in use or alter the area's open and sparse character. Oculus studied the language and methodologies of existing wharf infrastructure and other related typologies and devised a series of extensions to this way of working, customized to accommodate more intimate activities such as sitting down at the water's edge, small public performances, and a place to host Sydney–Hobart yacht race presentations.
"The site of these works is a natural destination for pedestrians coming from the city across the low ground of Dunn Place, and provides an orientation point both out to the cove and back across the city to Mount Wellington. These works allow occupation without complete transformation."
Nigel Bertram is a past member (2007–2010) of Sullivans Cove Design Panel.
1. Nikos Papastergiadis, "Traces Left in Cities," in Architectural Design: Poetics in Architecture, No 156. (London: Wiley Academy, 2002), 45.
2. Oculus, "2010 AILA Victoria Awards Entry," Project Description part B, 1.
3. Oculus, "2010 AILA Victoria Awards Entry," 2.
4. Nikos Papastergiadis, "Traces Left in Cities," 48.
Credits
Landscape architect
Project Team

Mark Jacques, Andrew Feeney, Julia Robinson, Claire Martin
Consultants

Architect Terroir
Civil engineers Gandy and Roberts Consulting Engineers
Electrical engineer Engineering Solutions Tasmania

Site Details

Location Sullivans Cove, Hobart, Tas, Australia
Site type Urban

Project Details

Status Built
Design, documentation 9 months
Construction 4 months
Category Landscape / urban
Type Public / civic

Client

Client name Sullivans Cove Waterfront Authority

Source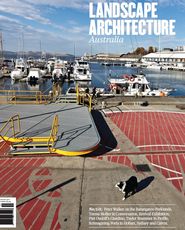 Issue
Landscape Architecture Australia, August 2011
Related topics