CORNWALL APARTMENTS
DONOVAN HILL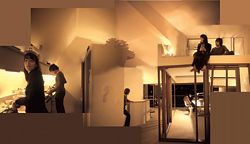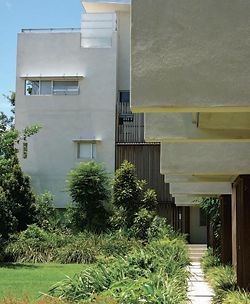 JURY CITATION
This project addresses the issue of how the residential population of typical suburban streets may be significantly increased through the addition of distinguished, contemporary architecture, while maintaining the informal scale and character of the street – the reasons why people have chosen to live there – and without detriment to neighbours by shadowing or overlooking.
The design is conceived as a series of three overlapping communal domains – that of the apartment, designed for flexible occupation; that of the whole, centred on a lawn-courtyard which gives the group an appropriately urban sense of identity; and that of the street, to which the project contributes a new interpretation of suburban form.
By carefully allocating the sparse commercial budget to parts that are commonly experienced – for example, the large wood-framed sliding windows – rather than to those elements that may be left as background, the architects have achieved a quality and inventiveness of detailing and space-making which are astonishing in this type of developer- driven project.
The project demonstrates an extraordinary, and surely exhausting, commitment by the architects to the development of everyday housing of the community. This issue must necessarily re-emerge as the primary responsibility of architects' work, rather than the design of the singular.
Cornwall Apartments
Architect
Donovan Hill—design architects Timothy Hill, Brian Donovan; project team Craig Channon, Adrian Spence.
Structural consultant
Arup.
Electrical consultant
IPD Technology.
Hydraulic consultant
John Ramsey and Associates.
Builder
Jim Evans.
Photographer
Alex Chomicz.