In the sunbaked inner west of Sydney, Tempe is about as far from Paris as one can imagine. Yet inspiration from the city of love has found its way to these streets, in the transformation of a worker's cottage from the Federation era.
But more on Paris later. This is a story of homecoming and new horizons: a literary academic retiring to Sydney engages one of Melbourne's most talented emerging practices (Sibling Architecture) for its first Sydney commission.
The client had bought the two-bedroom brick house near Tempe Station to be closer to family, having grown up further down the Illawarra line at Penshurst. A chance meeting through friends led her to Sibling Architecture, which had just opened a studio in Sydney.
The house is a similar vintage to her childhood home, so she wanted all its period features kept "and the house made modern." A more detailed brief to Sibling director Qianyi Lim included requests for a tranquil bathroom, some social spaces, connection to the garden and, above all, enough built-in shelving to house a lifetime's collection of books.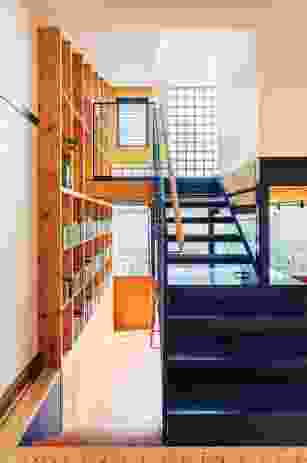 In response to this prosaic brief, Sibling Architecture drew some eclectic architectural threads together, conjuring, on the tiniest of footprints, a rear split-level addition that's wildly charismatic.
Renewal of the old was easy. Ornate plaster ceilings and cornices, timber floorboards, fretwork and picture rails are all retained and clarified in a palette of natural wood and white. At the centre of the house, the living room, with its brick hearth, is an intimate salon, while the former second bedroom becomes a three-way bathroom, lavatory and laundry, tiled in soothing blue duotones evoking sea and sky. From the old dining room the new architecture takes flight.
Sibling Architecture excised the compact lean-to kitchen/bathroom from the rear of the house, which had sat awkwardly above garden level, replacing it with a soaring split-level addition that brings the kitchen down to ground level, and tucks in a light-bathed study loft above. This move reframes the original dining room as a casual living mezzanine, connecting both the new spaces and borrowing their light.
Study, living and kitchen are all clearly defined, yet interconnect as a new social heart to the house, directly accessible from the garden. The two big elements, the double-height wall of books and the glass-block wall, are balanced by a confident colour scheme of terracotta and Prussian blue.
Though visually striking, neither element is purely decorative. The glass block wall makes a virtue of a south-facing rear elevation, infusing the loft and kitchen with a gentle, even light that's perfect for reading. It also baffles aircraft noise from the flight path over Tempe. The bookshelves, crafted in structural laminated veneer lumber, will bring treasured collections within easy reach of their loving owner.
"When you have lots of books you lose them – or you can't always put your hands on them," the client explains. "So the bookshelves were the most crucial thing for me."
The shelves were the element the architect laboured over longest. Several iterations were drawn and tested before the final version decided on. "Our first concept was a full book tower, a wall of bookshelves with a rolling library ladder running from the front door through the hallway – not on the party wall, but the internal dividing walls – a two-way spine of books front to back. But the option we settled on was much cleaner, both in terms of budget, and retaining much of the existing building fabric," says Qianyi.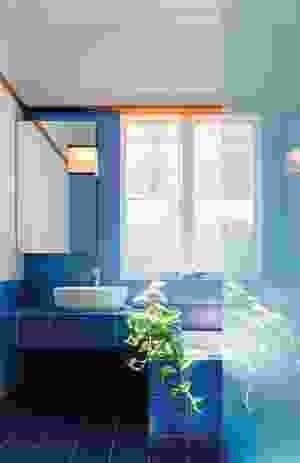 "I like working at this scale and I like constraints, they make it challenging," adds the architect, whose other key constraint was keeping the entire addition invisible from a street lined with similarly quaint cottages. Qianyi used the small site slope to keep its roofline low while opening up a double-volume space where you'd least expect it.
Sibling Architecture is known for out-of-the-box thinking and socially focused projects, which appealed to the client's inner teacher. "I like the idea of working with a young practice, even more so because they're not just doing residential projects, they're thinking about the city in progressive ways."
In thinking about Glassbook House, Qianyi referenced not just her local cities of Melbourne and Sydney, but also took inspiration from Tokyo's tiny tri-level houses that pack in so much while appearing so simple. She was also deeply inspired by the mechanistic Maison de Verre, built in 1932, in the Latin Quarter of Paris. With a name that literally translates as "house of glass," this seminal project expresses twentieth-century industrialism with its exposed steel framing, glass block walls and a string of articulating parts – from rotating widows and walls to a retractable staircase. It too responded to a particular set of physical, social and site constraints, and turned them into something luminous and utterly unexpected.
Products and materials
Roofing

Lysaght Custom Orb in Zincalume steel
External walls

Obeco clear glass blocks; Rimex Metals Australia stainless steel; Cemintel Barestone External prefinished panels
Flooring

Mutina Tierras tiles from Academy Tiles and Surfaces; Tretford wool carpet
Lighting

Mondoluce A-tek track lights and Stira wall lights; Est Lighting Miles wall light; Nemo Lighting Applique Á Volet Pivotant wall light
Kitchen

Whirlpool oven and cooktop; Fisher and Paykel fridge; Oliveri tapware; custom stainless steel benchtop Bathroom: Mizu tapware in 'Brushed Nickel' from Reece; Roca basins and toilet; Direct Tile Import ceramic tiles in 'Aqua Blue' and 'Cool Blue'
Bathroom

Mizu tapware in 'Brushed Nickel' from Reece; Roca basins and toilet; Direct Tile Import ceramic tiles in 'Aqua Blue' and 'Cool Blue'
External elements

Recycled brick pavers
Other

Didier Fable Table, Fermob Bistro Folding Table, Fermob Luxembourg chair, Billiani Spy armchair and Fitt Classic Timber chair from Design Nation
Credits
Architect

Sibling Architecture
Melbourne, Vic, Australia
Project Team

Qianyi Lim, Nicholas Braun, Amelia Borg, Jane Caught, Nick du Bern
Consultants

Builder Arc
Engineer SDA Structures

Aboriginal Nation

Glassbook house is built on the land of the Gadigal people of the Eora nation.
Site Details

Location Sydney, NSW, Australia
Site type Urban
Site area 171 m2
Building area 100 m2

Project Details

Status Built
Completion date 2019
Design, documentation 10 months
Construction 6 months
Category Residential
Type Alts and adds

Source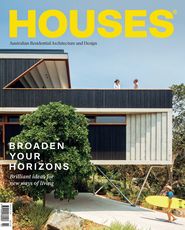 Related topics