Good-quality design in accessible environments can be difficult to get right. Often it seems the two are mutually exclusive, with the "design" component prioritized as less important than the function, resulting in impersonal, utilitarian spaces that do not reflect or engage with the people who use them. Sibling Architecture challenges this idea with its project Frenches Interior, instead realizing a series of fun and dynamic interior insertions that are pleasing to everyone, regardless of their ability. Project architect Jane Caught says, "Our motivation was to try to look at accessibility in a way that was desirable, rather than a strict interpretation of the code."
The brief required Sibling to work within the typical space constraints of an inner-city Melbourne property and called for an interior overhaul of a newly constructed terrace that would function as both a workplace and a home. The clients help people who have experienced significant physical or cognitive injuries to live a life with as much "normalcy" as possible, and wanted to reflect this in the design. They also have several friends who are wheelchair users, so a high level of accessibility was a critical consideration.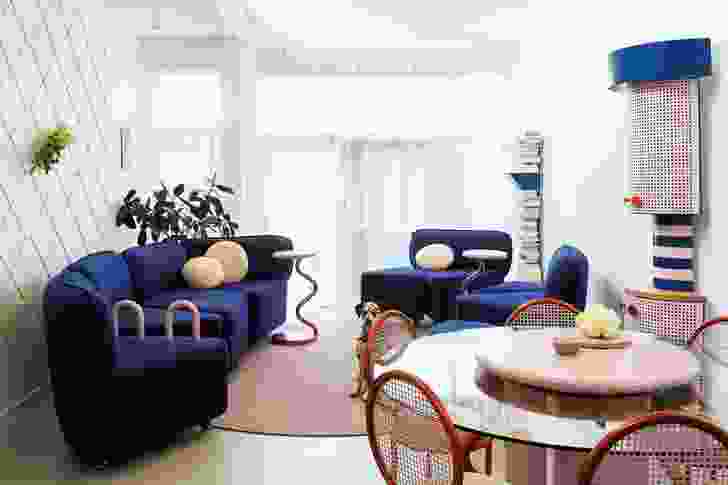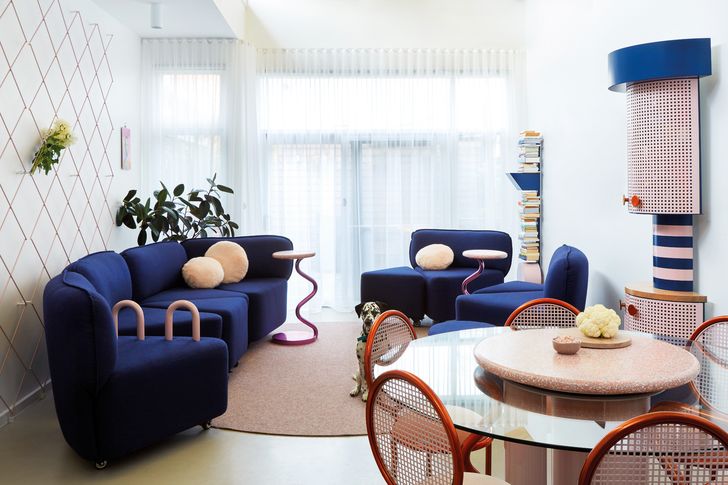 Flexibility is evident throughout the project, enabling the clients to easily repurpose and reconfigure each room to suit their needs and maximize the small spaces. A large curtain in the front room can be drawn in part to conceal confidential files or desk spaces, or completely closed to cover any evidence of an office, transforming it into a secondary living space. The furniture in the library downstairs is on wheels, and can be easily rearranged to become an accessible spare bedroom. A structural "lattice" fixed to the living room wall allows the clients to rotate their extensive art collection or display any number of objects as they see fit. This system continues upstairs in the bedroom but with hooks and custom shelves for the storage and display of trinkets and personal items. A custom-made couch in the living room is comprised of ten mobile segments that enable countless different arrangements and allow wheelchair users to sit among other people rather than "off to the side." Similarly, two pink powdercoated grab rails on a segment can assist people to sit on the couch if they prefer, and have been cleverly designed as "good looking objects" that do not appear out of place.
Just as important to the design is the stylistic approach. When looking at this project one can't help but be reminded of the bold patterns and shapes of the Memphis Group and the playfulness that comes along with it. A circle motif recurs throughout, from the lazy susan through to the bedhead and all the furniture and fixtures in between, symbolic of unity, equality and family. Custom-designed joinery elements, described as "totems" by the architects, appear in each room, used to store the clients' valued objects such as their book collection in the library and spirits collection in the bar. Bright, vibrant colours are applied throughout the living and working spaces, becoming more subtle upstairs in the bedroom and dressing room to promote a sense of rest. A diverse palette of materials, including honed terrazzo, velvet upholstery and faux fur cushions, add to the dynamism and richness of each space.
Frenches Interior delivers a sense of dignity to a group of people who are often overlooked when it comes to living and experiencing good design. The project demonstrates that with the right approach and a little bit of forward thinking, good-quality domestic spaces are very achievable when creating accessible environments.
Products and materials
Windows

Windows layered with S-Fold Bautex-Stoffe sheer curtains and Silverstone Metallised blockout chain drive roller blinds.
Doors

Doors painted in Wattyl Lustacryl in "Kumura' and Resene 'Crusta'.
Furniture and joinery

Custom-designed furniture and joinery by Sibling Architecture.
Other

Circular Heather rug in lounge room from Tretford.
Credits
Design practice

Sibling Architecture
Melbourne, Vic, Australia
Project Team

Jane Caught, Amelia Borg, Nicholas Braun, Qianyi Lim, Nick du Bern, Hooi Ling Gui, Kenneth Wu
Site Details

Location Melbourne, Vic, Australia
Site type Urban

Project Details

Status Built
Design, documentation 12 months
Construction 12 months
Category Interiors
Type Apartments, Workplace

Source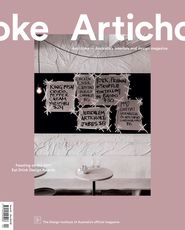 Issue
Artichoke, December 2017