Design statement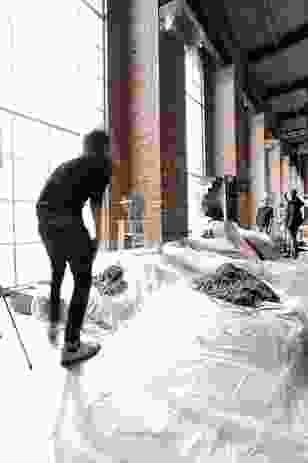 This installation at the Fringe Furniture exhibition in Melbourne shows an innovative use of an everyday material. An undulating landscape was built up using cardboard boxes and waste materials from the gallery, then overlaid with plastic sheeting and covered in woodchips to create the terrain. All materials were locally sourced on a minimal budget, and the woodchips were returned to the local garden depot for community use. By using boxes and debris underneath the plastic layer, the amount of woodchips required was reduced. The creation of an abstract landscape within the exhibition space related to the exhibition theme "The city has a heart, the country has a soul." The installation created a dialogue between landscape and interior, unifying the whole and allowing the exhibition to display works of different scales and types. The materials were easy to manipulate on site and easily constructed by unskilled Fringe volunteers. Using woodchips – a material related to the craft of furniture making – positioned this interior installation as a fitting backdrop to the furniture on display.
Installation design
The awarded Fringe Furniture installation is packed with meaning, delight and a simple beauty. The qualities and value of the local, the handmade, material and construction are cleverly communicated. The design and curation of the installation have been considered as one, resourcefully borrowing and returning the material that was the primary component of the event. All elements share the same materiality, yet each component is diverse in its texture, scale and form. Overall, the installation is brilliantly articulated in its encompassing envelope, enhancing the experiential qualities of intimacy and simplicity for viewers.
Further, the commended projects in this category send a message to the profession about the importance of creative exploration, showing diverse excellence in installation design: the extraordinary curation and process undertaken by Nexus Designs and ACCA for NEW010; the exciting transformation of public space by LAVA's Digital Origami Tigers; the impact of minimalism in Gloss Creative and LAVA's Shells: Architects of the Ocean; and Carr Design Group's challenging approach to corporate installation for Norton Rose.
Credits
Design practice

Edwards Moore
Fitzroy, Melbourne, Vic, Australia
Project Team

Edwards Moore, Stephanie Poole, Briony Galligan, Kate Sfetkidis
Site details

Location The Substation, 1 Market Street, Newport, Melbourne, Vic, Australia
Category Interiors
Type Installations

Project Details
Source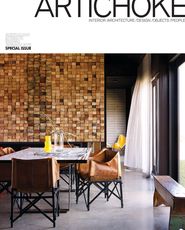 Issue
Artichoke, April 2011
Related topics