Fringe Furniture is a barometer of trends in Australian furniture and lighting, presented by Melbourne Fringe for more than twenty-five years. In a unique space, the program's uncurated format welcomes experimentation: works respond to a set of provocations framed as a theme. As one of its current custodians, I relish each year's responses and the new questions they pose.
A playground for ideas, Fringe Furniture exhibits Australia's best-known designers alongside up-and-comers. Yellow Diva shows a new piece every year – one of the most memorable being its collaboration with street artist Phibs. Daniel Barbera won the Fringe Furniture Best Lighting Award in 2004; his furniture is now sold and exhibited around the world. Kate Stokes' Coco Pendant, winner of three 2010 Fringe Furniture Awards, was quickly picked up by Melbourne's major design retailers. Stuart McFarlane's instantly recognizable 2008 Lapel chair is exemplary of sustainability innovation as a favoured approach among Fringe Furniture makers. Marc Pascal, Lana Alsamir-Diamond, Guy Parmenter, Alex Selenitsch and Malte Wagenfeld are all alumni; showcases have been presented at Furnitex, Melbourne Museum and State of Design's Design Made Trade – as well as in Milan.
More than an exhibition, Fringe Furniture is a community and a catalyst, fostering new collaborations and inspiring new approaches to materials and process. As a design occupation of Melbourne's iconic performance spaces, Fringe Furniture has been presented at the Fitzroy Town Hall, The Substation and Arts House Meat Market. Long after its craft heyday, the Meat Market is now a performing arts space – exploited to best advantage in 2009 when Fringe Furniture was presented alongside a breathtaking experimental circus. This year it's the Abbotsford Convent's turn, itself home to a thriving community of makers. Expect the works to challenge you: this year's theme is a doozy.
Fringe Furniture's Dancing in the Dark: Small Solutions to Big Problems ran 24 September – 9 October 2011 at the Abbotsford Convent in Melbourne.
Source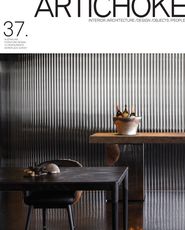 Issue
Artichoke, December 2011
Related topics