David Neustein and Grace Mortlock, founders of Sydney-based Otherothers, presented their concept for Offset House at the inaugural Chicago Architecture Biennial (3 October 2015 – 3 January 2016). Neustein and Mortlock's proposal seeks to "un-supersize" suburban McMansions by "renewing and retrofitting existing housing stock, adapting the typical brick-veneer, power-intensive, eave-less, spatially inflexible Australian home into a more nimble, efficient and economical form."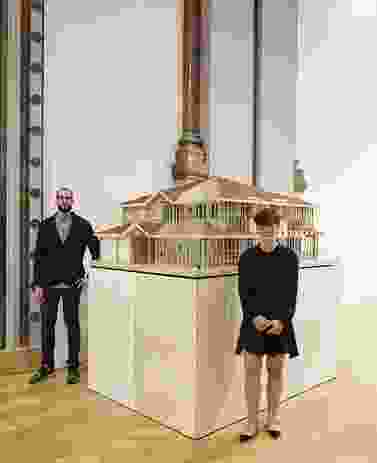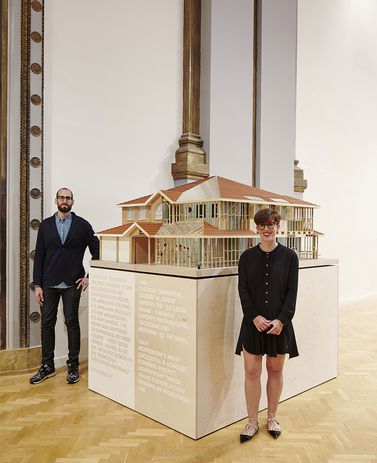 The Offset House proposal stems from Otherothers' research that considers the current state of Australia's suburban housing. They note that "Australia has the largest average home size" of any country and that "fewer than 10% of Australians live within five kilometres of a major city centre."
Although the majority of Australians are living in the suburbs, data from the Grattan Institute's 2011 (Melbourne and Sydney) and 2013 (Perth) research on housing in Australia, as reported in City Limits: Why Australia's cities are broken and how we can fix them, indicates "there is a great mismatch between people's preferences […] and the actual stock of housing." The book's authors, Paul Donegan and Jane-Frances Kelly, assert that their research shows that, "contrary to myth, not all Australians want to live in detached houses. The housing people actually want is a much more varied mix than our cities currently provide." Their research also suggests that the majority of Australians would forsake the ideal of owning a detached home in favour of a semi-detached house or apartment unit, if their housing met other goals, such as "living in a safe neighbourhood, being close to family and friends, shopping and public transport."
If the value of oversized, energy-inefficient, suburban houses declines, it poses the question: what do we do with the McMansions?
Using the Sydney suburb of Kellyville as its prototype, Otherothers suggests the adaptive reuse of timber-framed suburban homes by stripping off the outer cladding (often brick), exposing the outer frame, and creating a verandah in the space between the outer and interior frames. They claim there is beauty to be found in the exposed frames. They also propose that since the verandah would now define the home's outer border, fences would no longer be necessary and spaces between houses could become shared common areas for gardening and communing.
Their installation at the biennial consists of two models: one with a 1:10 scale of a typical suburban house and a second model at a 1:50 scale showing eight suburban houses. Both models show half the house in its conventional suburban condition and the other half of the house that has been "offset" and adapted to accommodate a variety of living scenarios. Although Otherothers has yet to adapt a 1:1 house into an Offset House, they are optimistic about this type of architectural intervention.
"'Offsetting' the house opens up a near-infinite number of possibilities for subdividing, co-habiting or sharing," Mortlock says. "In Chicago, we're showing how a single dwelling could be downsized to a smaller home, split into two side-by-side 'townhouses' separated by an internal void, stacked as horizontal apartments or even divided into three smaller dwellings."
"The important factor here is providing occupants with a toolset for recovering the value of their homes, and utilizing the possibilities of the frame for further modifications," Neustein adds.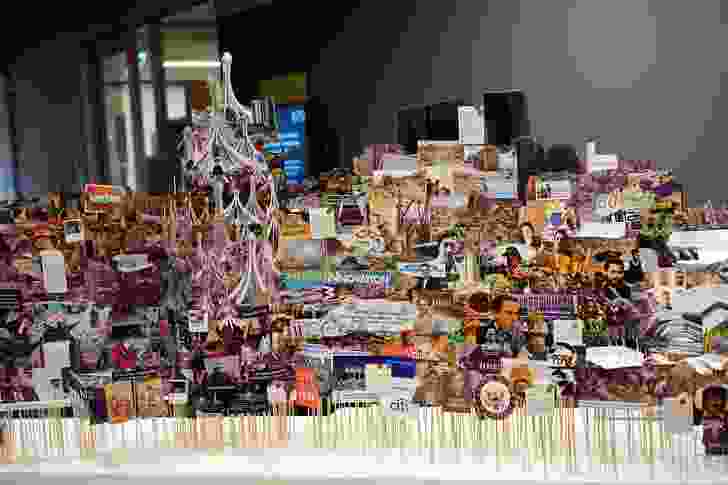 The University of Technology, Sydney's senior lecturers Urtzi Grau and Cristina Goberna, founders of Fake Industries Architectural Agonism, also presented at the biennial. Their installation IndoPacific Atlas is in response to the Australian Government Department of Defense's 2013 Defense White Paper, which discusses the "Indo-Pacific Strategic Arc." Grau and Goberna claim that this white paper "relocated Australia to the centre of the region that includes the East coast of Africa, West coast of South America, South East Asia and the Gulf."
The 2013 Defense White Paper explains Australia's changing role in this region, recognizing "the shift of strategic and economic weight to the Indo-Pacific means that alongside growing prosperity and military modernisation in our region, there is also strategic uncertainty […] Seizing opportunities to build deeper partnerships will be important because competition for access and influence will be greater, and consideration of Australia's interests and views less assured."
The IndoPacific Atlas focuses on documenting six cities – Beirut, Cape Town, Medellin, Perth, Qatar and Valparaiso – through a sprawling collage, consisting of around 4,000 images, including photos taken during students' research excursions to each of the cities, mixed with text offering statistics and a description of events in each city. Collage-type audio accompanies the installation, with regional news reports interspersed with anecdotal accounts and the research team's observations about each city's media, recent history and architecture.
The collage exhibited at the Chicago Architecture Biennial is the first instalment of the research project conducted by Grau and Goberna and their UTS Masters of Research (Architecture) students: Endriana Audisho, Christina Deluchi, Kane Pham and Gonzalo Valiente, and UTS Masters of Architecture students. They hope to underscore the role of what Grau refers to as the "emergent form of the architect," that the team hypothesized will become of even greater value in the IndoPacific region.
"This architect is someone who not only designs buildings but also produces cultural products and is an expert in mediating multiple forces that shape the city and can articulate those discussions and make them public," Grau said. He said this emerging role for architects is especially important for cities with post-traumatic conditions.
According to the biennial's artistic director Sarah Herda, Otherothers and Fake Industries Architectural Agonism were selected for "doing incredibly intelligent research and work on urbanism and housing issues in Australia and the Indo-Pacific region."
Twenty Australian firms applied to take part in the biennial.
Related topics