Commissioned by Sherman Contemporary Art Foundation (SCAF) for its 2014 Fugitive Structures program, Poly is a series of seven steel 'pavilions' by Tomahawk Studios and architecture practice Archer Breakspear. Much has already been written about this SCAF initiative dedicated to unearthing major new talent, along with the 2014 winning design – Trifolium by AR-MA – currently at the SCAF Zen garden in Paddington.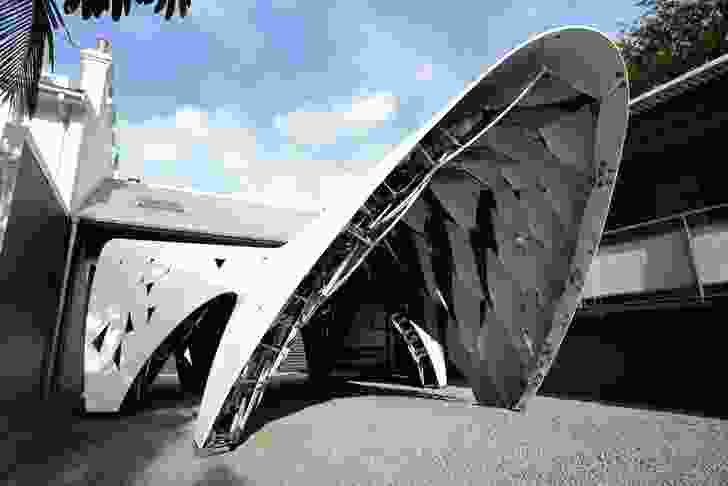 Poly was a runner up to the Trifolium, with its thermally formed/robotically trimmed Corian exterior shrouding 152 laser-cut black mirror-polished interior panels connected by digitally fabricated fixings. Where Trifolium responded to the design brief for a pavilion (which was primarily about the interior), the Poly set of mini pavilions was more about the space between, than the space within. But its use of simple technologies for design and construction intrigued the selection panel, so they invited the Poly team to build their design as an interior installation.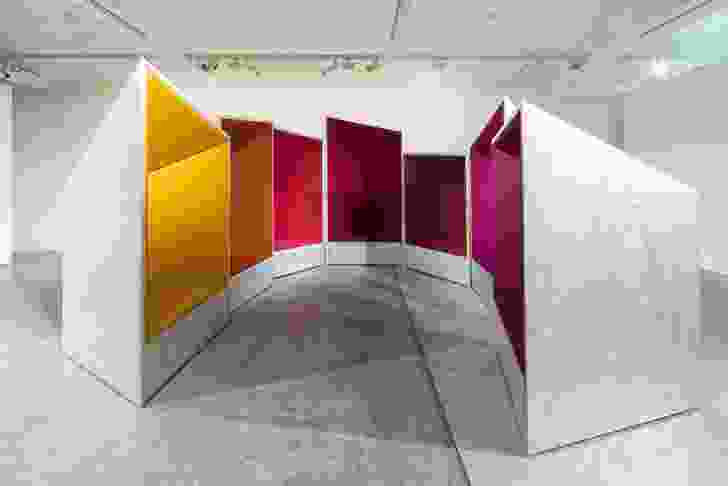 "They thought it was a nice counterpoint – ours as lo-tech, Trifolium as high-tech. And it cost about one-sixteenth of Trifolium, so they gave us the chance to build it," says Poly co-creator Tomek Archer. Earlier in the year, he and Toby Breakspear hosted a film screening at SCAF with the Poly pods scattered around the gallery for seating. Wheeling the sleek silver seats around the gallery is more fun than a dodgem car, but there's a serious, or at least, theoretical side to them too, says Archer.
"They demonstrate the potential of simple digital prefabrication to efficiently reproduce many structures from a single material, using a single machine. You could, in theory, download designs from a digital library of open-source patterns, eliminating the need for expensive tooling."
The material in question was a stockpile of aluminium composite panels, leftover from commercial projects and destined for recycling. The sheets were cut with simple 3-axis CNC, then packed flat for delivery straight into the gallery on the back of a truck. There, they were 'folded' and bolted together by hand. "The sheets came in a random assortment of colours but we been turned them inside-out so the visible face is actually the milled underside of the panels," explains Archer.
Being neither function- nor site-specific, the Poly series treads the line well between industrial design and architecture, harnessing the resourcefulness of both. Each pod is human-scaled, a twin-seat perhaps – snugly fitting two, luxuriously accommodating one. The upholstery lining adds a warm wool interior to the cool linished carapace. Concealed wheels allow the pods to be silently moved into myriad arrangements around the room.
The film screened in March 2014 was Houselife. In May, the pods were put into storage to make way for another exhibtion, but they return on 21 August until October. Check the SCAF calendar for the next program of events around Poly and Trifolium. Both are worth seeing, for conceptual design thinking that is hands-on, fun and futuristic in equal measure.
Fugitive Structures 2014
AR-MA: Trifolium
SCAF Project 20
21 March – 13 December 2014
Tomahawk Studios + Archer Breakspear: Poly
SCAF Project 21
21 March – 3 May 2014
21 August – 6 October 2014
Related topics