One of the great unsolved mysteries of architecture is precisely how Dr Who manages to conceal his vast TARDIS teleporting spaceship within a 1960s London police box. Attempting to understand the optical illusion created between the tiny police box and the cavernous TARDIS interior, you might draw a small arc of vision intersecting with a broader arc, with the threshold between the two arcs revealing a much larger space than was first perceived.
Not coincidentally, that drawing would also precisely describe the floor plan of Crescent House, a pavilion recently completed by architect Andrew Burns as the inaugural Fugitive Structure at Sydney's Sherman Contemporary Art Foundation.
Measuring just twenty-five square metres in area and three metres in height, Burns' charred-black pavilion occupies a small footprint within the courtyard of Sydney's Sherman Contemporary Art Foundation (SCAF). Crunching Zen garden gravel underfoot, you approach the compact building with little expectation of surprise.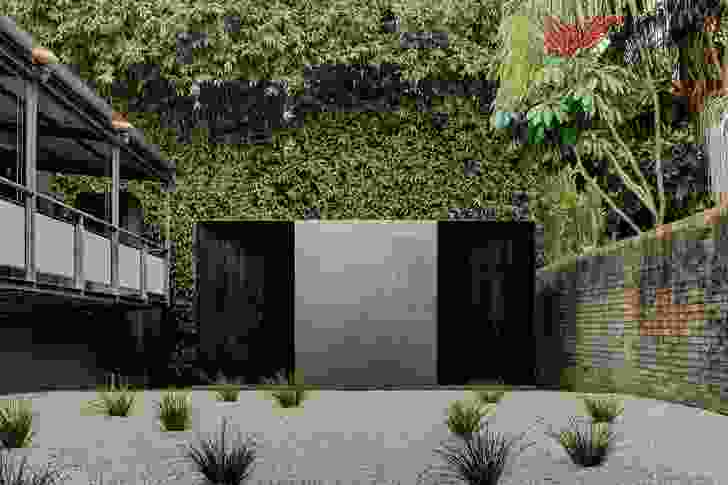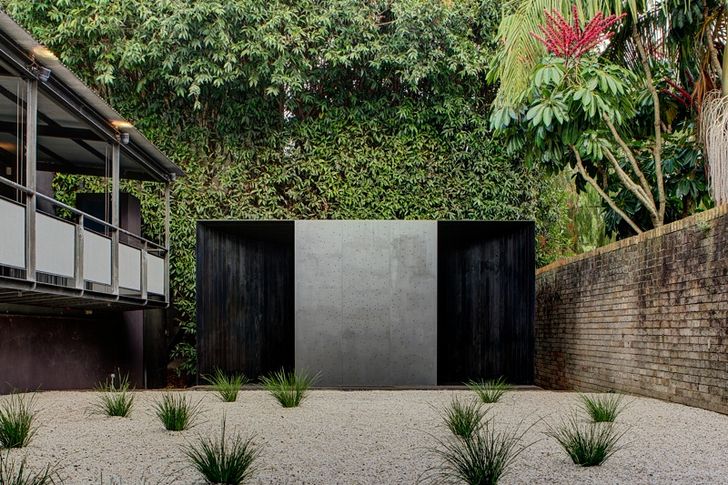 Removing your shoes and passing a perforated aluminium screen, your eyes gradually adjust to the darkness as you move along a curving timber wall and through a body-sized opening. Here, you are suddenly confronted by a panoramic expanse of green, framed within a wider curving wall.
As eyes focus, the green curtain resolves itself into the intricate pattern of leaves within a rose-apple hedge. All of this takes place in a matter of seconds and within a space barely a metre deep. But the effect is to slow time and magnify space. Edging forward, vision sharpened by the passage from darkness to light, your gaze gradually penetrates the hedge, revealing a deeper space beyond.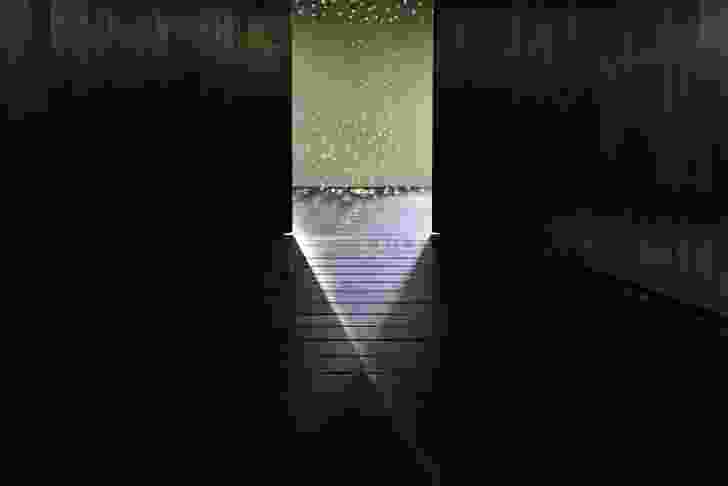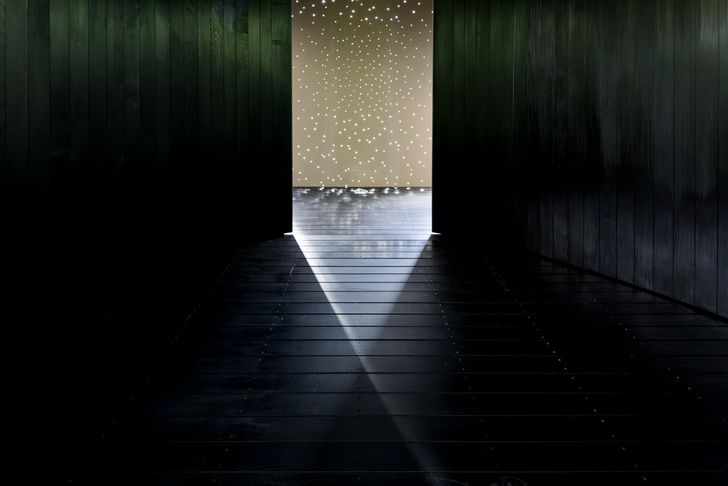 Last month Burns wrote an article for ArchitectureAU in which he countered my critique of myth-making Swiss architect Valerio Olgiati by advocating for the value of mythology. "Precision is not the point," he wrote, "but it creates a sharp and defined threshold over which to step into something beyond the rational, as ambiguous as an unarticulated sense of longing."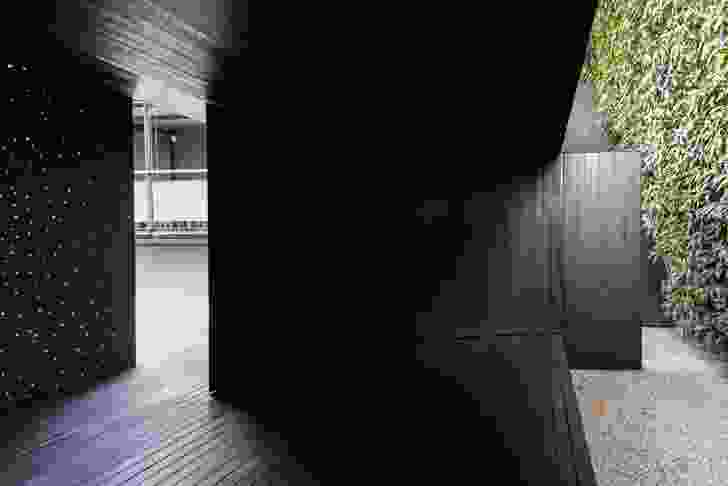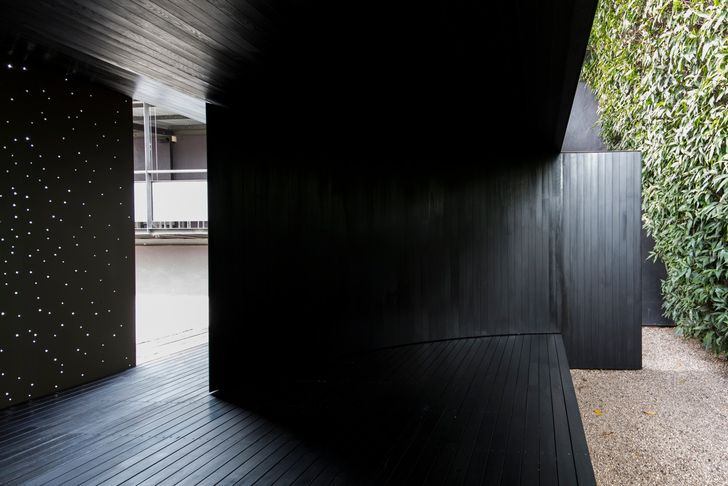 I did not realize at the time of reading that Burns was in fact outlining his own approach. Like Australia House in Japan – the gallery and residence he designed for the Echigo-Tsumari Triennale – Crescent House is a finely-crafted Platonic object clad in monolithic black cedar. But to focus on the object itself would be to miss the point. The pavilion's materiality, sharp corners, mysteriously blank entrance and framed views recreate the experiential qualities of Australia House, a building that most of us will only have encountered in photographs.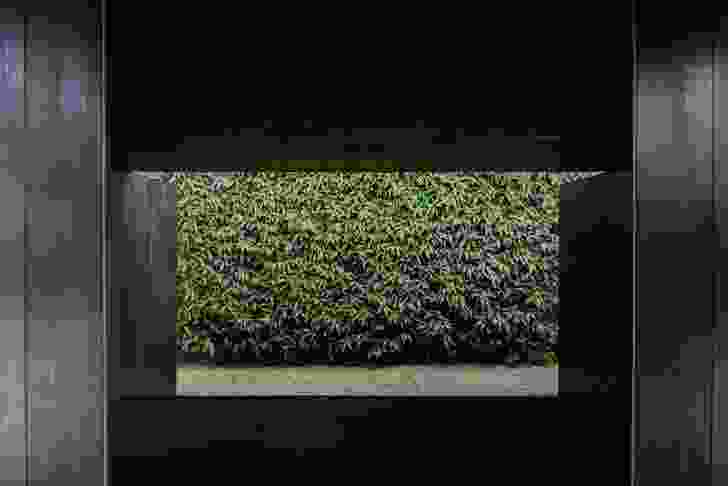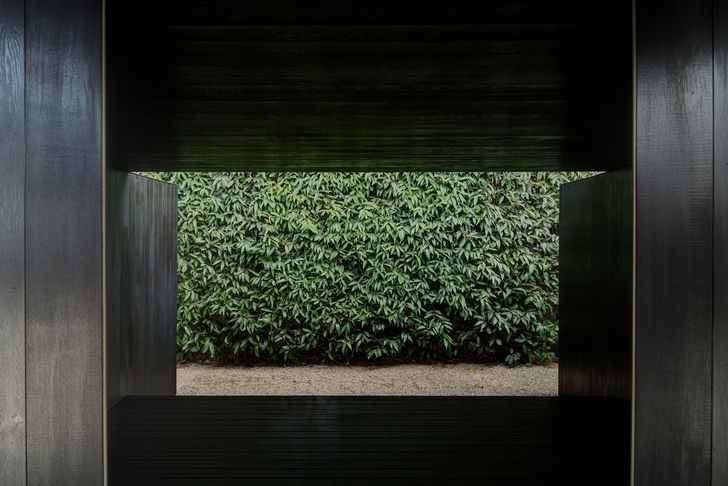 More generally, the pavilion's spatial sequence – careful approach, dappled light, silence, daylight giving way to dim interior, details magnified to cosmic significance – evokes the ritual procession of a Shinto shrine. Standing inside Crescent House, contemplating the hedge, the world beyond recedes and we are momentarily transported to Japan.
Following the example of London's Serpentine Gallery Pavilion commission, SCAF recently launched Fugitive Structures, an annual initiative to create a temporary pavilion within the Foundation's courtyard. While the Serpentine features famous architects who have yet to build in the UK, Fugitive Structures aims to promote the work of early and mid-career practitioners.
The winning entry in a competition held between ten selected Australian architects, Crescent House is the first instalment in this series, with future editions to showcase Japanese, Israeli and other international talents. The SCAF courtyard – a space both public and private, outdoor and enclosed, Asian and Australian – provides an ideal setting for exploring tensions between architecture and art, building and folly, foreign and local.
Instigated by SCAF executive director Gene Sherman, Fugitive Structures was realized in partnership with architectural office BVN Donovan Hill. Managing the process from inception to completion, BVN Donovan Hill worked pro bono, as did the entire consultant team.
Transitioning from commercial gallery owner to foundation chair, Sherman has encouraged connections between art-making and architecture. The Foundation exhibited a glass pavilion by Japanese architects SANAA in 2008, and has installed Olafur Eliasson's all-white The Cubic Structural Evolution Project (2004), an interactive artwork made up of white lego blocks, within the gallery as a counterpoint to Crescent House.
Of all the art forms, architecture perhaps suffers the most in reproduction. Flattened by photography, spectralized by computers, much of today's architecture is experienced primarily as visual commodity. Walter Benjamin unerringly predicted this in 1936. Art loses "its presence in time and space"1 through reproduction, he wrote, as lived experience gives way to passive stimulation. However, what Benjamin did not foresee was that, as lived experience diminishes, our desire for it only increases. Sensorily detached, we long to be transported to a place and time of ritual and bodily engagement. Great architecture, regardless of its size or permanence, can satisfy that yearning, as Andrew Burns has done here with TARDIS-like stealth.
Pro bono consultants
Structural engineering: Alex Edwards, Arup
Lighting design: Tim Carr, Arup
Landscape design: Daniel Baffsky, 360 degrees
Planning advice: Urbis
BCA advice: Philip Chun
Exhibition
Crescent House
22 March–14 September 2013
Sherman Contemporary Art Foundation
A small book documenting the making of Crescent House is available for sale at the gallery. You can also read an interview with Andrew Burns about his aspirations for this project, after he won the competition to design it in 2012.
1 Walter Benjamin, "The Work of Art in the Age of Mechanical Reproduction," 1936.
Related topics