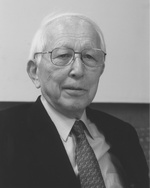 Pritzker Prize-winning architect Fumihiko Maki will visit Australia in June 2013 for C+A Talks, organized by Cement Concrete & Aggregates Australia. His three-city tour includes Brisbane (17 June), Sydney (18 June) and Melbourne (20 June).
Maki will share his design philosophy, drawing on examples from Maki and Associates', whose international projects in progress currently includes: Tower 4 of the World Trade Centre (currently nearing completion in New York), MediaCorp, Singapore (2015); India's Bihar Museum (2015); China's Shenzen Sea World Cultural Arts Centre (2015); and Beirut's Block 20-02 Office Tower (2017). Other renowned buildings of the practice include the Republic Polytechnic (2007) in Singapore, and the Mihara Performing Arts Centre (2007) in Japan.
Born in Tokyo in 1928, Maki studied with Kenzo Tange at the University of Tokyo before completing his Masters at the Harvard Graduate School of Design. After working and teaching in the United States, he returned to Japan in 1965 to establish his own practice. He is an honorary fellow of the American Institute of Architects and received the Pritzker Architecture Prize in 2003.
Tickets for all three talks go on sale on 6 May.
Register here