While this year's Venice Architecture Biennale runs for an unprecedented six month duration, the first three days of the Vernissage are its most critical and intense period of activity. This is when the media, exhibitors and architects come together to open the various shows, participate in round tables and network, network, network! I will be providing fly-on-the-wall coverage of this exclusive event for ArchitectureAU readers. Each day, expect my personal, irreverent take on the key personalities and happenings as they unfold.
Power Rankings: Day one – The Arsenale
1. Rem Koolhaas (curator of the 14th International Architecture Exhibition – Fundamentals)
One of my main aims at this year's Biennale is to capture a selfie with Rem. My first opportunity came at the press cocktail event at Piazza San Marco. By the time I managed to locate the party, Rem was already making his escape. I accosted him on the stairs and told him of my intent. He replied: "Don't tell me about your plan! Just execute it." And with that he vanished into the night. Stay tuned for further selfie attempts.
In more ways than one, this is Rem's Biennale. Everyone wants a piece of him. Luckily, there is much of him to be had, with intensely curated shows bearing his indelible mark in both the Arsenale and the Giardini.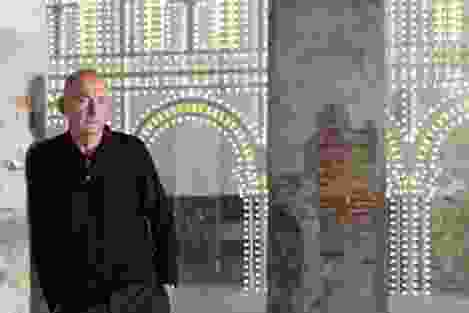 The real coup of Rem's Monditalia show is that he has focussed attention on Italy itself. He has also managed to tame the impossible length of the Arsenale's naval shed with a series of tightly defined exhibition spaces, each corresponding to a cinematic moment from Italian film.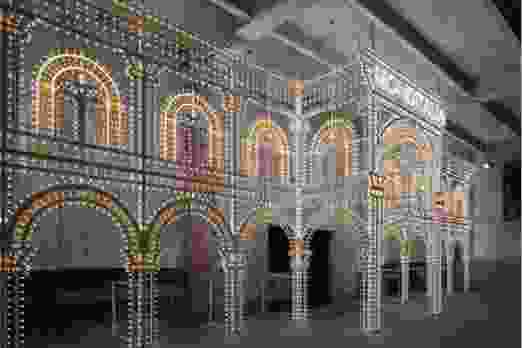 As you might suspect from a journalist turned architect, Rem's Monditalia is dense with text; it's akin to walking the pages of his epic monograph, SMLXL.
2. Paolo Baratta (president of la Biennale di Venezia)
From a rooftop overlooking Venice's Grand Canal, the gentlemanly president of the Biennale described his bi-annual Architecture Exhibition as a "machine of desire," designed to combat an increasingly commodified world. For Baratta, the Biennale is a "wind machine" that stirs up public interest in cultural pursuits. He has been at the Biennale helm since 1999, survived Berlusconi's attempt to replace him with the dude who brought Gatorade to Italy, and is still expanding and innovating the world's most important architectural event.
3. Andrew Mackenzie (Publisher, Uro Media)

Andrew arrived in Venice having accomplished the impossible, landing an exclusive interview with Rem on the eve of the Biennale. Having not slept in forty-eight hours, he survived the cut and thrust of a conversation with the world's most intimidating architect while racing from Rotterdam to Amsterdam in the darkened backseat of Rem's BMW.
As if that wasn't enough, the Irish-born Australian has just been appointed co-creative director of Risk, the 2015 Australian Institute of Architects national conference. Whereas my mission in Venice is to trap Rem into sharing an awkward selfie, Andrew is here to recruit starchitects to the Melbourne conference. He got off to a good start, with an exclusive meeting with Koolhaas scheduled on the very first day of the Vernissage.
4. Young Italian Architects
Who knew they existed? My rolodex of Italian architects ran out at Renzo. Turns out I've got some updating to do. Monditalia has been produced almost entirely by razor-sharp new Italian practices. Reflecting on issues from African migration to the "pornotopia" of Pompeii, these young guns invoke the political awareness and formal exhuberance of their forebears in the 1960s and 70s Italian avant-garde. There might be an economic recession in Italy, but amazing projects by Matilde Cassani, Marco Ferrari and Matteo Ghidoni make the future seem somewhat less bleak. Watch some of them in the video below.
5. Emilio Rivoira (curator, Argentinian exhibition at the Arsenale)
We tend to think of architecture as fact, and cinema as fiction. Rivoira's exhibition turns this assumption on its head. Key modernist projects are presented as utopian "ideals", contrasted with the "reality" of imagery from Argentinian movies. This juxtaposition of architecture and film perfectly mirrors that of Rem's Monditalia show. "In fact," Rivoira told me, "it was Rem who copied my idea, and not the other way around."
Not ranked
Sergio Pirrone – here at the Biennale attempting once again to photograph famous architects in compromising positions. (see MARK magazine, issue 29).
Palazzo Giustinian – not to be confused with Ca' Giustinian, the Biennale's head office in an entirely different part of Venice.
The World Cup – "Did the World Cup start last night?"
Spritz Aperol – the apéritivo of choice here.
Hotel Bauer – the afterparty that wasn't.
Rem's 64 doppelgangers and lookalikes – seemingly released into the streets of Venice on the eve of the Biennale.
Tourist Menus.
Gondola traffic jams.
Afternoon thunderstorms.
The delayed opening of the Switzerland Pavilion – incredibly, the Swiss are apparently running behind schedule!
Rogue fire alarm – The most entertaining part of Kazuyo Sejima and Bijoy Jain's surprisingly dull talk at the Querini Stampalia.
Related topics