The NSW government has locked in the funding for the redevelopment of the Sydney Fish Market, approving a $750 million investment in the project.
Designed by Danish practice 3XN in partnership with BVN and Aspect Studios, the new market will occupy 3.6-hecatre precinct by a wharf in Blackwattle Bay on Bridge Road in Glebe, adjacent to the existing location in Pyrmont.
The Sydney Fish Market is the largest fish market in the Southern Hemisphere and the redevelopment will more than double the size.
The government expects visitor numbers to increase to five million a year with the completion of the new precinct.
"One in five international tourists to Sydney visit the existing fish market and it's the second-most visited attraction in Sydney behind the Opera House," said NSW premier Gladys Berejiklian.
"In addition to the clear benefits for Pyrmont, the new market will be a boon for regional communities as a showcase for the very best seafood from along the NSW coast."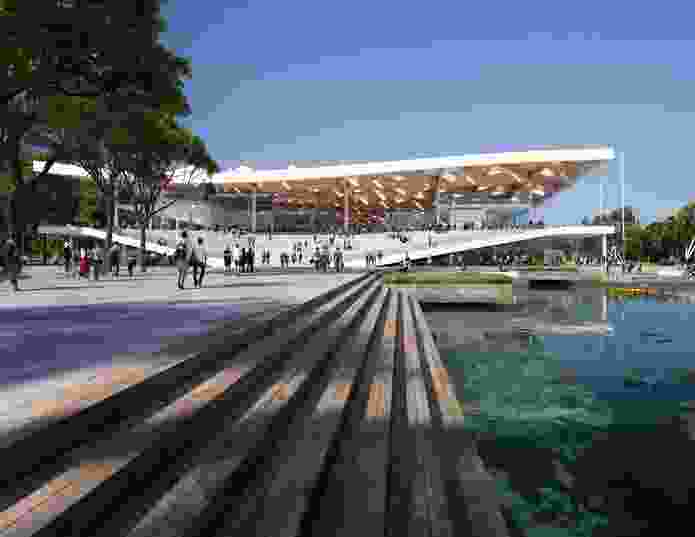 The market building will feature a distinctive roof inspired by fish scales, to be made from timber and 350 aluminium panels studded with skylights.
The roof is designed to be permeable and will use the prevailing winds to extract hot air from the building to minimize air-conditioning. It will also harvest rainwater, which will be treated and recycled.
"This building will be many things when it is done: a working fish market, an amenity for the city, a cultural destination, an urban connector, and an inspiring icon along the world-renowned Sydney Harbour," said 3XN founding partner Kim Herforth Nielsen, when revealing the design. "The natural value of the water's edge should not be underestimated and should be accessible to everyone."
The design will also incorporate advanced water efficiency and solar electricity generation.
The project will include public promenades, a ferry wharf and more than 30,000 square metres of new public open space across the precinct for the community.
"Relocating the fish market to the head of Blackwattle Bay will improve pedestrian and cycling links and connect more of Glebe and Pyrmont to the water as part of the long-awaited revitalization of the area," said planning minister Rob Stokes.
Two state-significant development applications, one for the demolition of the existing wharves and site preparation, the other for the construction of the new fish market facility, are expected to be placed on public exhibition soon.
Related topics