A life drawing teacher once taught me that drawing was about seeing: "Everyone can look, but not everyone can see," he said. The act of drawing involves sharpening one's ability to see, challenging the myth that the ability to draw is linked solely to enhanced creativity. Just like the myth that architectural design is an esoteric knowledge entrusted only to creative types, and not simply a discipline that can be observed, learnt, explained and tested.
Furniture, Structure, Infrastructure: Making and Using the Urban Environment presents a design methodology that uses "observation as a design tool and design as an observational method," involving "noticing, drawing and naming." It explores strategies for sharpening one's ability to make appropriate interventions in the built environment by firstly seeing.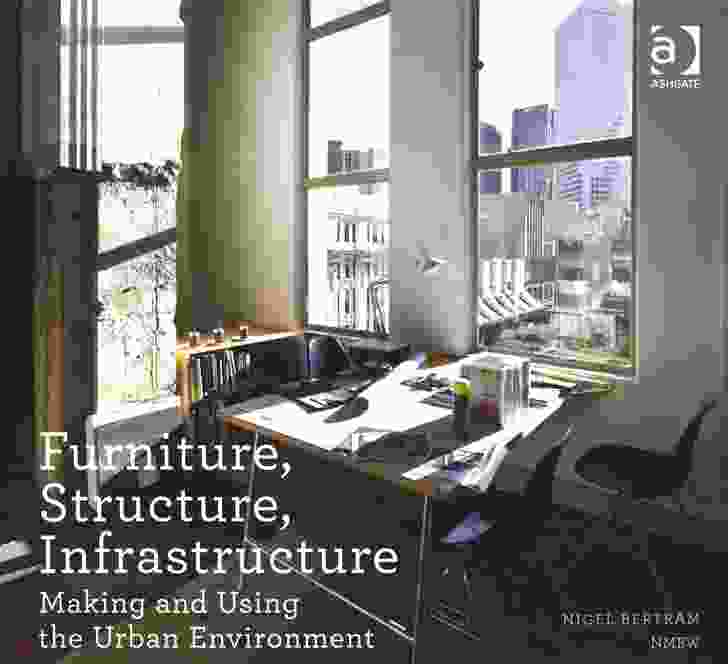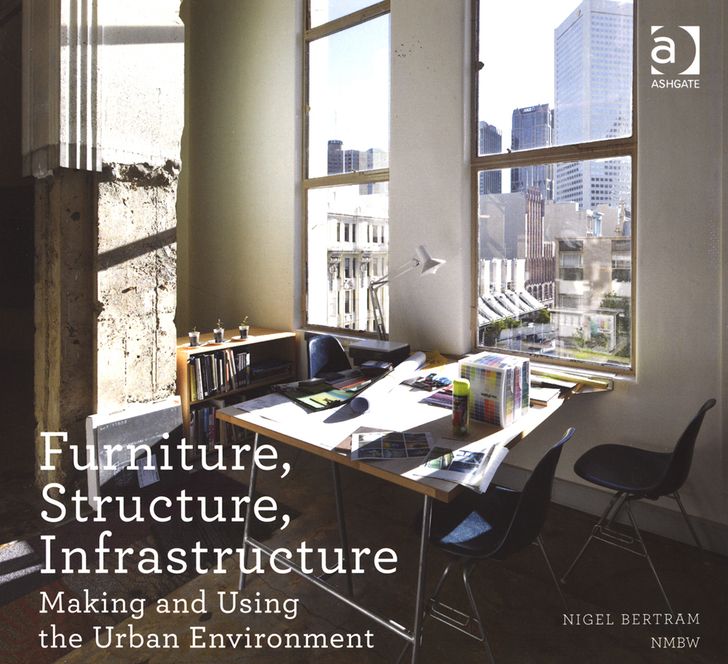 This latest addition to the "Design Research in Architecture" series produced by UK-based Ashgate Publishing is not a monograph on the Melbourne-based practice of NMBW Architecture Studio. Although authored by Nigel Bertram, one of the founding partners of NMBW, and illustrated with seductive images and drawings of work by the practice and its collaborators, this manuscript is not what Elizabeth Farrelly has termed a self-funded "trophy album" nor is it an attempt to announce the manifesto of NMBW. The publisher's market is public libraries, not commercial bookstores; the book is entirely controlled and paid for by the publisher; and it does not include a list of awards and prizes stockpiled by the practice. Nor is it a finite piece of new thinking, or a "meta-narrative" of the practice, as Bertram puts it.
Furniture, Structure, Infrastructure is a textbook on design thinking, a manual of instruction which espouses knowledge and raises an important enquiry about how we learn about design and ideas that make architecture.
This is a quintessential textbook that can be read in any direction. One can start reading from the middle without knowledge of the introduction, making it very attractive to those who are time-poor or those with a short attention span. Bertram provides an articulate and informative – albeit brief – introduction on the theme "observation," which serves as a perfect primer for the subsequent read.
The first chapter, titled Openings, is equally precise. It sets out the method for seeing, drawing and naming the continuing state of the existing "field" and the scope for "strategic renovations" to the urban environment. It is beautifully illustrated by a companion research project and small publication, Division and Multiplication, in the following chapter of the same name. These first two chapters make the rest of the book very accessible, successfully navigating a sophisticated method requiring rigour, intellect and, above all, the learnt ability to see things.
The body of the book follows this legible pairing format. Chapters representing particular observations and interests of NMBW named Intersections, Appropriations, Thresholds, Plans, Details, Materials and Furniture are coupled with alternating chapters – By-Product-Toyko, Elwood House, Fitzroy Apartments, Somers House and North Fitzroy House, RMIT Building 45, Pioneer Museum Plaza and Lyons Office – which document both built projects and urban research investigations that explore the themes of the principal chapters. These secondary chapters make for convincing reading and offer relevance to the discussions and findings by bringing the research closer to home and, at times, literally into our suburban streets and backyards.
The act of "naming" is emphasized by NMBW's methodology. Throughout the book, the author sets out a glossary of terms with which we might observe and discuss the phenomena (and anomalies) we notice around us. NMBW also recognizes the importance of naming things that we already "know" and take for granted. For example, naming is introduced by being careful to define the "urban environment" for the purposes of the book.
Bertram explains further efforts to avoid "generic understandings" of the urban setting blinding one's ability to see things. He acknowledges that there exist innumerable and extensive previous studies of the urban environment, many resulting in typological records of fabric and cultural behaviour. Here the author suggests that jumping to conclusions about "type" does not readily explain the greater diversity of built outcomes. The alternative method involves behaving in the manner of an archaeologist, separating what exists from art history and empathy. Bertram references the agenda of the Tokyo Architectural Detective Agency in the seventies and cites delightful publications such as Steven Holl's Rural and Urban House Types in North America and Atelier Bow-Wow's Pet Architecture Guidebook as inspiration for this method. Holl clarifies the intent of these studies when he writes: "These houses present the notion of typology not as a method for citing precedent but as one for studying cause and effect."[1]
There is much about Furniture, Structure, Infrastructure to take delight in. Each chapter is constructed loosely around a continuing glossary of observations that have been "named" by NMBW such as "front and backyards together," "gaps that cannot be filled," "orientation," "bottlenecks and compression," "furniture and fence," "mimicking," "adopting," "removing," "surface tension," "layers," "extrusion," "finding space," "amplification," "making small space," "interruption/events" and "depth/activity." This arrangement of sampling in the text further contributes to the flexible way in which the reader might engage with its content and offers a generosity that I admire.
Furniture, Structure, Infrastructure acknowledges the lifelong scholarship of an architect and the need for meaningful guidebooks and design research centred on a custodianship of ideas and what one can see. It is a book that every student, graduate and practising architect should keep in their personal library, right next to their copy of Christopher Alexander, Sara Ishikawa and Murray Silversetein's A Pattern Language and other staple architectural textbooks. You will not find "new" design ideas presented here but seemingly ordinary yet inventive ways in which they might be discovered and interpreted. In the book's foreword, Ricardo Flores and Eva Prats describe the exercises that Bertram and his NMBW colleagues set for their students as an "anti-academic" way of learning inside a university. "The exercises are strict tests of observation, challenging the capacity of students to read almost invisible situations of everyday life, and in the end discover that the exercise is mainly this: observation is the goal, no hurry for design." An important lesson for both students and architects.
Furniture, Structure, Infrastructure: Making and Using the Urban Environment (Nigel Bertram, Ashgate Publishing, 2013, 260pp, RRP$69.95)
[1] Steven Holl, Rural and Urban House Types in North America, Pamphlet Architecture no. 9 (New York: Princeton Architectural Press, 1982), 54. Cited in N. Bertram, Furniture, Structure, Infrastructure, 38.
Related topics