The NSW government architect has unveiled a series of preliminary plans developed in collaboration with CHROFI, Tyrrellstudio and multidisciplinary consultancy HillDPA for the transformation of the central coast city of Gosford, 76 kilometres north of Sydney.
Prospective designs for public domain and street scaping projects in the city's north and south are articulated in two new Urban Design Implementation Framework Place reports, following the release of a draft Urban Design and Implementation Framework for the city centre.
The new reports outline a series of possible interventions to better connect the city's northern health and education precinct with the central city and to improve the city's connection to the water.
An earlier draft report detailing possible transformations of the city's civic heart was made public in April.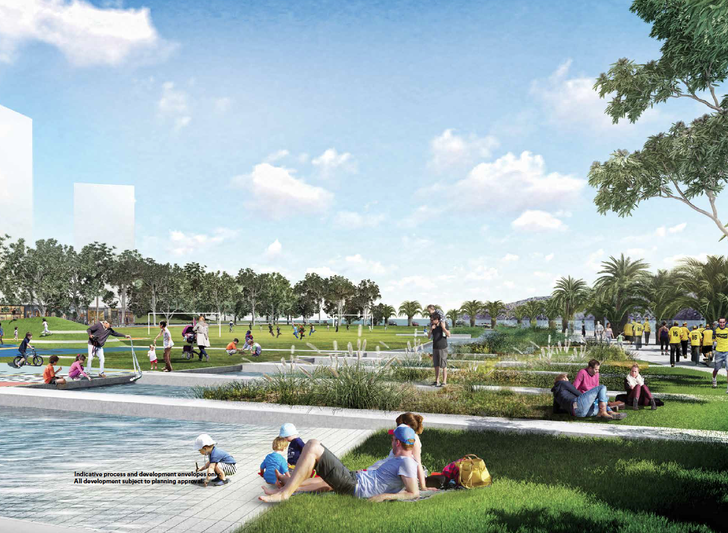 The New South Wales government has allocated $10 million for the public domain projects, in addition to $42 million for critical infrastructure projects, such as improvements to the sewerage system.
The "City North" place report notes that there are a range of important regional services to the north of Gosford's civic heart, including Gosford Hospital and education facilities, but they are poorly connected to the city centre due to the barrier of the railway corridor.
The report outlines a series of possible measures to address the problem, including: new public space that would provide connections between Mann Street and the hospital across the rail corridor; an upgrade to Burns Park, which would increase connectivity from the north to the city; and the widening of footpaths and public domains in a number of different areas.
"The City North is an area of opportunity for Gosford, offering a place for the city to grow," the report states. "It has a character defined by existing light industrial uses and the rail corridor to draw on, to form a place with a distinct identity in the city."
The "City South" report outlines a series of measures that would enhance the city's connection to water while delivering improved green infrastructure and public spaces.
Proposed changes include a "pedestrian prioritized" Baker Street that would connect the city centre to the waterfront; the uncovering of the creek that is currently piped through the existing waterfront park to create a series of "water play" and cooling recreation facilities; and the creation of a new regional playground.
The government architect is seeking public feedback on all three reports, with submission accepted up until 18 June. For more information, go here.