As a city, Brisbane has undergone a dramatic transformation in the past few decades. The place that was once portrayed by David Malouf in his 1975 novel Johnno as an introspective, provincial town now sees itself as Australia's "New World City." The pace of change and significant increases in the size, scale and intensity of development in the heart of the city has disrupted the characteristic sub-tropical ease for which Brisbane was once known.
Opportunities for informed public debate on the future physical form of the city, however, remain scarce. Despite the best efforts of key agencies including the Office of the Queensland Government Architect, the Australian Institute of Architects and related design-led bodies, architectural design and innovative planning struggle for recognition in the pragmatic political and commercial climate of the city. Even the most significant changes to the city's structure and fabric can bypass open scrutiny and the requisite processes of active public consultation.
Against this backdrop, it was heartening to see the increasingly popular Brisbane Open House program played host this year to a series of design talks that may help shape thinking on the future physical form of the city's buildings, spaces and places. One of the events that spoke directly to this hope was Our Houses: Housing for a Better Future, a panel talk that looked to further advance issues raised at the Design Speaks: Housing Futures symposium held in Melbourne in July.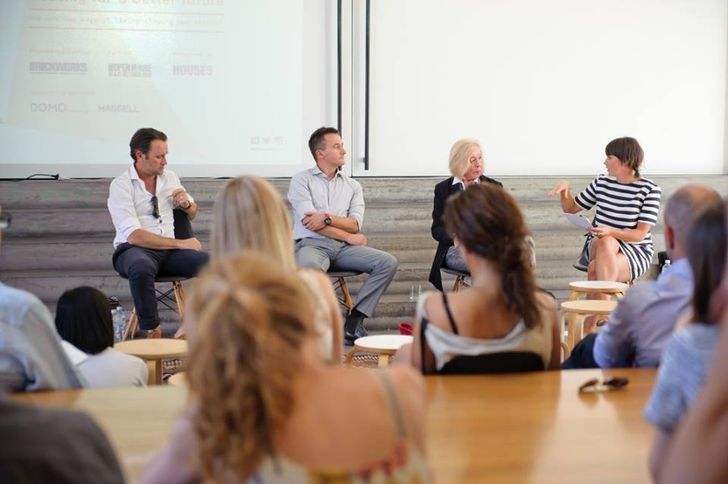 Hassell's open plan studio, a former bread factory, with its generous open court and adjacent conference space, provided a fitting and welcoming location. The discussion was informed and catalysed by presentations from Matthew Miller of Grocon, Marcus Foth of QUT and Suzanne Benn of UTS. Their input ranged across a broad spectrum of conditional factors and drivers for change, including disruptive technologies, flexible work/home patterns, and precedents for future house types matched by adventurous approaches to urban planning.
Brisbane's predominant housing types reflect a tradition of building detached dwellings, open to the climate and inclusive of their context. The lack of housing typologies of intermediate scale, such as the terraced housing of Sydney and Melbourne, has hampered the city's ability to densify harmoniously. Perhaps unsurprisingly given this context and the issues highlighted by the panellists, audience members raised concerns during the open discussion about the proliferation of residential towers, questioning their lack of urban amenity. Sufficient, coherent public space is typically lacking in and between such towers, while some in the audience also pointed to problems with parking, overlooking and a lack of privacy. There was a palpable fear that Brisbane's broader urban amenity would further erode as the pressure to increase density intensifies.
The conversion and extension of two attached workers cottages in Balmain, adapted and occupied by Benn, her son and family, informed some of the discussion of these considerations. Benn's project offers a potent form of housing, a sociable architecture that meets the needs of both its occupants and the host community. It also exemplifies how a well reasoned and purposeful scheme can overcome resistance and inertia from approval authorities and related procedural impediments.
Benn and her family were commended for investing their energy and resources in building a co-housing prototype that could be replicated by others in Sydney's inner suburbs. At the Future Housing symposium in Melbourne, Phillip Thalis had argued that there is a need for the development of relevant models and typologies that better meet the needs of urban growth and development. At that same meeting, Kerstin Thompson illustrated how new models for the design of inner urban and intensified suburban housing could be developed through an analysis of the group of designs she had generated for single family houses.
The investment of research and resources in the marshalling of models and typologies such as those proposed by Benn, Thalis and Thompson would strengthen and enrich the quality and effectiveness of urban housing within Australia – not least in its burgeoning New World City.
Our Houses: Housing for a Better Future was presented by Houses magazine in partnership with Brickworks and was supported by Domo Collections and Hassell.
Related topics