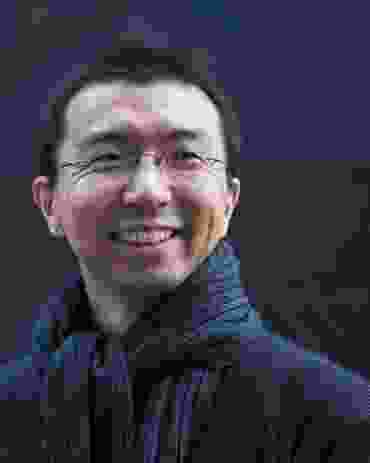 Sou Fujimoto, the architect behind the radically dematerialised 2013 Serpentine Pavilion, will be giving a series of talks across Australia in July as part of the C+A Talks 2014.
At 41 years old, Fujimoto became the youngest architect ever invited to design one of the Serpentine's famous temporary follies in London's Kensington Gardens. He has a remarkable international profile for one so young, built through a series of works that push contemporary architecture's now rather well-worn interest in muddling the relationship between the built and natural worlds to fantastical extremes.
As Fujimoto describes, "…an ideal architecture is an outdoor space that feels like the indoors and an indoor space that feels like the outdoors." For the Serpentine, this approach saw Fujimoto create a latticed 3D structure from over 26,000 20mm tubular steel poles (the Eiffel Tower, by comparison, has just over 18,000 steel struts). The structural calculations involved nearly crashed the computers of the project's engineers, AECOM, but despite this physical complexity the final outcome appears to dissolve into its lushly vegetated setting.
Fujimoto employed a similar idea, albeit at a much-reduced scale, for his design for the Cassina Pavillion at the 2014 Milan Furniture Fair, where a series of suspended, reflective planters filled with trees were used to both define and dissolve spatial boundaries.
After establishing his practice in 2000, Fujimoto shot to international prominence in 2006, when his Children's Center for Psychiatric Rehabilitation won the AR Awards Grand Prize, run by the renowned UK journal, The Architectural Review. Fujimoto's idea of a 'primitive future' for architecture, where elemental forms of shelter (nests, caves, ruins) are explored through simple spatial or material systems to produce rich and complex architectural outcomes, captured the imagination of many and a succession of high profile works quickly followed the prize. These included Final Wooden House and House N in 2008, Musashino Art University Museum & Library in 2010 and House NA in 2011, all of which deployed spatial and environmental ambiguity to achieve experiential richness.
C+A Talks 2014 Sou Fujimoto schedule:
Brisbane 14 July – Brisbane City Hall
Sydney 15 July – Australian National Maritime Museum, Sydney
Melbourne 17 July – Sofitel Melbourne
Cost: $95.00 + GST (complimentary drinks and canapes will be served)