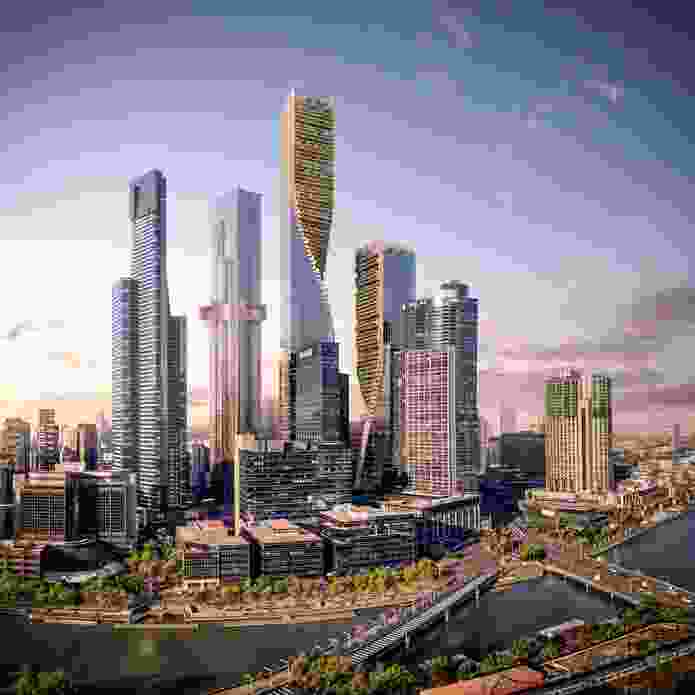 A twisting, dual-tower design by UN Studio and Cox Architecture was named winner of Beulah International's global competition for a $2 billion plus tower in Melbourne's Southbank in August. Dubbed Green Spine, the winning proposal was conceived as an extension of Southbank Boulevard, which the City of Melbourne is currently converting into a linear park. It draws the green space of the park and the nearby Royal Botanic Gardens into the tower's public spaces at various levels and up the terraces and balconies nestled in its curved facade. Juror and Victorian government architect Jill Garner said the twisting form would be "an elegant addition to the skyline." Green Spine was one of six shortlisted designs from some of the world's most lauded practices, each paired with an eminent Australian practice. The proposal comprises two towers. The shorter tower, housing a hotel and commercial space, will top out at 252.2 metres, while the taller tower will be entirely residential and will reach a height of 356.2 metres, with a publicly accessible garden at the top. Should it gain planning approval, Green Spine stands to become Australia's tallest building.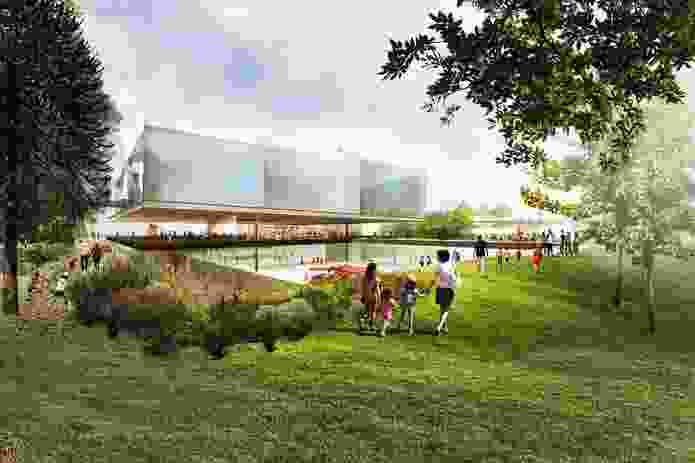 Diller Scofidio and Renfro and Woods Bagot won the Adelaide Contemporary International Design Competition in June with a proposal described as "a charismatic soft beacon on North Terrace that would reflect the sky by day and, at night, glow with galleries." The proposed Adelaide Contemporary was to be located on the site of the Old Royal Adelaide Hospital on North Terrace, adjacent to the Adelaide Botanic Garden. Diller Scofidio and Renfro and Woods Bagot impressed the nine-member jury with a proposal that included a dramatic "super lobby," floating "sky galleries," a suspended rooftop garden and a performance lab. Jury chair Michael Lynch said the design would create a place that embraces art in all its forms and appeals to a broad audience. "The winning team's concept design responds to this once-in-a-generation opportunity for a landmark building in the heart of the city, positioned on the edge of the Botanic Garden," he said. Despite the winning proposal being unveiled in June, its future has been uncertain since the election of the Liberal government in March. Steven Marshall's government favours a National Aboriginal Art and Culture Gallery on the site and has not indicated that the winning design will be adopted. The Art Gallery of South Australia's co-acting director Lisa Slade told ArchitectureAU in September, however, that she was optimistic about the prospects for the site. "It's not our understanding that the winning design will be discarded," she said.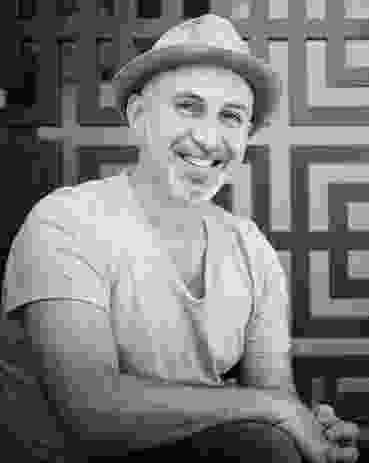 Shaun Carter's pointed op-ed on low fees published by ArchitectureAU in June – "Fee MAD-ness (mutually assured destruction)" – was one of the more talked about articles of the year, spawning debate and discussion across multiple channels. The principal architect at Carter Williamson Architects and immediate past president of the New South Wales chapter of the Australian Institute of Architects argued that architects' fees were dangerously low and called for the introduction of a new fee guide. He wrote, "It seems only yesterday I was discussing with good architects how the fee for a full service for an apartment building was dangerously low at 3 percent. Now you'd give your eyeteeth for that amount … Architects clearly have themselves to blame for this existential crisis and make no mistake, it is an existential crisis. It's madness. We are on a path to mutually assured destruction. Slashing fees at a time of great need is ridiculous. We need to help ourselves, but we also need help from industry and government." In response, John Held, director of Adelaide-based firm Russell and Yelland, wrote for ArchitectureAU that while the problem with fees was undeniable, Carter's proposed solutions may be impractical. He wrote, "While agreeing that the neoliberal agenda has failed in so many ways, I can't see that there would ever be any appetite for governments to set fee scales and in fact it may be counterproductive as well as appearing self-serving. What would you regulate? What would the scope of works be? How easy would it be to circumvent?"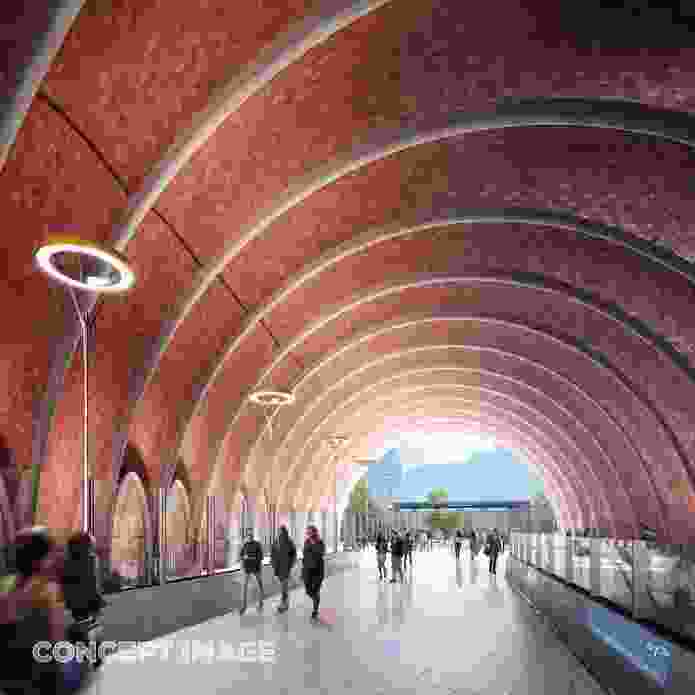 Utopian infrastructure?
Major transport infrastructure developments have been a theme of 2018, particularly in Australia's largest cities, with Melbourne's Metro Tunnel project forging ahead, designs unveiled for an upgrade to Sydney's Central Station and plans for a Western Sydney aerotropolis taking shape. The final designs for the five new underground stations being built as part of the Metro Tunnel project were unveiled in May. The design team, comprising Hassell, Weston Williamson and Partners and Rogers Stirk Harbour and Partners, said passenger experience was at the heart of the project. "The stations open up to fresh air and natural light and the underground spaces have a generous civic quality that will feel safe and intuitive to use," the design team said in a joint statement. The Victorian government also announced its intention to match federal government funding for an airport rail link and unveiled plans for a $50 billion suburban railway loop. In March, the New South Wales government announced it had appointed Woods Bagot and UK-based practice John McAslan and Partners to design the $955 million upgrade of Sydney's Central Railway Station. The redevelopment is part of the $20 billion Sydney Metro project and will include the construction of new underground platforms for the Metro railway line. And in August, initial planning documents were placed on public exhibition for the 11,200-hectare Western Sydney "aerotropolis" – a business and residential hub that will be built around the planned Western Sydney Airport.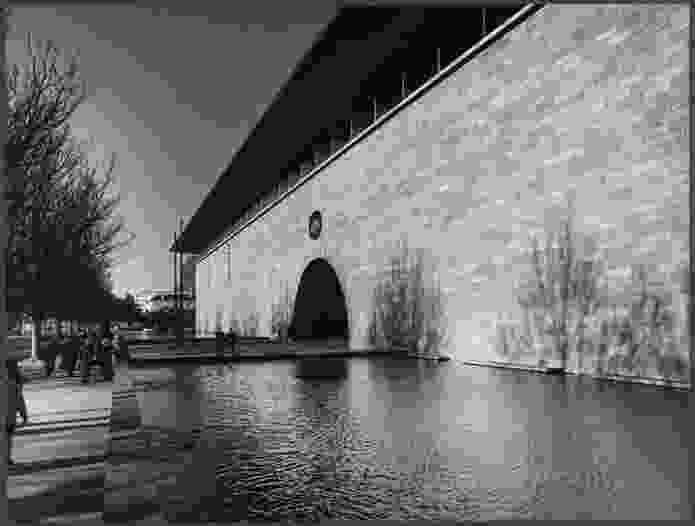 New Parliament House, National Library of Australia, National Gallery of Victoria celebrate anniversaries
Some of Australia's most architecturally and culturally significant buildings marked anniversaries in 2018, including New Parliament House and the National Library of Australia in Canberra and the National Gallery of Victoria in Melbourne. The National Library of Australia celebrated fifty years since it moved into its lakeside home in Canberra. Designed by Brisbane-born architect Walter Bunning of Bunning and Madden, the classical-meets-modernist library was, when it opened on 15 August 1968, the only building to grace the shores of Lake Burley Griffin. The Australian Institute of Architects has described the building as "a temple of erudition aloof in its classical detachment." Also opened in 1968, on 20 August, was the Roy Grounds-designed National Gallery of Victoria. Billed as a "people's building" by Grounds, the gallery was the subject of a scathing review in Architecture Australia, with David Watson describing it as "a supermarket for the arts" and deriding the Great Hall, with its Leonard French stained-glass ceiling, as "perhaps the most pointless structure since Cheops's pyramid." Some twenty years later, on 9 May 1988, Australia's New Parliament House was officially opened by Queen Elizabeth II. The result of a design competition that attracted 329 entries from twenty-eight countries, the topographically formed Parliament House, designed by Mitchell Giurgola and Thorp, occupies the most prominent location in Walter Burley Griffin and Marion Mahony Griffin's plan for Australia's capital.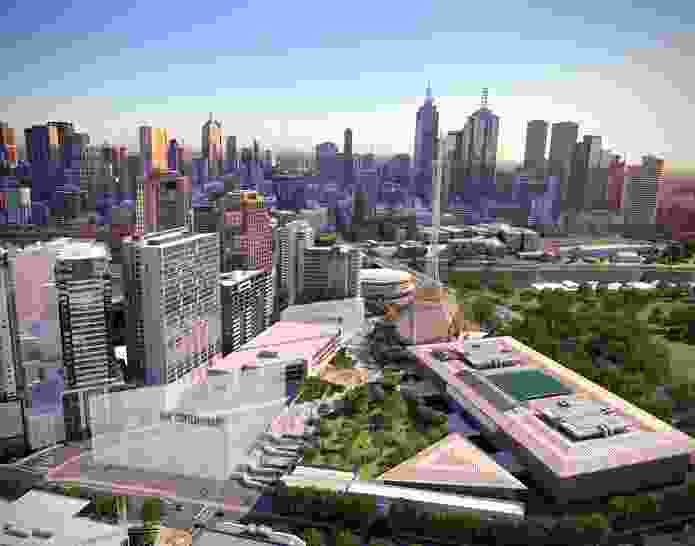 Changes afoot for some of Australia's major cultural institutions
Sydney's Powerhouse Museum is relocating to a new purpose-built building on the Parramatta River, with the New South Wales government confirming the move amid much controversy in April. The government has appointed UK competition organizer Malcolm Reading Consultants to conduct an international competition for the design of the project. The planned building, to be located on the site of a former department store carpark, will become the largest museum in the state. Sited on the south bank of the Parramatta River and bound by Wilde Avenue to the east, it will form the centrepiece of a cultural and arts precinct in Parramatta and will be connected to a planned redevelopment of the Riverside Theatres via an "art bridge." The proposal has been heavily criticized for a perceived lack of transparency, while heritage advocates have protested the planned demolition of two heritage-listed buildings – the Victorian Italianate villa Willow Grove and the St George's Terrace houses – to make way for the new museum. Meanwhile, the Victorian government announced plans to redevelop Melbourne's arts precinct in Southbank with two new buildings and renewed public spaces, masterplanned by ARM Architecture and Taylor Cullity Lethlean.The redevelopment will include a standalone contemporary art and design gallery for the National Gallery of Victoria on the site of the existing Carlton and United Breweries building at 77 Southbank Boulevard.