Futurewood EnviroSlat enhances Balaclava Railway Station refurbishment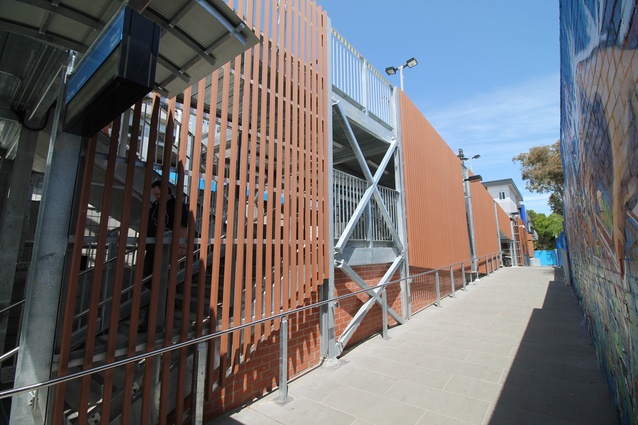 The $13.3 million upgrade to the Balaclava railway station and its facilities, approved in 2012, included major improvements to the aesthetic of one of Melbourne's oldest stations. Timber was specified in the original concept for the refurbishment, to give visual warmth and softness, as an alternative to concrete and steel. 
The CCG Architects team, headed by Ken Ng, in bringing the original design to life wanted to maintain the  timber, but foresaw ongoing maintenance issues.  
Futurewood's EnviroSlat was chosen as the logical alternative: it looks and feels like timber, but doesn't split or splinter, nor does it warp or twist. The cladding, manufactured for this project in 60 x 40mm sections, was specified in Walnut, with a coarse sanded finish.  The finish is inherent in the product, so it won't need any regular surface treatments to maintain its appearance, a significant cost saving. Futurewood will keep stock of spare boards for future use, should they be needed.
It was important that materials chosen for the project would stand up to the inevitable graffiti: the design team found that graffiti was easy to remove, using an off-the-shelf product.
The Balaclava railway station, on the Sandringham line, was re-opened to the public in October 2014.
Read more about EnviroSlat cladding on Selector.com.